NFL bye-week woes continue as a week off for the Minnesota Vikings, Pittsburgh Steelers, Tampa Bay Buccaneers and Washington Redskins will make things a bit more difficult for fantasy owners in Week 5.
Well-deserved as it may be for those teams and their players, now you're forced to scour the waiver wire only to find that there are slim pickings on the list of unwanteds.
Perhaps your situation is a bit different and you can't get a solid solution week to week at a certain position. Whatever the case may be, reading on will present you with some great options to choose from this week.
Here they are.
LeGarrette Blount, RB, New England Patriots
Availability: Owned in 13.7 percent of ESPN leagues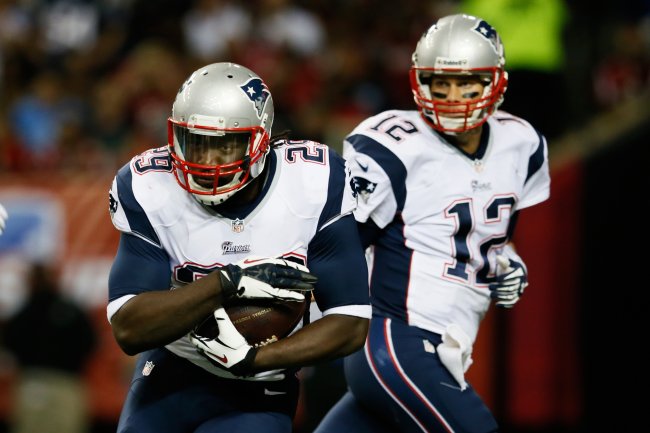 Kevin C. Cox/Getty Images
If you're in need of a running back, Blount is a must, must, must-start player in fantasy leagues.
Thanks to a knee injury to Stevan Ridley that will keep him out of Sunday's game against the Cincinnati Bengals, per ESPN.com, Blount will likely see a workload increase this week. Ridley is just the latest to be added to the team's list of walking wounded at the running back position as Shane Vereen was the first victim this season.
That leaves Blount and Brandon Bolden, who is listed as questionable after being limited in practice this week, per ESPN.com. If Bolden isn't 100 percent or can't go altogether, that will only further add to Blount's day.
The 26-year-old has been solid for the Pats the last two weeks. He's gained 129 yards on 23 carries in Weeks 3 and 4 with one touchdown to show for it. Blount won't have to share many carries this week, though, and should see a nice boost in the yards department as a result.
Granted, the Bengals defense is no joke with a No. 13 and No. 12 ranking against the pass and run, respectively, but quarterback Tom Brady and the passing attack are improving week to week and should help open things up for Blount, who is the clear-cut No. 1 back in Week 5.
Kenny Stills, WR, New Orleans Saints
Availability: Owned in 1.1 percent of ESPN leagues
Stills is widely available in most leagues and is a temporary solution for owners seeking an answer at the position.
The 21-year-old has only compiled seven catches (14 targets) for 134 yards without touchdown, but he did make a solid impact in Week 1 with two catches (five targets) for 86 yards. Stills also proved he has some big-play ability with a 67-yard grab in that game.
Besides that, Stills has been quiet with four catches (six targets) last week being a season high; however, it must be noted that fellow receiver Lance Moore will be absent for Sunday's showdown with the Chicago Bears, according to ESPN.com. Therefore, Stills will move up in Drew Brees' receiver pecking order with one less option out there.
Rest assured the Bears will have a ton of focus on stopping established receivers like Marques Colston and tight end Jimmy Graham, which should leave tons of space and single coverage for Stills to have a chance to beat.
Chicago also owns the No. 23-ranked pass defense in the NFL, thus making starting Stills in a pass-first offense the right thing to do.
Terrelle Pryor, QB, Oakland Raiders
Availability: Owned in 29.5 percent of ESPN leagues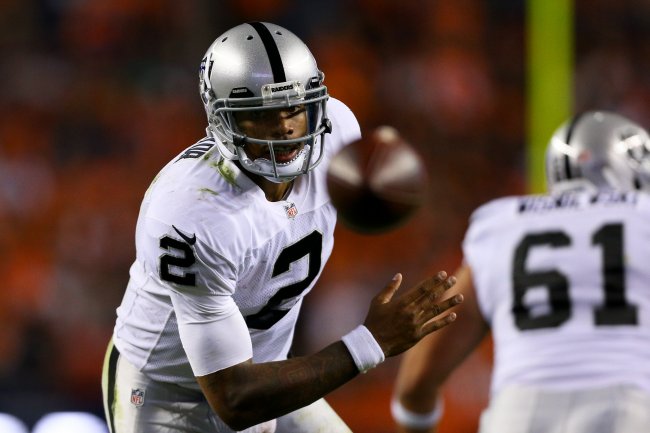 Justin Edmonds/Getty Images
Pryor's ability to attack defenses in multiple ways is a huge reason why he's such an attractive fantasy play. Add to that the fact that he's up against the San Diego Chargers defense, which ranks No. 29 and No. 26 against the pass and run, respectively, and you have a must-start scenario here.
The Raiders signal-caller has been a pleasant surprise throwing the ball this season. Not only does he sport a completion rate of 65.4 percent with 624 yards passing and two touchdowns in three games, but he's also run the ball well to the tune of 198 yards and 7.6 yards per carry.
In fantasy, the Chargers are allowing more points per week to quarterbacks than any defense in 2013-14.
Pryor will have plenty of chances to make plays in both facets of the offense. Furthermore, with the Chargers moving the ball early and often with their potent offense that ranks No. 6 in the air attack, the Raiders may be playing from behind in this one. That will mean more throws and yards for Pryor.