They have to untangle eventually, right?
Some of fantasy football's most sought-after figures have betrayed drafters who expected them to lead the championship brigade. Lately it hasn't been smooth sailing for these guys. They might not have even boarded the boat.
Nothing can befuddle a fantasy manager quite like a slumping star. Should gamers award preferential treatment to those who have earned the benefit of a doubt with past success? Or is there no room for understanding in this cutthroat game of ours that calls for immediate results?
Let's examine some prime cases of big-name guys not living up to their rap sheet.
QB Colin Kaepernick (vs. Houston Texans)
He was going to orchestrate a dynasty and completely revolutionize the NFL quarterback position. That totally wasn't an overreaction at all…
Colin Kaepernick will finish the 2013 season as a _________ fantasy quarterback.
Colin Kaepernick will finish the 2013 season as a _________ fantasy quarterback.
Top five

Top 10

Top 15

Free agent
Colin Kaepernick assumed the captain's chair in San Francisco when Alex Smith suffered an injury during the 2012 season, and the dual-threat quarterback never gave the seat back. All the love bestowed on him for guiding the 49ers to the Super Bowl only soared when he commenced the season with 412 passing yards and three touchdowns against the Green Bay Packers.
Since that monster opening weekend, he has totaled 444 passing yards and two touchdowns in the past three games. His four interceptions during that stretch already surpass last season's total.
His 140 rushing yards and zero scores on the ground also cause concern, as he usually generates most of his fantasy buzz with his legs. Even during his success last season, Kaepernick averaged 201.9 passing yards per game as the starter.
While his neat, albeit boring 167-yard, two-touchdown effort against the St. Louis Rams saved some face, he now has the Houston Texans coming his way. Houston's air-tight secondary has surrendered 141 passing yards per game on a 55.5 completion percentage.
Russell Wilson provided a fantasy dud against Houston last week, tossing 123 yards alongside an interception. Kaepernick will have to turn back to his legs to salvage any fantasy value out of this matchup against the NFL's stingiest pass defense.
Verdict: Sit
RB Maurice Jones-Drew (at St. Louis Rams)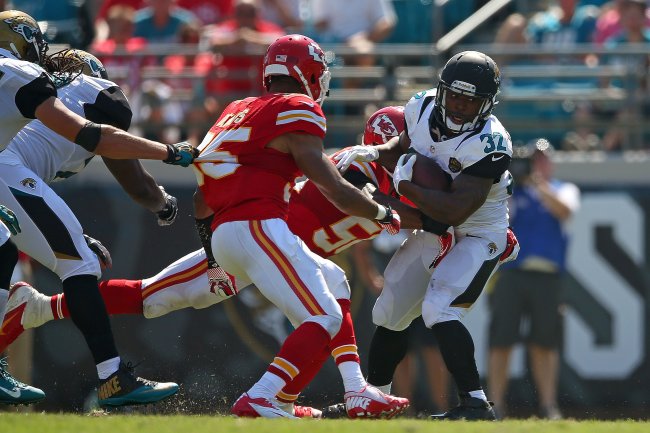 Mike Ehrmann/Getty Images
Don't call it a comeback because the real Maurice Jones-Drew has never actually returned.
If anyone has seen the real MJD, tell him that this impostor averaging 2.4 yards per carry is sinking many seasons. Does he just want everyone else to suffer as slight revenge for having to play for the Jacksonville Jaguars?
Even though a foot injury limited him to six games last season, many gamers stuck by his side due to six years of fantasy greatness. The 28-year-old has rewarded that loyalty with 138 rushing yards and one score through four bouts.
Are you starting Maurice Jones-Drew this weekend?
Are you starting Maurice Jones-Drew this weekend?
His ankle also flared up in September, and no defenses will take the pass seriously with Blaine Gabbert under center. Anyone who drafted Jones-Drew in the second or third round will leave the season disappointed with that decision.
But you're stuck with him now, so you might as well make the best of it. This week presents him a chance to rebound against the St. Louis Rams, who welcomed new life to another creaky back last week.
Frank Gore, who entered the game with 142 rushing yards, added 153 to that tally against the Rams on Sept. 26. St. Louis now ranks 29th with 133.5 rushing yards allowed per contest.
Those who pull the plug on MJD now could miss out on a rejuvenated performance this Sunday.
Verdict: Sit
WR Hakeem Nicks (vs. Philadelphia Eagles)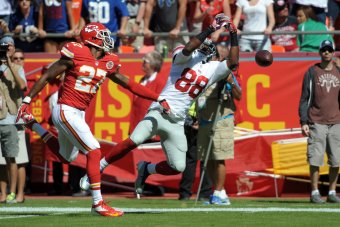 Denny Medley-USA TODAY Sports
Hakeem Nicks looked awful last Sunday.
His three-catch, 33-yard afternoon could have amounted to so much more had he cashed in on his opportunities. The fifth-year wideout was targeted nine times by Eli Manning, including a couple of well-thrown deep balls that leaked right through the receiver's hands.
This poor outing came a week after Manning did not look Nicks' way once, which prompted the beleaguered pass-catcher to tell the Star-Ledger's Charles Chandler, "I can't throw it to myself."
While his public complaints worked, he did not hold his end of the bargain. As a man once bestowed with superstar potential looks to re-emerge from an injured finger, Victor Cruz has transformed into the New York Giants' clear No. 1 target.
These all sound like compelling reasons to sit Nicks, but his matchup with Philadelphia is too enticing to pass up. The Eagles allow 325 passing yards per game on a 70.2 opposing completion percentage. After going up against two top-five pass defenses, the Giants should get the offense up and running again, at least enough to appease fantasy managers in a shootout.
Give Nicks another chance, but it will be time to worry if he cannot deliver this weekend.
Verdict: Start