Wide receivers tend to have boom or bust potential in fantasy football, and based off of the matchups for Week 5 in the NFL, we can make a few judgment calls on some of these key players.
We saw some big plays last week from surprises like Nate Washington and Alshon Jeffery. We also saw big names struggle, including A.J. Green and DeSean Jackson.
The advice below should help you make sure you don't end up starting a receiver that disappoints and that you start the guys that could have breakout games. The advice given is based off of the players' current matchups and how they've performed this season and in previous ones.
Note: All information regarding points scored is based off of ESPN's standard scoring league.
Hakeem Nicks, New York Giants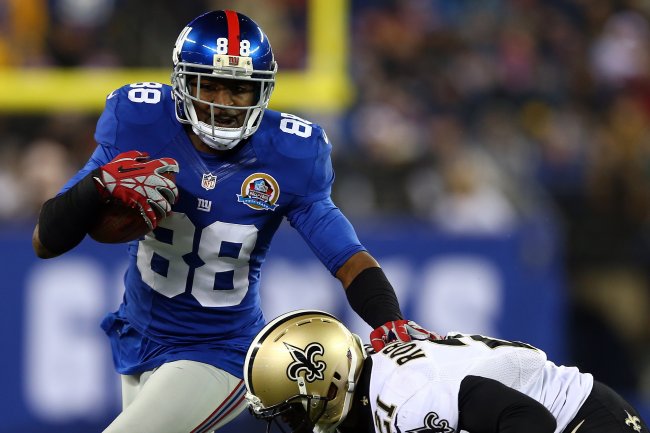 Elsa/Getty Images
This has not been the same New York Giants team that we've been used to watching over the past few years.
[embedded content]
An 0-4 start and a struggling offense has killed this team. Hakeem Nicks hasn't been the fantasy presence owners have expected from him, putting up just one game with double-digit points, and that came in Week 1. He had just three catches for 33 yards last week against the Kansas City Chiefs.
Despite all of the struggles, things should turn around for the Giants this week, at least on offense. They will be taking on the Philadelphia Eagles, who have given up 325 passing yards and 34.5 points per game. Just last week, the Eagles gave up 52 points to the Denver Broncos.
The Giants aren't at the same level as Denver, but that doesn't mean they won't be able to put up points. Eli Manning is capable of making big plays with his arm, and he should be able to target Nicks more than a few times this week against the weak secondary that will be focusing primarily on Victor Cruz.
Nicks is certainly worth a flex spot this week. The upside against this defense is very high, so Nicks should be able to put up some solid points this week.
Verdict: Start 'Em
T.Y. Hilton, Indianapolis Colts
We all know the upside involving Hilton with Andrew Luck throwing him the ball. However, he hasn't had the best start to this season. He's had one good game back in Week 2, going for 124 yards and six catches. He's produced a total of seven points in the other three games, and he's still yet to grab a touchdown reception.
This week, the Indianapolis Colts will be hosting the Seattle Seahawks. It's going to be really hard for Luck to get the ball out to his weapons, with the Seahawks boasting the best defense and secondary in the league with players like Richard Sherman, Brandon Browner, Earl Thomas and Kam Chancellor.
Not only do the Seahawks rank fourth in the NFL with just 191.3 passing yards allowed per game, they also have the best opposing quarterback passer rating at just 60.7.
With a few bad outings already and now a tough matchup against the Seahawks, this isn't a good game to be starting Hilton in. The Colts offense is going to struggle this week, which means fewer opportunities for Hilton to make plays.
Verdict: Sit 'Em
Alshon Jeffery, Chicago Bears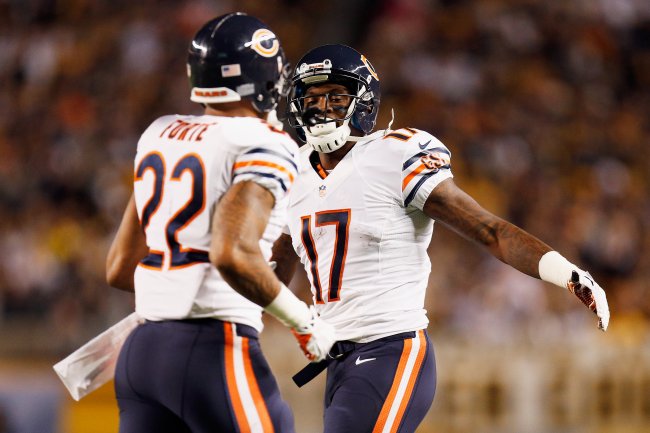 Gregory Shamus/Getty Images
I've been saying all season that Jeffery was poised to break out this season. After much waiting, Jeffery was finally able to do just that last week.
Jeffery put up 20 points in the loss to the Detroit Lions last week. He had five catches for 107 yards and a touchdown, proving that he can be a legitimate fantasy option at receiver.
This week may be a little tough, however, as the Chicago Bears will be taking on the New Orleans Saints. This isn't the same defense that we saw in 2012 from the Saints. They've improved considerably, allowing just 192.3 passing yards per game and have held opponents to under 20 points in every game.
This likely won't be the best matchup for Jeffery, so I'd hold him on the bench for now. However, be prepared for some big games from the Bears No. 2 receiver down the road.
Verdict: Sit 'Em