No one needs to be advised to start the Denver Broncos' Peyton Manning every week or to steer clear of the New York Jets' Geno Smith in fantasy football. It's the close calls such as "Should I start Miami Dolphins quarterback Ryan Tannehill over the Cincinnati Bengals' Andy Dalton?" that cause fantasy owners to deliberate and seek outside opinions.
For the record, I'd go with Tannehill. He's been red-hot of late.
Heading into the all-important Week 16 of the NFL season and the semifinals of most fantasy football leagues, these decisions will determine who moves on to the championship.
The following paragraphs are my effort to help fantasy owners make the crucial calls that could make or break them.
Start 'Em
Jay Cutler vs. the Philadelphia Eagles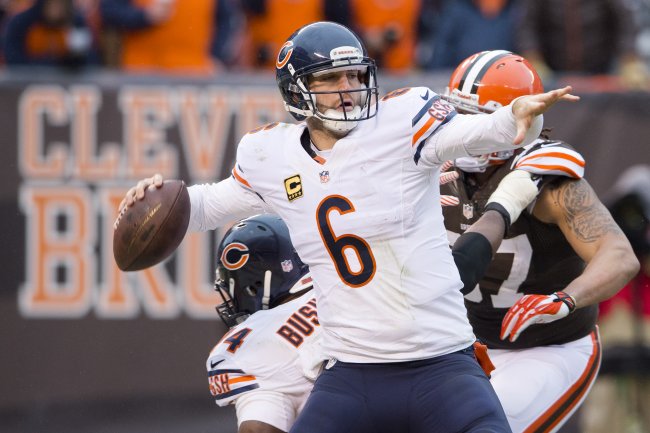 Jason Miller/Getty Images
In a near must-win game for the Chicago Bears, Cutler will at least produce the type of stat line that will make fantasy owners happy. Chicago has the best foursome of skills players in the NFL with Brandon Marshall, Alshon Jeffery, Martellus Bennett and Matt Forte.
Cutler has the weapons to do damage in the short-to-medium range, and Jeffery has established himself as one of the league's best deep threats. With far less to work with in Week 15, Minnesota Vikings quarterback Matt Cassell threw for 382 yards and two touchdowns against Philly.
Who will have a bigger fantasy day in Week 16?
Who will have a bigger fantasy day in Week 16?
Compound the plethora of options with the Philadelphia Eagles' 31st-ranked pass defense and Cutler should deliver.
Kirk Cousins vs. the Dallas Cowboys
Only one team in the NFL is worse against the pass than the Eagles—the Dallas Cowboys. Guess who Kirk Cousins and the Washington Redskins play in Week 16?
How 'bout them Cowboys.
Dallas' defense could make Spergon Wynn, Craig Krenzel and Tee Martin look like All-Pro quarterbacks. Who are they? Exactly my point.
Cousins is coming off a 381-yard, three-touchdown performance against the Atlanta Falcons in Week 16.
Having only forced a punt or turnover in just six of the last 22 drives it's faced, Dallas' defense is mark for just about every team. If that doesn't say start Cousins, I don't know what does.
Sit 'Em
Marshawn Lynch vs. the Arizona Cardinals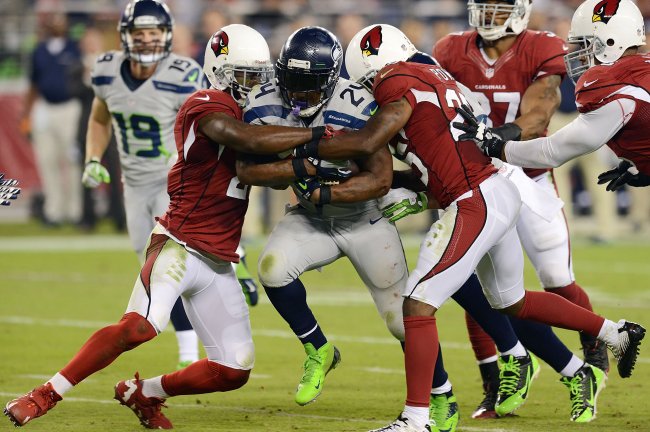 Norm Hall/Getty Images
We all know Lynch is a beast, but this Cardinals defense is legit. It is No. 1 in the NFL against the run. Though the Seattle Seahawks will almost certainly win the game, chances are Lynch is not going to go off.
Arizona has allowed just one player to eclipse the 100-yard mark against it this season. That was San Francisco 49ers running back Frank Gore. He had 101 in Week 6.
Lynch did go for 91 yards and a touchdown against Arizona in the first meeting, but you can't like the odds that he comes through big for you in this one.
If you don't have any more viable options, then maybe you still roll with Lynch. But you better shop around first.
Eli Manning vs. the Detroit Lions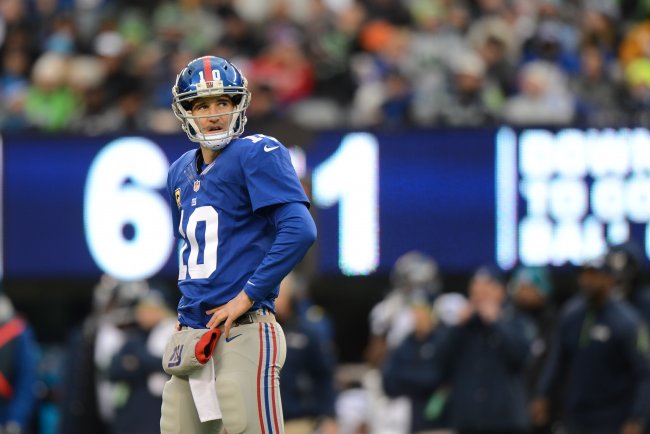 Ron Antonelli/Getty Images
You might be thinking: "Eli is a big-time veteran and accomplished player. He still has a weapon in Hakeem Nicks. He could go off in this game. After all, it's just the Lions, and they always choke."
All that would be accurate, but this season has been so bad for Manning that I hesitate to trust him in this situation. He is leading the NFL in interceptions with 25 and has just one game this season where he threw for 300-plus yards and had more touchdowns than interceptions.
I know the G-Men faced the league's best secondary in Week 15, but the five picks against the Seattle Seahawks is enough to keep me away from Eli—at least until next season.
Follow me. Sports…that's what I do.