Sheer skill with a dash of luck for good measure has taken owners to this point in fantasy playoffs.
That formula will not change for owners in Week 15, but the savvy ones can do much to eliminate how much luck is used as a crutch through careful research and analysis of trends and matchups.
While it may seem unwise to depend on fringe stars who have been unreliable at best for a playoff win, this facet of fantasy also remains—normally questionable starts can turn into a lineup-carrying outing from a fringe player in a hurry.
So while other owners may scoff at an iffy start, ride these guys to a win. Not only are they due for a major performance, they find themselves in favorable scenarios hard to resist.
Note: All fantasy scoring info courtesy of ESPN standard leagues. Points-against info courtesy of ESPN.
Alex Smith, QB, Kansas City Chiefs (@ OAK)
Alex Smith is a tough sell to any owner, which probably explains why he is owned in only 73.3 percent of leagues.
Smith has been erratic at best all year. For every performance over 20 points, there is seemingly an output under 10 sandwiched neatly in the middle.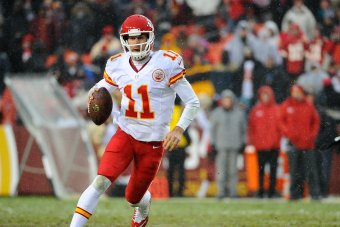 Brad Mills-USA TODAY Sports
Starting in Week 11, Smith scored 21 or more points in three straight games, before coming to a rest at 13 last week. So will he continue to deteriorate? Or will Smith give owners the type of production worthy of a start?
All signs point toward an uptick. Smith was held to seven points in Week 6 against Oakland, but that was before the Raiders collapse. They now allow the fifth-most fantasy points to opposing quarterbacks this season and a week ago even allowed New York Jets rookie Geno Smith to throw for 219 yards with a touchdown and interception.
That does not sound like much, but Smith had thrown for 127 yards or less in each of his last four games prior and had combined for no touchdowns and six interceptions.
Believe in Smith when he takes the field against Oakland.
Andre Ellington, RB, Arizona Cardinals (@ TEN)
Explosive and unreliable are the two best ways to describe Arizona Cardinals rookie running back Andre Ellington from a fantasy standpoint.
The Clemson product is a victim of a pass-happy offense and strange reluctance from his coaching staff to actually put him to use. But when Ellington explodes, he explodes. He has scored 14 and 21 points this season when actually used.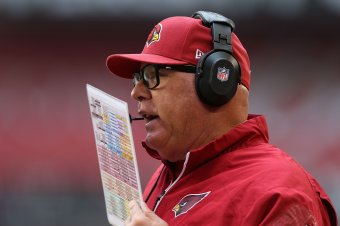 Christian Petersen/Getty Images
Speaking of the Arizona coaching staff, even head coach Bruce Arians must understand his vertical-oriented passing attack won't do much damage against Tennessee, owner of a borderline top-10 defense in that regard.
This means more touches for Ellington, both on the ground and through the air as the Titans eliminate options down the field.
In Week 14, Ellington returned from injury and gained 11 fantasy points while looking like his usual spry self, as Bleacher Report's Tyson Langland illustrates:
Andre Ellington looks healthy. Showing good explosion and lateral quickness in the open field.

— Tyson Langland (@TysonNFL) December 8, 2013
Healthy and in a matchup against a defense that allows the fourth-most points to the position at an average of 20.5 per game, Ellington is a back to ride in the playoffs.
Torrey Smith, WR, Baltimore Ravens (@ DET)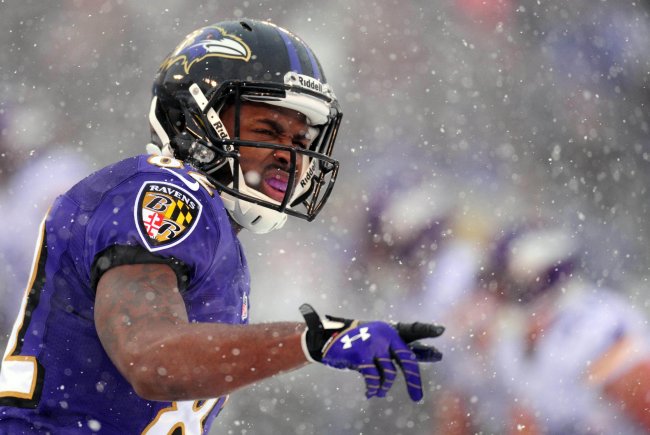 Evan Habeeb-USA TODAY Sports
Another tough sell (which may not do this one justice), Baltimore Ravens wide receiver Torrey Smith has been a disappointment of epic proportions in 2013 despite his status as the No. 1 receiver.
Smith knows this all too well, as he told Aaron Wilson of the Baltimore Sun:
I should have already had [the record], so I'm not satisfied. I've got to play better. Just like last game, there are three plays still in my mind that I should have made. That's what I really focus on, being the best player that I can be for our team. If it comes with putting up numbers and our franchise's records, that's cool. But at the end of the day, it's all about winning.
Who is the safest fringe start?
Who is the safest fringe start?
Alex Smith

Andre Ellington

Torrey Smith
A couple of things here. For one, Smith is talking about the Ravens' single-season record for receiving yards (1,201). He was 250 yards shy entering a Week 14 bout with Minnesota.
Smith now enters this week 239 yards away from the record after a massively disappointing three fantasy points against the fourth-worst defense to the position.
But owners should be willing to give Smith one last chance. The Ravens are in the hunt for a wild card, hit the road to play in a dome where weather will not inhibit the passing game and play the second-worst defense against the position in Detroit, which allows an average of 26.4 points to the position.
Yes, Smith has scored 10 or more points just four times this year, but the overwhelming factors in his favor say he is due for a playoff-worthy performance against the Lions.