At such a critical juncture of the season, your fantasy football team needs to be handled with the utmost care. You can't afford to let your inaction cost you a game.
Although we're heading into Week 14, there are still plenty of viable options on the waiver wire who are good for at least a week or so. That one week can mean making the playoffs or advancing to the next round.
With so much on the line, you need to ensure you're doing the most to put your team in a winning position.
If you need to scour the waiver wire or are looking for some impact off the bench, these four players present a solid option.
QB: Josh McCown, Chicago Bears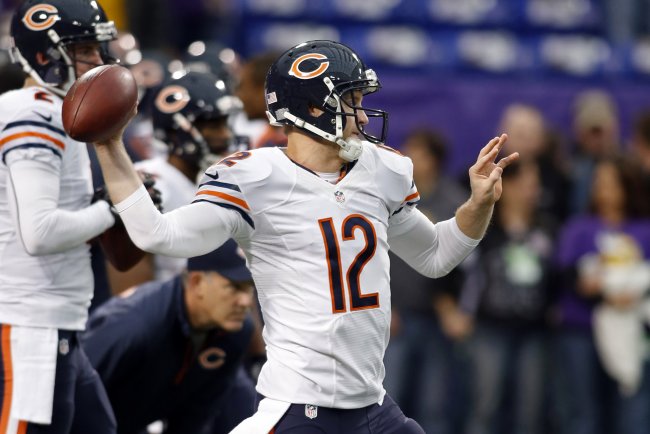 Bruce Kluckhohn-USA TODAY Sports
Josh McCown has thrown for over 350 yards two weeks in a row, so you can't blame him for the Chicago Bears' two-game losing streak. Although the bigger question is, who is this man, and what has he done with the old Josh McCown?
Since taking over for Jay Cutler, McCown has thrown for 1,461 yards and nine touchdowns to just one interception. The 34-year-old has looked like a reliable starting quarterback.
With Chicago facing off with the Dallas Cowboys, McCown should be able to put up another solid game. The Dallas secondary is there for the taking. There's no reason that Chicago should be afraid to air it out for a third week in a row.
RB: Donald Brown, Indianapolis Colts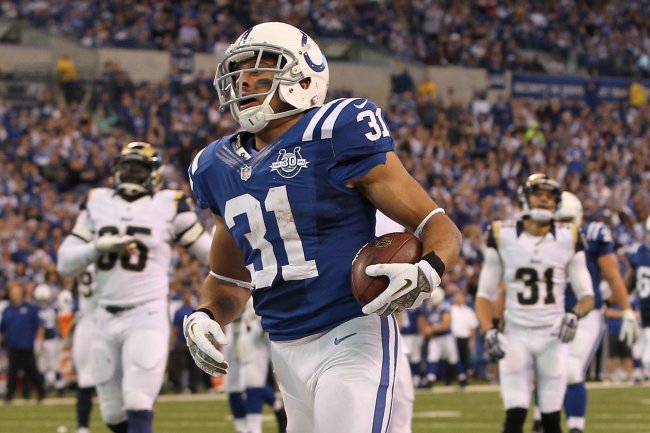 Pat Lovell-USA TODAY Sports
The Cincinnati Bengals remain one of the best teams in the league when it comes to defending the pass. Andrew Luck won't be able to win the game all by himself. The Indianapolis Colts will have to establish a ground presence.
That means plenty of carries for Donald Brown. Trent Richardson's demotion last week only opens the door more for Brown. He'll get the lion's share of the carries once again.
The veteran running back wasn't great against the Tennessee Titans last week, but he had 54 yards and a touchdown on the ground.
If you're in need of a running back for this critical stretch of late-season games, Brown would be as good as you're going to get on the waiver wire.
WR: Andre Holmes, Oakland Raiders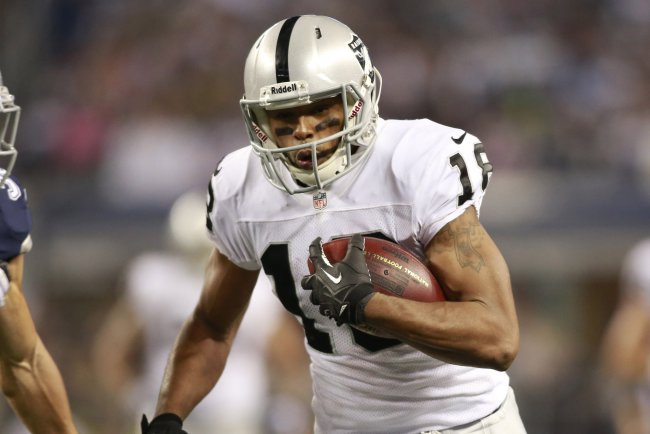 Tim Heitman-USA TODAY Sports
If Andre Holmes can have even half of the production from his Thanksgiving game against the Cowboys, then fantasy owners would be looking at a good day. The second-year wideout had seven receptions for 136 yards. It was more yards than he had in his entire career up to that point.
Suffice it to say that you shouldn't count on Holmes eclipsing 100 yards two games in a row.
However, Holmes is easily worth grabbing as a WR3 this week.
The New York Jets are much better against the run than they are the pass. Football Outsiders ranks New York 18th in pass defense. The more the Oakland Raiders struggle on the ground, the more they'll rely on the pass.
As long as Matt McGloin has enough time in the pocket, Holmes will get plenty of targets.
TE: Heath Miller, Pittsburgh Steelers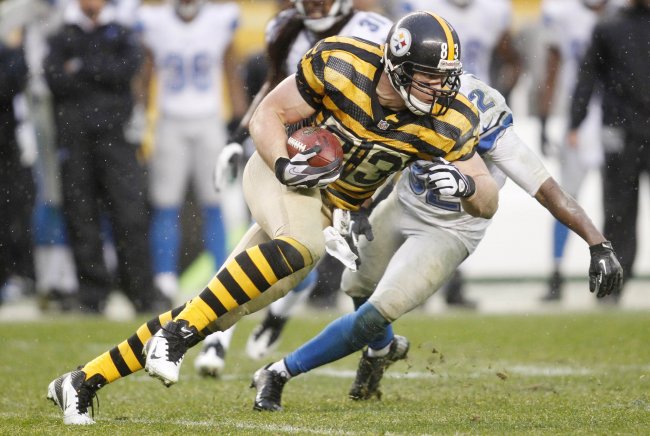 Charles LeClaire-USA TODAY Sport
Between injuries and a drop in production, this has been a year to forget for Heath Miller.
However, he's found some consistency late into the season. Over his last three games, Miller has 21 receptions for 194 yards. Those numbers aren't bad if you're looking to grab an emergency tight end before this week's games start.
Given his performance over the course of this season, you shouldn't expect Miller to have a monster fantasy game. On the other hand, he should be able to give you five or six receptions for 50-70 yards.
The Pittsburgh Steelers' rushing game has been bad all year, and if Le'Veon Bell is off of his game against the Miami Dolphins, that means more pressure will be heaped on the passing game. In the event this happens, Ben Roethlisberger will use Miller as a security blanket.