For every fantasy sleeper, there are multiple duds.
Now that owners have sailed their ships into the minefields known as the fantasy playoffs, the numerous duds are more volatile than ever with so much at stake.
It takes one weak link in a lineup to sink a team at this stage of the game. A perfect lineup is nearly impossible to obtain, but owners can get as close as humanly possible to that goal through savvy research and attention to details.
Allow us to help in pursuit of that fantasy trophy. Be sure to send pics once it is obtained.
Ben Roethlisberger, QB, Pittsburgh Steelers (vs. MIA)
Like all AFC North quarterbacks (minus a random hot streak from a redhead in the Queen City), Ben Roethlisberger has been an ill-advised start at best all season.
That does not just change here in Week 14. It is the fantasy playoffs, not the NFL playoffs for Big Ben.
At face value, he may look like a sneaky-good start. He has scored 16 or more points in his last three games and has turned things around since Week 9.
But now he has a date with Miami and a defense that allows the third-fewest points to the position at 11.5 on average. The Dolphins have allowed only two quarterbacks to score 19 or more points this year—Drew Brees and Cam Newton.
Frank Gore, RB, San Francisco 49ers (vs. SEA)
'Ole reliable is no more.
Owners are well-aware that certain fantasy stars will break down by the time that the playoffs arrive—it just won't be their stars, right?
Wrong.
Frank Gore, owned in 100 percent of leagues, is the guilty party here. He has completely fallen off a cliff after San Francisco's Week 9 bye. In four games since the break, he has a high of 10 points—which he reached just once.
Gore now encounters Seattle, an elite defense that held him to 11 carries for 13 yards and a miserable four points in Week 2. Expect more of the same this weekend.
Michael Crabtree, WR, San Francisco 49ers (vs. SEA)
Let's stick with San Francisco for a moment.
Biggest playoff dud?
Ben Roethlisberger

Frank Gore

Michael Crabtree

Jordan Cameron
Let's also throw out the window the notion that Michael Crabtree is in for a major day with two of Seattle's top three cornerbacks out due to suspension or injury.
Point one—Crabtree is fresh off Achilles surgery and caught two passes for 68 yards against an iffy St. Louis defense in Week 13.
Point two—Seattle still has Richard Sherman, Pro Football Focus' (subscription required) No. 10 overall corner this season. Sherman will be in charge of shadowing Crabtree.
In other words, Anquan Boldin will be the fantasy beneficiary of the corner issues in Seattle—not Crabtree.
Jordan Cameron, TE, Cleveland Browns (at NE)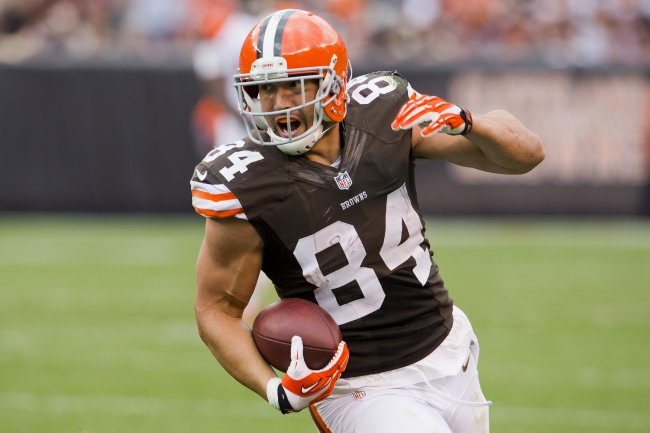 Jason Miller/Getty Images
Outside of Jimmy Graham and Rob Gronkowski, owners are stuck looking for gold each week at a horrible tight end position.
Do not bother looking in Jordan Cameron's direction. Heck, don't look in Cleveland's direction at all for that matter, sans a guy named Josh Gordon.
Cameron had the look of the next big thing at tight end earlier in the season, but the USC product has scored just nine total points in his last three games on 24 targets. Quarterback play is an issue, but so is Cameron himself—the best players turn those targets into production.