Making the right or wrong move in your fantasy roster can make all the difference in the world this week as many fantasy leagues will begin the playoffs with each team dreaming of fantasy football greatness.
Keeping an eye on matchups is especially important, as is normally the case, but there is another factor this time of year that owners must pay attention to, and no, it isn't just the injury reports.
Let's take a look at some start/sit advice for each position in fantasy as well as just what it is you need to be paying attention to as the year moves along.
Note: Fantasy rankings are based on ESPN Standard Leagues.
Quick Advice: Check the Weather Reports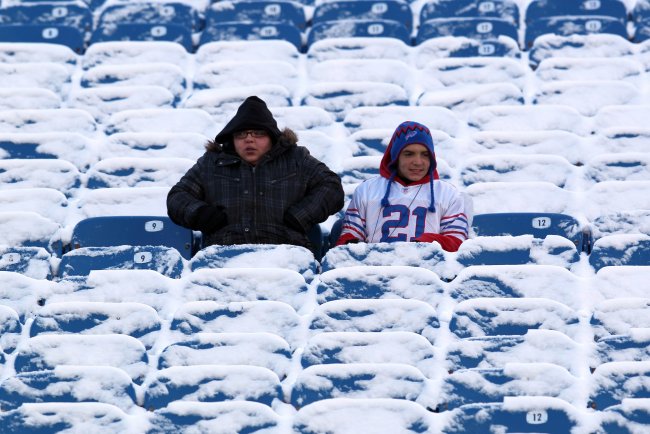 USA TODAY Sports
This time of year brings unpredictable weather, especially in the north and northeast parts of the country. The colder and windier the weather, the tougher it will be to move the ball through the air and the more inclined teams will be to pound the rock instead.
That means running backs will remain just as important, if not more important than normal while the value of quarterbacks playing in bad conditions will plummet. Keep this in mind as November ends and December begins this week.
Start 'Em: Josh McCown, QB Chicago Bears
Weather won't be a factor for Josh McCown against the Minnesota Vikings this week as the game will be played indoors and that should unleash what has been a solid Bears passing attack in recent weeks.
In five games played, McCown has thrown for over 200 yards in four of those contests and has found the end zone in each with only one interception surrendered. Last week, McCown threw for 352 yards and a score against the St. Louis Rams indoors, so expect more of the same this week against a Vikings defense that ranks No. 29 against the pass.
Sit 'Em: Colin Kaepernick, QB, San Francisco 49ers
Kaepernick finally made some strides in the right direction last week after throwing for 235 yards and three scores in a winning effort over the Washington Redskins.
While that was nice, it was against one of the worst defenses in football. This week against the St. Louis Rams, Kaepernick will have to deal with a great pass rush that can get to the quarterback and force turnovers as a result of pressure.
Start 'Em: Zac Stacy, RB, St. Louis Rams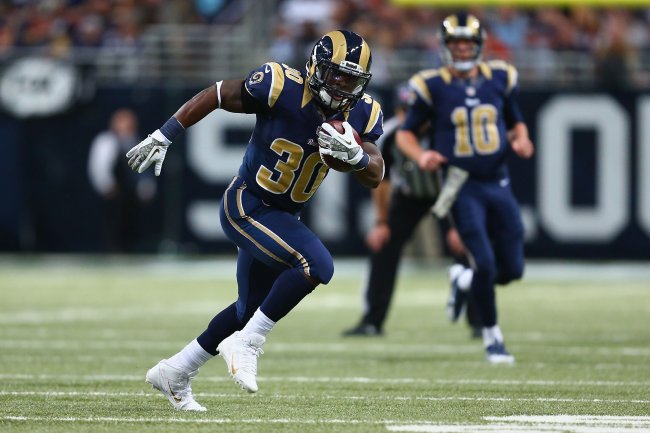 Dilip Vishwanat/Getty Images
Injury concerns are what makes Stacy a question mark for Week 13 after suffering a concussion in Week 12, but as head coach Jeff Fisher stated, Stacy seems to be progressing just fine, per Nick Wagoner of ESPN:
Running back Zac Stacy, cornerback Trumaine Johnson and left guard Chris Williams did not participate in Wednesday's practice according to the team's official injury report, but all three are making strides in a positive direction according to coach Jeff Fisher.

"All three of them are doing well," Fisher said. "They're all going through the process right now and they're all doing well."

Stacy and Johnson, in particular, appeared to be in pretty good shape Wednesday. That duo spent part of the practice running sprints on the side with head athletic trainer Reggie Scott.
It would still be wise to keep an eye on the injury reports this week, but if Stacy is ready to go, he's a must-start. The Rams' opponent, the San Francisco 49ers, are No. 18 versus backs in fantasy and Stacy has scored four times in his past three games.
Sit 'Em: All New England Patriots and Carolina Panthers RBs
Both of these teams have their running backs sharing the workloads and their respective situations are cloudy at best.
The Panthers are rolling with three backs, namely DeAngelo Williams, Jonathan Stewart and Mike Tolbert, while quarterback Cam Newton is even getting looks in the red zone this season. Until one emerges above the rest in regard to carries, none of these players are a viable option versus a Tampa Bay Buccaneers run defense that ranks No. 9 in the NFL.
The Patriots are also a mess in the backfield, but for a different reason. Sure, the backfield is crowded with guys like Stevan Ridley, Shane Vereen, Brandon Bolden and LeGarrette Blount, but fumbles have also skewed who will get the majority of the carries after both Ridley and Blount lost fumbles in Week 12.
Start 'Em: Alshon Jeffery, WR, Chicago Bears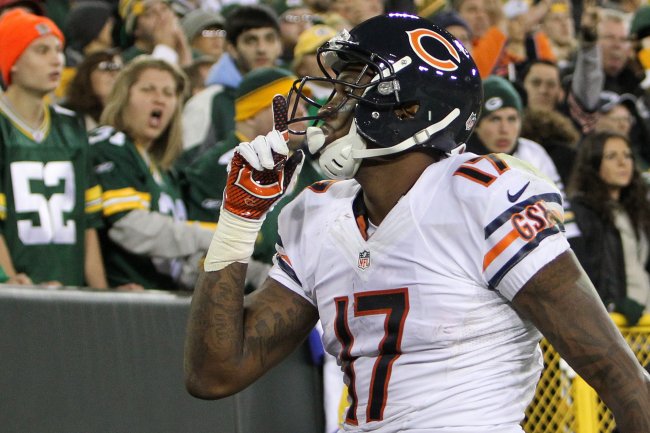 Mike McGinnis/Getty Images
Jeffery's Week 12 performance left a lot to be desired after he compiled just 47 total yards of offense without scoring a touchdown, but expect things to be different this week.
With much of the attention on Brandon Marshall, the Minnesota Vikings defense, which ranks No. 29 against the pass, won't have as close of a focus on Jeffery and that should allow him to gain plenty of yards and even find the end zone for the first time in three games with weather not being a factor in the dome.
Sit 'Em: DeSean Jackson, WR, Philadelphia Eagles
Jackson is normally a must-start each week, but this week presents a bit of a concern for the Eagles' top receiver.
Jackson will have an unfavorable matchup against top corner Patrick Peterson of the Arizona Cardinals, and considering Jackson hasn't broken the 100-yard mark in his last two games, it's doubtful he'll be able to do so this week as well against a Cardinals defense that ranks No. 6 versus receivers in fantasy.
Start 'Em: Greg Olsen, TE, Carolina Panthers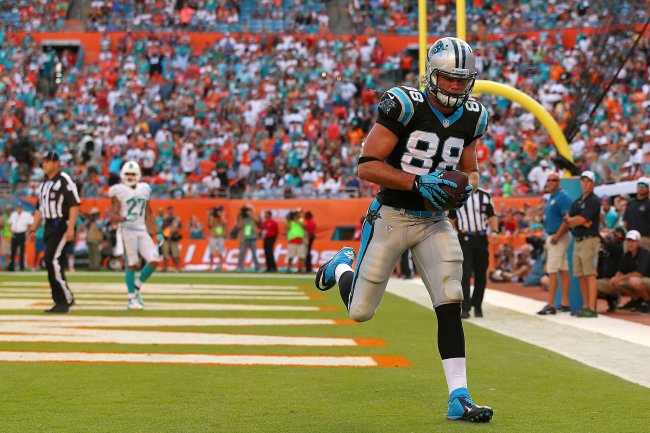 Mike Ehrmann/Getty Images
With the Tampa Bay Buccaneers ranking No. 19 against opposing tight ends in fantasy and No. 20 against the pass overall, Olsen is a solid bet to get the start at tight end this week.
Bear in mind his numbers are never gaudy considering he hasn't broken the 100-yard mark yet this season, but Olsen does have four touchdowns in his past five games, which makes him a reliable target for Newton in the red zone.
Sit 'Em: Jordan Cameron, TE, Cleveland Browns
Cameron hasn't been productive for three weeks now and hasn't found the end zone since Week 7 versus the Green Bay Packers.
Add to that the fact that Brandon Weeden will be behind center and you have more ammunition to sit Cameron this week despite the fact that he's against one of the worst pass defenses in football, the Jacksonville Jaguars, who are allowing the third-most points to tight ends in fantasy.
Start 'Em: Cleveland Browns D/ST
Cleveland's defense had a rough week in Week 12 against the Pittsburgh Steelers and failed to score a point in the contest for fantasy owners.
Don't expect that to happen this week as the Jacksonville Jaguars come to town allowing the second-most fantasy points to defenses this season.
Sit 'Em: Kansas City Chiefs D/ST
This one is a no-brainer, regardless of the weather conditions.
Yes, it's tempting to start KC after the lack of production Peyton Manning enjoyed last week in rough conditions, but it still doesn't overshadow the fact that the Broncos can move the ball on the ground (No. 12 rushing offense) and own the top scoring offense in all of football.
Start 'Em: Nick Folk, K, New York Jets
New York has been dreadful the past two weeks and haven't allowed much room for Folk to succeed. This week things should be different as the Jets will be able to establish the run against the No. 25 run defense in football, while rookie QB Geno Smith should make some headway against the No. 14 pass defense in the NFL.
Still, the Jets aren't good enough offensively to find the end zone and that should lead to plenty of stalled drives and field goal chances for the Jets kicker against a Dolphins squad that has allowed the fourth-most fantasy points to kickers.
Sit 'Em: Randy Bullock, K, Houston Texans
The Texans' offense was a mess last week after scoring just six points against the lowly Jacksonville Jaguars in Week 12. With such an unpredictable offense being brought to the table, there just isn't enough assurance that Bullock will get extra point chances, let alone field goal opportunities in his range.
Bullock has also proven to be erratic at times this season and while he has made his last five field goals, before that he was two for six during Week 9 and 10.