Thanksgiving is a day for turkey and all the fixings, but no side dish is more important than football. Fans across the country will have their eyes fixated on television screens, and most of them are likely to be keeping close track of their fantasy stats as well.
Week 13 is an extremely important week in the fantasy realm since it represents the final week of the regular season in many leagues. That means there is very little time left for owners who are trying to make the playoffs or improve their positioning. With that in mind, the Thanksgiving Day games will make a major impact.
Here is a look at the best and worst fantasy plays to consider on Thursday in order to get a leg up on your opponents and avoid falling behind early.
Quarterbacks
Start: Matt Flynn (GB)
The Packers' quarterback situation has been quite unsettled with Aaron Rodgers on the shelf, but an old standby may be able to change that. Matt Flynn stepped in for the ineffective Scott Tolzien against the Minnesota Vikings in Week 12 and led the Packers to a come-from-behind tie. Based on the reps at practice throughout the week, it seems as though Flynn will get an opportunity to start against the Detroit Lions on Thursday, according to NFL on ESPN.
THIS JUST IN: Packers coach Mike McCarthy says Matt Flynn took starter reps today in practice.
No starter announced yet for THU at DET

— NFL on ESPN (@ESPNNFL) November 26, 2013
Flynn may seem like nothing more than a desperation fantasy play on the surface, but he is a particularly good option for Rodgers owners. After all, Flynn had the best game of his career two years ago against the Lions when he threw for 480 yards and six touchdowns. Flynn won't approach those numbers, but he should be very good against a suspect Detroit secondary.
Week 13 Fantasy Projection: 294 yards, three touchdowns and one interception
Sit: Ben Roethlisberger (PIT)
Jared Wickerham/Getty Images
The Steelers are on a roll as of late, and the play of quarterback Ben Roethlisberger is perhaps the biggest reason for that. Big Ben has thrown for 11 touchdowns over his past four games, and he has turned in passing performances of 367 and 400 yards during that time frame as well. Despite his recent run of good play, Roethlisberger is better off on your bench in Week 13.
Pittsburgh will face the Baltimore Ravens on the road on Thursday night in what is sure to be a hard-hitting affair. When the Steelers and Ravens meet, it is almost always a low-scoring, defensive slugfest. Roethlisberger threw for just 160 yards and a touchdown against Baltimore earlier in the year. With the Ravens allowing just 226 passing yards per game, Big Ben's ceiling isn't very high.
Week 13 Fantasy Projection: 237 passing yards, one touchdown and one interception
Running Backs
Start: Ray Rice (BAL)
Which player will have the best fantasy performance on Thanksgiving?
Which player will have the best fantasy performance on Thanksgiving?
Matt Flynn

Ray Rice

James Jones

Heath Miller
There have been plenty of fantasy disappointments this season, but Ray Rice has to be near the top of the list. The Ravens running back was a first-round pick in all formats, but he has played like a mid-round guy at best. Rice broke 100 yards rushing in a game for the first time all season two weeks ago, but he followed that up with 30 yards on 16 carries against the New York Jets in Week 12. Luckily for Rice and his owners, he has a much easier matchup in Week 13.
The Steelers have traditionally been a tough team to run on, but that hasn't been the case this season. Pittsburgh is surrendering nearly 119 yards per game on the ground, and it has allowed 13 rushing scores as well. Rice only mustered 45 yards against the Steelers in Week 7, but due to how solid Pittsburgh's pass defense is, the Ravens will commit to the run. Look for Rice's output to be closer to Week 11 than what he did in Week 12.
Week 13 Fantasy Projection: 92 rushing yards, four receptions for 28 yards and one touchdown
Sit: Darren McFadden (OAK)
Rice has been a maddening fantasy commodity in 2013, but that has been the case for Raiders running back Darren McFadden for the past several years. DMC has all the talent in the world, and he has shown flashes of brilliance at times, but he struggles to stay on the field. McFadden has played in just seven games this season and missed the past three, but he is expected to play on Thursday, according to Jerry McDonald of the Oakland Tribune.
Raiders notebook: McFadden looks like he'll play, but how much? . . .
http://t.co/RC4cRB9Aws

— Jerry McDonald (@Jerrymcd) November 27, 2013
Even if McFadden plays, though, his potential is limited. He is likely to split carries with Rashad Jennings, who has played well as of late, and it's impossible to say whether or not McFadden will even be able to make it through the entire contest. The Dallas Cowboys are statistically the No. 30 team in the league against the run, but don't let that trick you into starting McFadden.
Week 13 Fantasy Projection: 36 rushing yards and one reception for seven yards
Wide Receivers
Start: James Jones (GB)
After catching 14 touchdowns last season, Packers receiver James Jones has struggled to duplicate that success. Missing a couple games due to injury didn't help matters, but he also hasn't been a consistent part of the offense. Jones hasn't caught a touchdown since Week 5 against the Detroit Lions, but there is reason to believe that he will end that drought against the same Lions team in Week 13.
Not only have the Lions struggled against the pass this season, but Jones is starting to become a focal point of Green Bay's offense. Matt Flynn looked in his direction often in Week 12, and Jones ended up with seven catches for 80 yards. It was his best showing since posting 127 yards against Detroit earlier in the season. Flynn is clearly comfortable with Jones, and that comfort level will lead to a big game.
Week 13 Fantasy Projection: Six receptions for 118 yards and two touchdowns
Sit: Emmanuel Sanders (PIT)
After a couple weeks of futility, Steelers wide receiver Emmanuel Sanders reestablished himself as an important part of Pittsburgh's offense in Week 12. He reeled in six passes for 52 yards and a touchdown, and he served as a great complement to Antonio Brown. Sanders has had hot and cold stretches this season, and although it seems like he may be poised to go on another hot streak, he isn't an advisable start on Thursday.
As previously discussed, the Ravens are a tough team to pass on. That means there is only so much to go around in Pittsburgh's passing game this week. Brown is always going to be Roethlisberger's main target, and tight end Heath Miller is going to steal plenty of catches as well. Sanders must score a touchdown in order to be fantasy-relevant this week, but that seems unlikely to happen.
Week 13 Fantasy Projection: Three receptions for 33 yards
Tight Ends
Start: Heath Miller (PIT)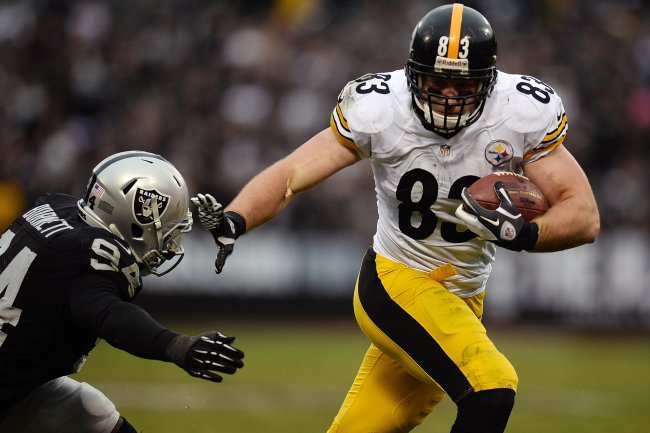 Thearon W. Henderson/Getty Images
The Thanksgiving tight end crop isn't particularly impressive aside from Jason Witten of the Cowboys, but Miller is a solid sleeper starter in his own right. Since the Steelers and Ravens figure to play things close to the vest, there will almost certainly be plenty of running plays and high-percentage passes. Miller is Big Ben's most consistent and trusted option in the passing game, so it wouldn't be a surprise to see Miller lead the team in receiving on Thursday.
Miller only had two grabs for 17 yards in the first meeting between the teams this season, but he did catch a touchdown. He hasn't found the end zone since then, but he has 13 catches over the past two weeks. Roethlisberger has been locked on Miller lately, and there is no reason to believe that will change in Week 13.
Week 13 Fantasy Projection: Seven receptions for 74 yards and one touchdown
Sit: Joseph Fauria (DET)
Lions tight end Joseph Fauria is one of the NFL's most efficient players as he makes the most of his opportunities, but that doesn't make him a great fantasy player. Fauria caught his sixth touchdown of the season in Week 12, but he is not overly involved in the offense unless the Lions are around the end zone, as evidenced by this stat courtesy of Numbers Never Lie:
Lions TE Joseph Fauria has 11 career catches.

6 are TD catches.

— Numbers Never Lie (@ESPN_Numbers) November 24, 2013
Fauria has just one catch in each of his past three games, and he has caught more than one pass in a game just twice this season. There is always a chance that Fauria will score a touchdown, but relying on that is a dangerous game. Fauria's usage is simply too infrequent to trust.
Week 13 Fantasy Projection: One reception for 12 yards
Follow @MikeChiari on Twitter