Better late than never, right? These usually sturdy NFL players have dramatically underwhelmed their fantasy football owners, but they'll achieve some redemption in Week 12.
If you purchased stock in any of these four big names, you feel a little short-changed at the return on investment. In fact, chances are at least three of these four are just rotting away on your bench, unless you capsized them to free agency.
Now is a good week to dust them off and toss them back into the starting lineup. It won't erase the sour taste from your mouth, but holding a grudge could keep you from accruing pivotal points with the playoffs lurking around the corner.
Look for these fallen stars to rebound this week.
QB Eli Manning (vs. Dallas Cowboys)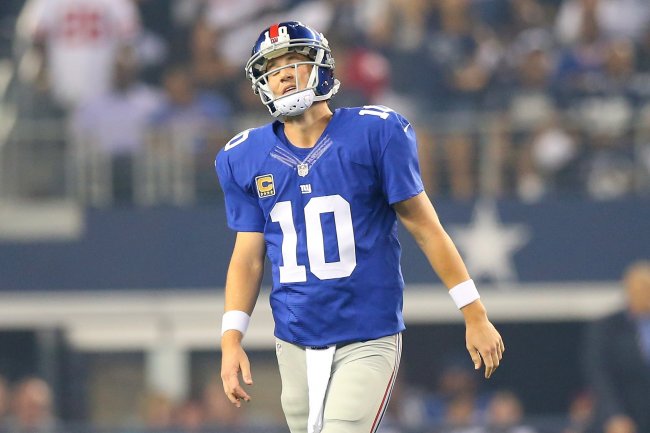 Ronald Martinez/Getty Images
I wouldn't blame you at all if you dropped Eli Manning weeks ago. He has completed just 57.1 percent of his passes, averaged 221.8 yards per game since Week 2 and has thrown an unconscionable 17 interceptions.
But the Cowboys secondary is terrible, a truth Manning discovered first-hand during their Week 1 meeting.
Would you start Eli Manning against the Dallas Cowboys?
Would you start Eli Manning against the Dallas Cowboys?
Yes, it's a great matchup Manning will exploit.

No, he has played horribly as of late.

Only if I was incredibly desperate.
Although he coughed up three interceptions, Manning also compiled 450 passing yards and four touchdowns in a losing effort for the Giants, but a winning one for many of his fantasy owners. That beating was no fluke for Dallas, who ranks last in the NFL with 313 passing yards allowed per contest.
Manning has not generated 300 yards or multiple touchdowns since Week 5, and that effort also came attached with three more picks. He has looked gun-shy against other flimsy defenses, but the Giants finally started to open the passing offense up for business again against the Green Bay Packers.
Don't bench Matthew Stafford or Tony Romo in Manning's favor, but he should finish as a top-10 fantasy quarterback for the first week in a while.
RB Steven Jackson (vs. New Orleans Saints)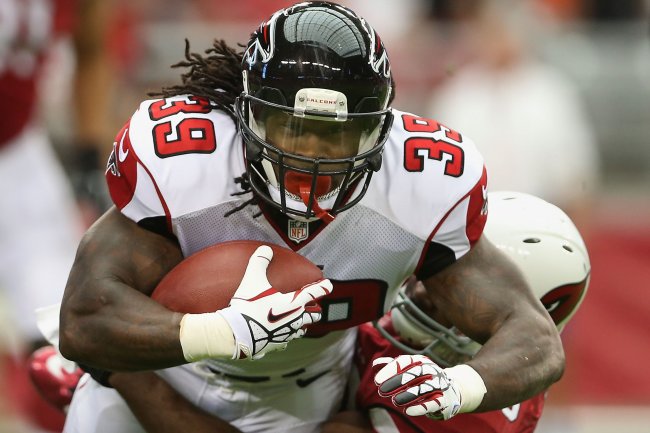 Christian Petersen/Getty Images
Even when the hamstring hasn't forced him out of action, Steven Jackson has played horribly.
The 30-year-old running back (never a promising string of words) has averaged just 3.3 yards per carry with only one touchdown to show for his six games played. Not what you want from an early second-round selection.
Because of that lofty price tag, most owners were probably unwilling to part ways with him due to sunk costs. While an economist would argue that they're worsening the damage by keeping a futile Jackson out of reluctance to admit their grave mistake, it's still possible the veteran back has some value to sap out.
New Orleans is a good opponent for him to at least produce a credible fantasy performance. When Jackson made his Atlanta Falcons debut against his new NFC South rival, he amassed a season-high 122 total yards (77 rushing, 45 receiving) on the afternoon.
The Saints are deadly against the pass, but exploitable on the ground. The Falcons should try to involve Jackson more after another multiple-interception day from Matt Ryan.
WR Dwayne Bowe (vs. San Diego Chargers)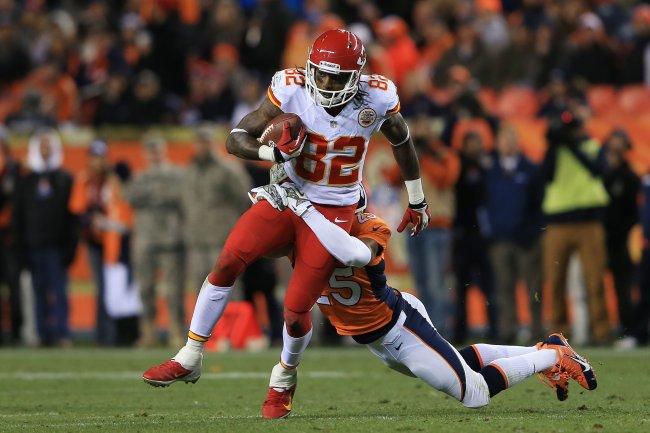 Doug Pensinger/Getty Images
Hey look, Dwayne Bowe is actually doing something.
With everyone rightfully sipping the Kansas City Chiefs' Kool-Aid this preseason, their rising stock contributed to Bowe garnering breakout status. Alex Smith is no Aaron Rodgers (low blow, 49ers?), but he's also way better than Matt Cassel.
Will Dwayne Bowe receive double-digit targets against the San Diego Chargers?
Will Dwayne Bowe receive double-digit targets against the San Diego Chargers?
Instead, Smith has relied on short strikes down the middle, rarely testing opponents down field knowing that his defense can keep most games low scoring. Bowe often disappeared as a result, twice finishing a game with just one short catch.
Lately, however, Smith has looked Bowe's way more often. Bowe has received a season-high in targets during each of the past two weeks, getting 12 balls thrown to him in Week 10 and 14 last Sunday against the Denver Broncos, whom he made pay with 57 yards and a touchdown.
The Chargers allow 275.5 passing yards per game and brandish enough of an offense to keep the Chiefs on their toes. Now that Smith is starting to pay closer attention to Bowe, fantasy gamers should do the same.
TE Jason Witten (at New York Giants)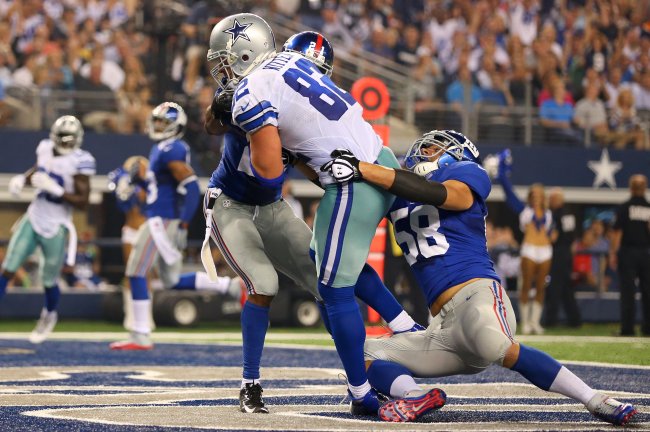 Ronald Martinez/Getty Images
By a normal tight end's standards, Jason Witten has done just fine. His 47 catches, 532 yards and four touchdowns are good enough to make him the eighth-best fantasy tight end in ESPN scoring, and a big outing could spring him to No. 5.
But consider that his owners drafted him near the fifth or sixth round when they could have patiently waited for Jordan Cameron later in the draft or gotten lucky with Julius Thomas or Jordan Reed on waivers. Even Charles Clay is posting nearly identical production.
Witten is on pace to finish with 851 receiving yards, which would represent his lowest tally since 2006. Even if he does not deserve comparable ill will as the rest of this list's brethren, he has not been vintage Jason Witten.
The Giants are the perfect remedy for his cold. To kick off the season, Witten collected eight receptions, 70 yards and two touchdowns against them. Last year, he caught 18 passes during their second matchup.