Bearing down on the playoffs, now is not the time for fantasy owners to start missing on lineup calls.
Each week, owners have to make a tough call or two on who gets the starting nod at a certain position. I am here to help with those calls.
In light of that, I've tried to focus in on players who are likely to launch this kind of debate in the heads of their owners.
The lists in the tables will start with the strongest play in that category to the weakest. So, for the starters, the player on top is the one I project to have the best week. For the players that need to sit, the player at the top is the one I project to have the worst week.
Along with the tables, I'll discuss one of the more interesting selections for each position in more depth—except for kicker, because I subscribe to the same philosophy on kickers as NIU coach Rod Carrey:
[embedded content]
Quarterback

| | |
| --- | --- |
| Player | Opponent |
| Eli Manning | Cowboys |
| Colin Kaepernick | at Redskins |
| Mike Glennon | at Lions |
| Carson Palmer | Colts |
| Player | Opponent |
| Philip Rivers | at Chiefs |
| Matt Ryan | Saints |
| Ryan Tennehill | Panthjers |
| Ben Roethlisberger | at Browns |
Start: Eli Manning, New York Giants
Week 12 Opponent: Dallas Cowboys
Who will have the better fantasy week?
Who will have the better fantasy week?
Manning

Kaepernick

Glennon

Palmer
Hopefully, you gave up on Eli Manning turning his season around weeks ago, but the Giants quarterback should be given a one-week reprieve from his spot in the fantasy doghouse.
Manning has thrown just 12 touchdowns on the season and he's partnered that with 17 interceptions. On top of that, he's thrown for more than one touchdown, and that was only two, in just one game since Week 1—when he threw for four scores.
However, that Week 1 affair came against the same Dallas Cowboys he will face this week, and let's just say the Cowboys defense has not gotten any better.
In their last game, the Cowboys allowed the Saints to go for over 600 yards of offense.
The Giants' improved play during their current four-game winning streak hasn't seen Manning return to form, but he will still put up some solid numbers against the Cowboys.
Running Back

| | |
| --- | --- |
| Player | Opponent |
| Ben Tate | Jaguars |
| Andre Brown | Cowboys |
| Rashad Jennings | Titans |
| Frank Gore | at Redskins |
| Player | Opponent |
| Ray Rice | Jets |
| Chris Ivory | at Ravens |
| Lamar Miller | Panthers |
| Donald Brown/Trent Richardson | at Cardinals |
Sit: Ray Rice, Baltimore Ravens
Week 12 Opponent: New York Jets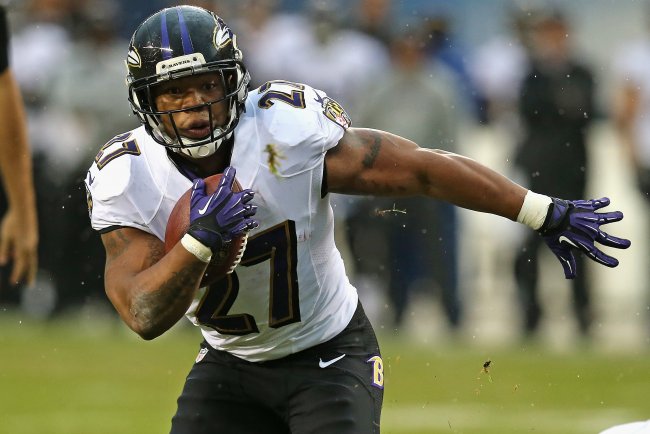 Jonathan Daniel/Getty Images
After failing to rush for more than 74 yards in any game this season, Ray Rice finally broke the century mark last week by rushing for 131 yards and a touchdown. This gives the hope that Rice can find a decent close to his abysmal season, but don't look for the improved results to continue this week.
Rice had his season breakout against a suspect Bears defense. He will face a much stiffer test against the Jets this week.
The Jets are first in the NFL in rushing defense and also first in yards allowed per rush at just 2.9.
On top of that, the Jets have not allowed any running back to run for more than 75 yards in a single game this season.
After a one-week break, it is back to underwhelming results for Rice.
Wide Receiver

| | |
| --- | --- |
| Player | Opponent |
| Marques Colston | at Falcons |
| Torrey Smith | Jets |
| Kendall Wright | at Raiders |
| Danny Amendola | Broncos |
| Player | Opponent |
| Mike Wallace | Panthers |
| Denarius Moore | Titans |
| Cecil Shorts | at Texans |
| Pierre Garcon | 49ers |
Start: Kendall Wright, Tennessee Titans
Week 12 Opponent: at Oakland Raiders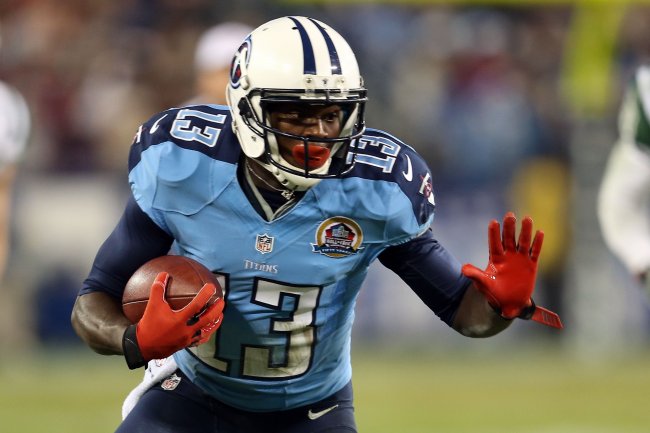 Andy Lyons/Getty Images
If Kendall Wright can start finding the end zone with a little regularity, he will be a guy who produces enough to be penciled in starting lineups and left there.
The 2012 first-round selection is coming on strong.
In the last four weeks, Wright has 28 catches off of 38 targets, which he has turned into 325 yards. For the season, he leads the Titans in receptions and receiving yards at 59 catches for 660 yards. He does have just one touchdown on the season, however.
This week, Wright should have ample opportunity to produce. The Raiders are 24th in the NFL at 252.3 passing yards allowed per game. They are also 24th in opponents' completion percentage.
Also, the recent move of first-round rookie corner D.J. Hayden to the injured reserve is not going to help the passing defense.
Wright will haul in enough catches and yards in this game to be a quality addition to a lineup even if he doesn't find the end zone.
Tight End

| | |
| --- | --- |
| Player | Opponent |
| Greg Olson | at Dolphins |
| Coby Fleener | at Cardinals |
| John Carlson | Packers |
| Delanie Walker | at Raiders |
| Player | Opponent |
| Jordan Reed | 49ers |
| Martellus Bennett | at Rams |
| Timothy Wright | at Lions |
| Rob Housler | Colts |
Start: Coby Fleener, Indianapolis Colts
Week 12 Opponent: at Arizona Cardinals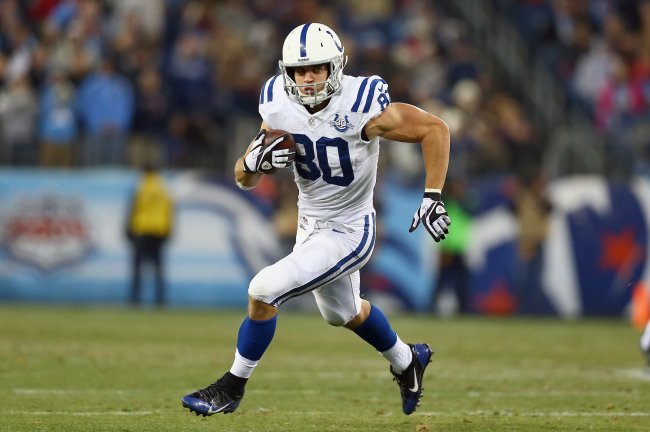 Andy Lyons/Getty Images
Coby Fleener is coming on strong. Combined over the last two weeks, the 25-year-old tight end has 12 catches for 140 yards. Just as importantly, he received 10 targets in each of the past two games.
I fully expect his trend of increased production to continue rolling this week.
The Arizona Cardinals have a magnificent defense, but that does not include stopping opposing tight ends.
By allowing an average of 14 fantasy points per game to tight ends, the Cardinals have the worst mark in the NFL in this category.
I wouldn't expect this weakness to go unnoticed by Andrew Luck and the Colts. Fleener is in line to get double-digit targets once again.
Defense

| | |
| --- | --- |
| Player | Opponent |
| Baltimore Ravens | Jets |
| New Orleans Saints | at Falcons |
| Player | Opponent |
| Patriots | at Broncos |
| Dolphins | Panthers |
Start: New Orleans Saints
Week 12 Opponent: at Atlanta Falcons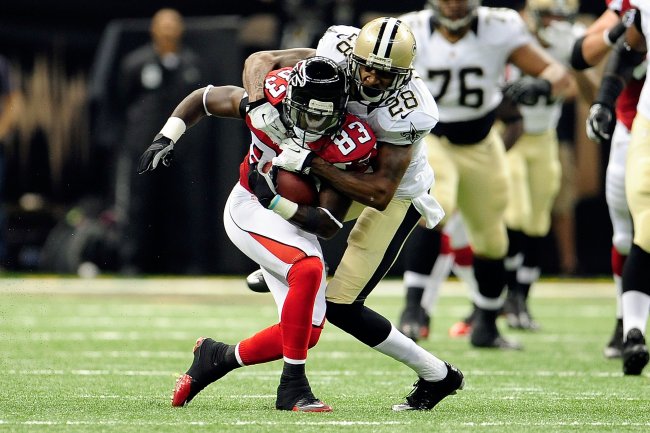 Stacy Revere/Getty Images
It speaks to the New Orleans Saints' Super Bowl potential that this once maligned defensive unit could be worthy of a fantasy start. This defense is not one that should be started week in and week out, but with a solid unit against the pass, that is enough to start it against the Atlanta Falcons.
The Falcons' miserable season has no light at the end of the tunnel. The offense has been wracked by injuries and the results being turned in are not improving.
In fact, over the last four games, the Falcons have allowed defenses to score a fantasy average of 14.2 points per game. That is the second-worst mark in the league.
Atlanta may be able to find some success on the ground in this game, but it will still be vulnerable to sacks and turnovers, and also will have hard time scoring.
Kicker

| | |
| --- | --- |
| Player | Opponent |
| Garrett Hartley | Falcons |
| Graham Gano | at Dolphins |
| Player | Opponent |
| Sebastian janikowski | Titans |
| Nick Novak | at Chiefs |
Just let 'em be!