It's that time of year where fantasy owners are looking to solidify their playoff seedings, so here is some advice on what to do with Houston Texans wideout Andre Johnson and other risky stars.
The players on this list have plenty of talent, but they are having some issues lately. Injuries to other players on your roster could force you to make a decision on these players.
Decisions should be made based on their recent performances, the talent around them and who they face. Early in the season it's fine to take a risk on a player who hasn't performed well. However, that could cost you late in the season.
Here what to do with risky stars this week.
Matt Ryan, QB, Atlanta Falcons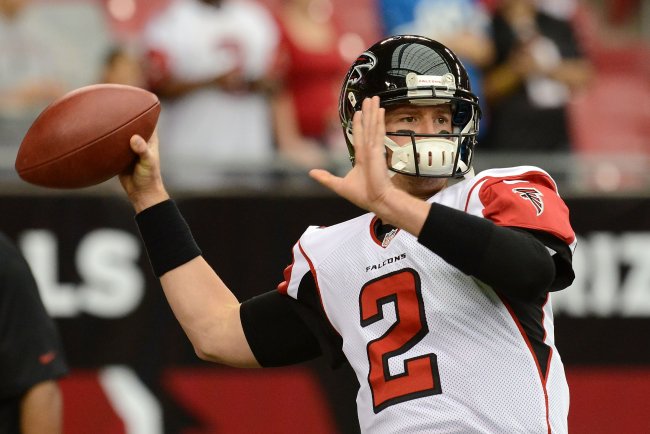 Norm Hall/Getty Images
Atlanta Falcons fans can't be too happy with their team's 2-7 record. However, fantasy owners are just recently starting to see the effect.
Matt Ryan has averaged only 215 yards over his last three games. Over his last four games, the Atlanta quarterback has thrown five touchdowns to nine interceptions.
Is Matt Ryan still a good fantasy option despite his team's struggles?
Is Matt Ryan still a good fantasy option despite his team's struggles?
The Falcons are falling fast, and Ryan doesn't have a healthy receiving corps to work with, although Roddy White has returned to the lineup. Now he will get to face one of the hottest teams in the league, the New Orleans Saints, on a short week.
New Orleans has the third-best pass defense in the league. It is allowing only 191.4 yards through the air, so Ryan could be in for a long night. In their Week 1 meeting, he threw for 304 yards, two touchdowns and an interception.
Even when Atlanta was losing early in the season, Ryan was at least helping fantasy owners. He had a minimum of two touchdowns in each of his first six games, but he is struggling lately.
With a depleted offense and a tough opponent, Ryan may not be the best option this week.
Verdict: Sit 'em
Ray Rice, RB, Baltimore Ravens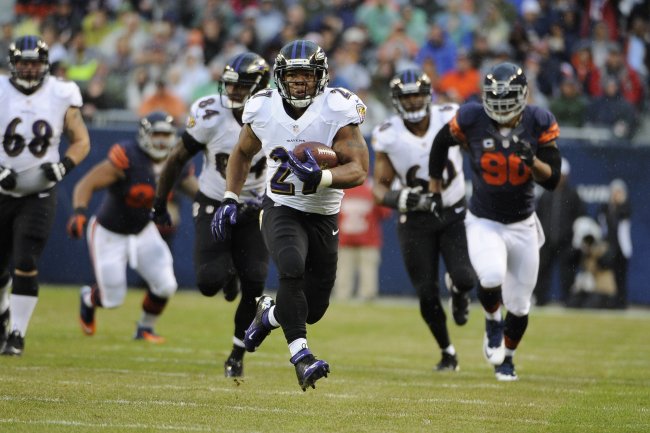 David Banks/Getty Images
Fantasy owners are doing one of two things with Ray Rice. They have either given up on him or are hoping that he explodes for a big game. At this point, many have decided to sit him.
Rice is having the worst season of his career. He is averaging only three yards per carry and is on pace to fail to rush for at least 1,000 yards for the first time since his rookie season.
Was Rice's big game last week a sign of things to come or an aberration?
Was Rice's big game last week a sign of things to come or an aberration?
Sign of things to come

Aberration
Despite his lack of production, he has found the end zone four times this year. That's a big total for someone who has only 420 rushing yards through nine games.
For those who gave up on Rice before last week, he punished those owners. The 26-year-old rushed for 131 yards and a touchdown on 25 carries, adding 17 receiving yards as well. He did all that after averaging only 2.5 yards in his previous eight carries.
While his numbers were impressive, he was aided by a 47-yard run, which could be a sign of things to come. However, he had topped only 40 rushing yards once this season entering last Sunday and hadn't rushed for more than 45 yards in any outing.
Rice will next have to take on the league's No. 1 run defense in the New York Jets. The Jets have allowed an average of only 73.2 rushing yards per game this season and have allowed only 2.9 yards per carry. Things don't look good for Rice.
Verdict: Sit 'em
Andre Johnson, WR, Houston Texans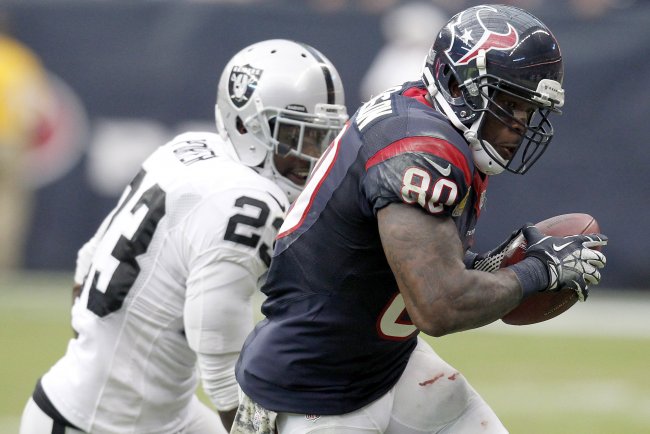 Thomas B. Shea/Getty Images
The Houston Texans are unsettled at their quarterback position, but Johnson hasn't let that stop him from being productive.
Johnson has 976 yards and five touchdowns through 10 games. With more controversy at quarterback for Houston, the wideout has become a risky option for fantasy owners.
Is Andre Johnson still an elite receiver?
Is Andre Johnson still an elite receiver?
He has been a fantasy stud lately, however. The 32-year-old had 116 yards last week against the Oakland Raiders and is averaging 111.8 yards and a touchdown over the last five games.
Houston has lost eight straight games, but Johnson has been on fire. The Texans next take on the Jacksonville Jaguars, who are 24th against the pass. Arizona Cardinals quarterback Carson Palmer threw for 419 yards and two scores against Jacksonville last week.
Although Houston has a lot of issues right now, Johnson hasn't let that affect his performance. He has continued to put up big numbers, no matter who the quarterback has been for he Texans.
Verdict: Start 'em
*All stats courtesy of NFL.com