When it comes to fantasy football, the margin for error is razor-thin. One false move can mean the difference between winning and losing, and that can just as easily mean the difference between making the playoffs and missing them. Because of that, a great deal of thought has to be put into each and every move.
There are definitely certain players who must be in your starting lineup each and every week, but there are inevitably tough choices to be made on a weekly basis. Players come from out of nowhere to post huge games, and players disappoint despite good matchups all the time, so predicting what will happen from one week to the next is often an exercise in futility.
With that said, decisions still have to be made. Here is a look at some of the best and worst plays to consider for your fantasy team in Week 11.
Quarterbacks
Start: Nick Foles (PHI)
After throwing for seven touchdowns against the Oakland Raiders a few weeks ago, Eagles quarterback Nick Foles was the talk of the fantasy world. Despite massive expectations, Foles didn't disappoint last week as he followed that up with a three-touchdown showing. Perhaps the biggest key to Foles' success in recent weeks has been his ability to make big plays down the field, according to ESPN Stats & Info.
Nick Foles: 7 TD passes 15+ yards downfield in last 2 games (10 overall); only 3 other QB have 7 TD passes 15+ yards this SEASON

— ESPN Stats & Info (@ESPNStatsInfo) November 15, 2013
That bodes well for Foles in Week 11 as he faces a Washington Redskins defense that has struggled against the pass. Washington is allowing nearly 275 passing yards per game, it has given up 19 passing touchdowns, and it has surrendered 37 passing plays of 20 yards or more. Foles and the Eagles offense are banging on all cylinders, and the Redskins won't be able to slow them down.
Week 11 Fantasy Projection: 310 passing yards, three touchdowns, one interception, 21 rushing yards
Sit: Andy Dalton (CIN)
Andy Dalton has been a difficult player to figure out this season. He has turned in some huge performances, but he is equally capable of losing games for his team. He truly is a feast-or-famine quarterback in fantasy sense, and the past couple weeks have certainly been more famine than feast.
Dalton's numbers from last week don't look too bad as he threw for 274 yards and two scores, but much of that was due to a fluky Hail Mary connection at the end of regulation. If not for that, he would have thrown for just one touchdown and three picks. Dalton also threw three interceptions that week before that, so he can't really be trusted. The Bengals are facing a Cleveland Browns team that held Dalton to 206 yards and no touchdowns earlier in the season, so it figures to be a tough day for the "Red Rifle."
Week 11 Fantasy Projection: 228 passing yards, one touchdown, two interceptions
Running Backs
Start: Andre Ellington (ARI)
Which player will have the best fantasy performance in Week 11?
Which player will have the best fantasy performance in Week 11?
Nick Foles

Andre Ellington

Percy Harvin

Scott Chandler
Despite Cardinals head coach Bruce Arians' insistence on giving Rashard Mendenhall the bulk of the carries, there is no question that Andre Ellington is the team's best running back. Ellington has shined whenever he has been given an opportunity, and that was particularly true when he started in Week 8 against the Atlanta Falcons as Ellington rushed for 154 yards and a touchdown.
Arians can't be trusted to lean on Ellington, but the rookie out of Clemson should be able to do some damage even in limited action against the Jacksonville Jaguars this week. The Jags are the worst team in the league against the run as they are giving up 153 yards per game on the ground and have allowed 14 rushing scores. Provided the Cards are able to grab a lead in this game, Ellington will have some chances to rack up the yardage.
Week 11 Fantasy Projection: 87 rushing yards, one touchdown and three receptions for 26 yards
Sit: C.J. Spiller (BUF)
Although C.J. Spiller entered the season as a fantasy darling, he has been anything but that in 2013. Spiller's lack of success obviously has plenty to do with injuries, but he has also been hurt by Fred Jackson stealing carries. Spiller's pass catching has also been way down this season, and while there was some talk about using Spiller at wide receiver due to the Bills dealing with injuries at the position, head coach Doug Marrone doesn't plan to do that, according to Pro Football Talk.
Doug Marrone not a fan of using C.J. Spiller as a wide receiver http://t.co/zABt0mgTp2

— ProFootballTalk (@ProFootballTalk) November 15, 2013
That probably would have increased Spiller's value, especially in point-per-reception leagues, but he doesn't have much upside currently. The New York Jets have the No. 1 rush defense in football by a wide margin. It allows 74 yards per game and just over three yards per carry. Spiller had only nine yards on 10 carries against New York earlier in the year, and he probably won't be significantly better on Sunday.
Week 11 Fantasy Projection: 42 rushing yards and three receptions for 22 yards
Wide Receivers
Start: Percy Harvin (SEA)
Seahawks wide receiver Percy Harvin has yet to play a game this season due to a hip ailment, but all signs point toward the electric playmaker making his season debut in Week 11. Seattle has been just fine without him, but there is no question that he will add another dimension to the offense. Aggravating the injury will obviously be a concern; however, Harvin is adamant that he is ready to give it a go, according to the Seahawks' official Twitter account.
Harvin: "I definitely think I'm ready to play." http://t.co/EnD5XGi6EK

— Seattle Seahawks (@Seahawks) November 16, 2013
Nobody knows for sure how much Harvin will be used, but there are several factors working in his favor. For starters, he is facing his old team in the Minnesota Vikings, and there is little doubt that he'll want to produce against them. Also, the Vikings happen to be No. 29 in the league against the pass. Seattle's bye is on the horizon, so Harvin will have a chance to rest in Week 12. That suggests that the Seahawks might allow him to hit the ground running in Week 11.
Week 11 Fantasy Projection: Five receptions for 67 yards, one touchdown and 15 rushing yards
Sit: Danny Amendola (NE)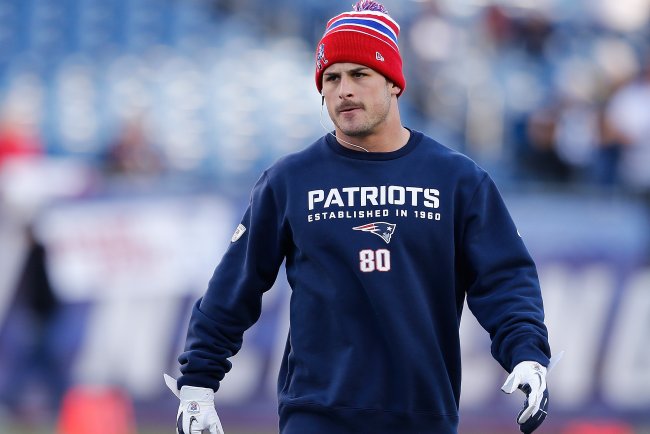 Jim Rogash/Getty Images
Speaking of injury-prone receivers, Danny Amendola reestablished himself as a fantasy option Week 9 as he racked up a season-high 122 receiving yards and a touchdown against the Pittsburgh Steelers. Many fantasy owners expected Amendola to assume the Wes Welker role in New England's offense this season, but his inability to stay on the field has made him a bust to this point.
There is still a chance for Amendola to salvage the season provided he can produce down the stretch, but that may not happen in Week 11. Even though quarterback Tom Brady seems to be hitting his stride, the Pats have a brutal matchup on Monday night against the Carolina Panthers. Carolina surrenders just 201 passing yards per game and has allowed a mere seven touchdown passes all year long, so Amendola simply won't have many opportunities to make things happen in Week 11.
Week 11 Fantasy Projection: Four receptions for 47 yards
Tight Ends
Start: Scott Chandler (BUF)
It's tough to trust Scott Chandler as a fantasy starter on a weekly basis since he is so dependent upon scoring touchdowns, but he has proven to be a solid pass-catcher when given a chance. Not only should he serve as a great security blanket for rookie quarterback EJ Manuel on Sunday against the New York Jets, but he may also be the No. 1 option in the passing game as both Stevie Johnson and Robert Woods have been ruled out, according to the Bills' official Twitter account.
OUT: Stevie Johnson, Robert Woods
PROBABLE: Kyle Williams, Da'Norris Searcy
#NYJvsBUF

— Buffalo Bills (@buffalobills) November 15, 2013
The Jets are going to stack the box to stop the run, and they'll dare Manuel to beat them. That means Chandler should get plenty of looks throughout the game. He beat the Jets for 79 yards and a touchdown earlier in the season, and based on the fact that he'll be the only game in town this week, he should produce against New York yet again.
Week 11 Fantasy Projection: Seven receptions for 89 yards and one touchdown
Sit: Martellus Bennett (CHI)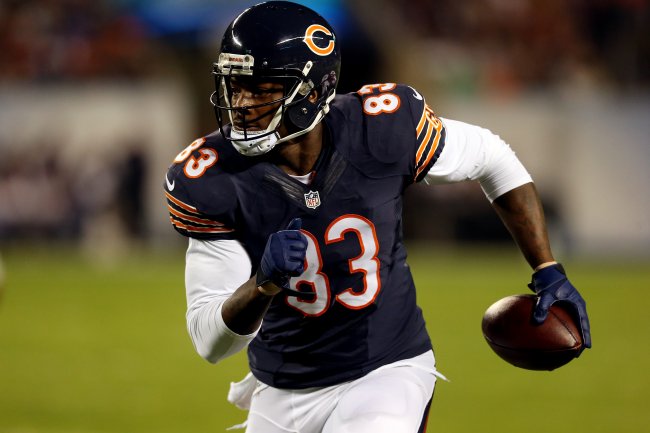 Jonathan Daniel/Getty Images
Martellus Bennett burst out of the gates this season and appeared to be on track for a career year, but his production has dipped significantly as of late. Not only has Bennett failed to top 36 receiving yards in each of his past three games, but he also has just one touchdown reception over his past seven contests.
Bennett had games with seven and eight receptions, respectively, early in the year with Jay Cutler throwing him the ball, however, Josh McCown will be under center in Week 11. Also, while the Baltimore Ravens defense isn't as dominant as usual, it isn't difficult to imagine Sunday's game being a low-scoring, smash-mouth affair. Bennett could be useful if he finds the end zone, but he isn't worth gambling on this week.
Week 11 Fantasy Projection: Three receptions for 21 yards
Follow @MikeChiari on Twitter