Every Sunday, fantasy football owners have to deal with tough decisions in their lineup. The good news is that you now have help when making your choice.
Obviously, someone like Adrian Peterson or Calvin Johnson is going to remain on your team regardless of the matchup. However, deciding between the rest of your options is rarely easy.
At this point of the year, you have to make sure to avoid choosing a player based on just name recognition. In fact, there are many preseason superstars that should be benched in most leagues.
Here is a look at top players who should be benched, along with guys you must make sure to get into your lineup.
Sit: Colin Kaepernick, QB, San Francisco 49ers
With his running prowess, Colin Kaepernick has the ability to post a big week at any time. He showed that in recent wins over the Tennessee Titans and Jacksonville Jaguars, when he combined for 46 fantasy points in two games.
However, he was completely shut down in Week 10 against the Carolina Panthers, totaling only two points thanks to his 91 passing yards.
His real ability is somewhere in the middle, but fantasy owners should expect another performance close to the low end of the spectrum this week. The New Orleans Saints have the No. 3 pass defense in the NFL, which means the 49ers will have to run the ball to beat them.
Frank Gore might have a big day, but Kaepernick will be mostly limited to handing off the ball and trying to avoid mistakes in the passing game. This does not usually equal a big fantasy showing.
Start: Nick Foles, QB, Philadelphia Eagles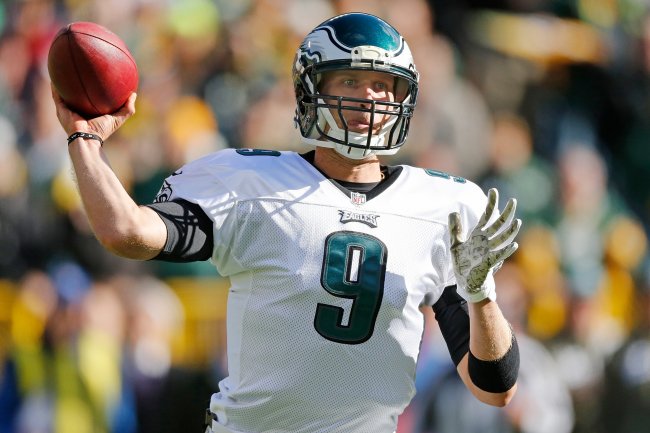 Gregory Shamus/Getty Images
Whether you consider Nick Foles' current run to be a fluke or not, it makes sense to ride the hot hand. The second-year quarterback has thrown 10 touchdowns in his last two games and 16 this season overall without throwing an interception.
This week, he will face the Washington Redskins, who have allowed at least one passing touchdown in every game this year. Even Christian Ponder had two scores and a quality showing against this unit a week ago.
Foles has developed a great connection with receivers DeSean Jackson and Riley Cooper, and these players should be in line for another big game against a weak Redskins defense.
Free agents: Case Keenum, Houston Texans; Mike Glennon, Tampa Bay Buccaneers; Josh McCown, Chicago Bears
Sit: C.J. Spiller, RB, Buffalo Bills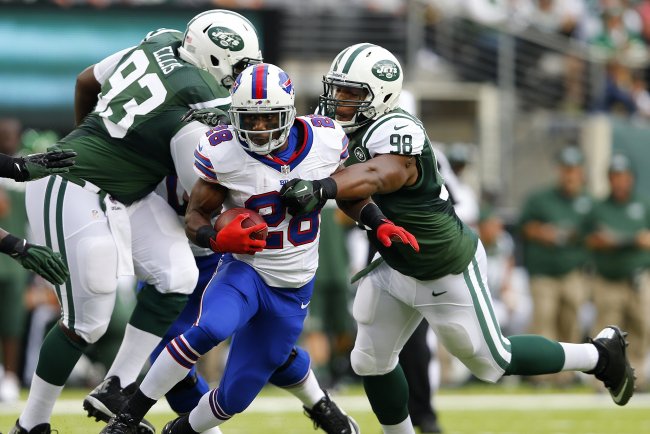 Rich Schultz/Getty Images
Even if C.J. Spiller has more talent and big-play ability, it is clear the Bills coaching staff has more trust in Fred Jackson. Last game, the duo received the same number of receptions, but Jackson earned four more carries than his teammate.
Spiller has had some good games this year, but he has been held to three fantasy points or less in four of his nine games. The biggest problem is simply his lack of opportunities, as he is averaging only 10.8 touches in his last five appearances.
If this continues against the league's No. 1 run defense in the New York Jets, it is hard to imagine the running back breaking out for a big game.
The last time these teams played, Spiller ended the game with nine rushing yards on 10 carries. You do not want to start him and hope for better numbers this time around.
Start: Andre Ellington, RB, Arizona Cardinals
After rushing for 154 yards and a touchdown in Week 8, Andre Ellington disappointed fantasy owners with just 55 rushing yards his next time out. However, it is clear that he is the most talented player in Arizona's backfield.
On the season, Ellington is averaging an insane 7.2 yards per carry, while starter Rashard Mendenhall is managing just 3.1. In fact, the rookie has more rushing yards than the veteran with about half the carries.
With Mendenhall also losing a key fumble in last week's game, it seems obvious that his carries will start to diminish.
That being said, it should not be an issue this week either way. The Jacksonville Jaguars have the worst run defense in the NFL, which means that Ellington should have a good showing even with 10-15 carries. If he is on your fantasy team, get him in your lineup.
Free agents: Rashad Jennings, Oakland Raiders; Jonathan Stewart, Carolina Panthers; Bobby Rainey, Tampa Bay Buccaneers
Sit: Mike Wallace, WR, Miami Dolphins
All year long, Mike Wallace has been a disappointment for the Miami Dolphins. The high-priced free agent has been held to fewer than 50 receiving yards in over half of his games this year and only has one touchdown.
While fantasy owners might think he could break out against the struggling San Diego Chargers defense, think again.
An already poor Miami offensive line got even weaker with both Jonathan Martin and Richie Incognito no longer with the team. This has forced quarterback Ryan Tannehill to get rid of the ball quicker, which led to Rishard Matthews' big game out of the slot a week ago.
Tannehill simply will not have the time to utilize a deep threat like Wallace, and it will lead to another poor game for the receiver.
Start: Emmanuel Sanders, WR, Pittsburgh Steelers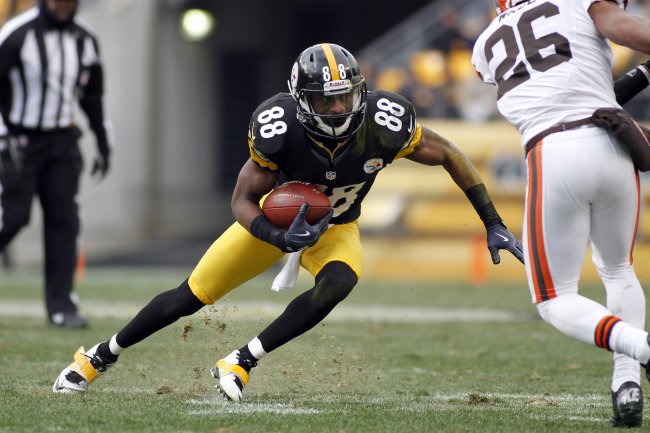 Justin K. Aller/Getty Images
Although Emmanuel Sanders only managed 13 receiving yards last week, the fact remains that the Steelers keep trying to get him the ball. He found a way to get four receptions in that contest, as well as a rush for 25 yards.
In the two weeks prior, the receiver combined for 13 catches on 22 targets for 186 receiving yards and a touchdown.
Even though Antonio Brown is the go-to option and Jerricho Cotchery sometimes comes through with a big game, Sanders still has a big role in this offense.
With this same amount of opportunities, he will have a big game against the Detroit Lions, who allow the third-most fantasy points to wide receivers in the league.
Free Agents: Aaron Dobson, New England Patriots; Santonio Holmes, New York Jets; Rishard Matthews, Miami Dolphins
Follow Rob Goldberg on Twitter for the latest breaking news and analysis.