Picking which running backs to start is one of the toughest decisions to make in fantasy football, and Week 10 of the NFL season is certainly no exception.
Players like Zac Stacy and Chris Johnson were certainly worth starting in Week 9. On the other hand, big names like Ray Rice and DeMarco Murray didn't exactly live up to their high expectations. Things like this happen every week, and sometimes you need some help determining whom to play.
Let's break down some of the riskiest running backs in Week 10 and determine whether you should start or sit each one.
Note: All information regarding points scored is based off of ESPN's standard scoring leagues.
Trent Richardson, Indianapolis Colts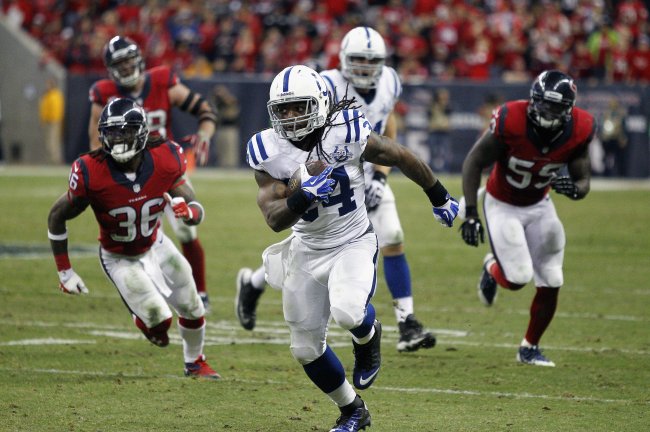 Bob Levey/Getty Images
Fantasy owners have been less than happy with Trent Richardson this season. He's failed to score more than five points since Week 4, when he scored 12 points against the Jacksonville Jaguars.
To make matters worse, Richardson has been hobbled with an ankle injury and is listed as questionable on the team's official injury report. Mike Chappell from the Indianapolis Star reported that although he's questionable on the report, Chuck Pagano expects Richardson to play on Sunday against the St. Louis Rams.
Pagano: Trent Richardson went through full practice. Listed questionable for Rams, but expect him to play.

— Mike Chappell (@mchappell51) November 8, 2013
Still, can we expect too much from the second-year player out of Alabama? He hasn't run for more than 60 yards in any game and has scored just two touchdowns. But he's also going against the St. Louis Rams, a team that gives up 125.2 rushing yards per game.
I wouldn't expect Richardson to do much against the Rams. He has yet to prove that he can make big plays with the Indianapolis Colts, and the ankle injury could slow him down even more. Even if you play in a deeper league, it might be best to let T-Rich sit until he can finally prove himself.
Verdict: Sit 'Em
Andre Ellington, Arizona Cardinals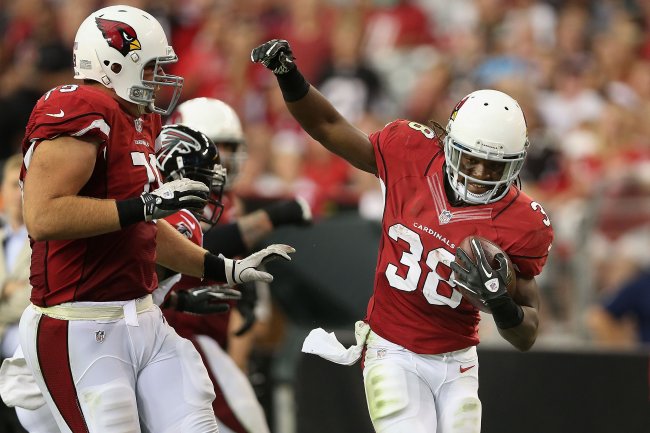 Christian Petersen/Getty Images
We saw some big plays from Andre Ellington in Week 8 against the Atlanta Falcons, and that makes him a very interesting play at the running back position.
In his last game, Ellington ran for 154 yards and a touchdown, putting up 21 fantasy points. It was his first game with more than seven carries, and he made the most of it. This season, he's run for 333 yards and two scores, averaging 7.7 yards per carry. He's also made plays in the passing game with 198 receiving yards and another score.
Even though there's a good chance that Rashard Mendenhall comes back this week, Kevin Patra from NFL.com reported that Ellington is expected to get the ball more often as the season continues.
This week, Ellington will be going against the Houston Texans, who allow 115.5 rushing yards per game. With Brian Cushing done for the season, that number is expected to keep going up.
Based on his explosiveness and now an increased workload, Ellington is certainly worth starting.
Verdict: Start 'Em
James Starks, Green Bay Packers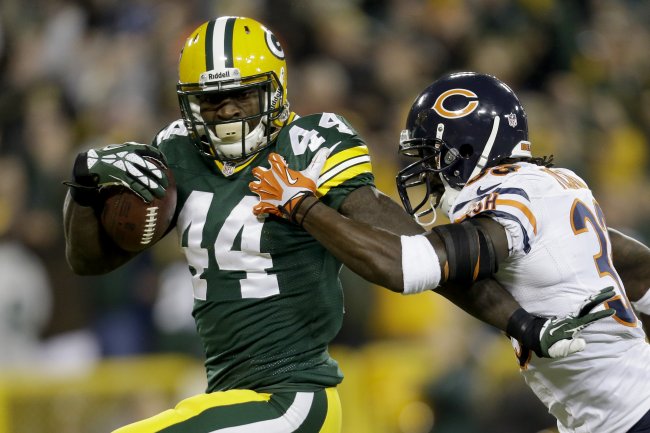 Mike McGinnis/Getty Images
Even though the Green Bay Packers brought in Eddie Lacy and Johnathan Franklin through the NFL draft, James Starks simply refuses to go away.
In the past two games since coming back from a knee injury, Starks has come up with huge plays, scoring 21 total points. He's only carried the ball 13 times in the past two weeks, but he's made the most of his opportunities.
With the injury to Aaron Rodgers, the Packers are bound to run the ball more often. While Lacy will get the majority of the carries, Starks is bound to get more touches as well as the team will focus less on the passing game with Seneca Wallace under center.
The Packers will be playing the Philadelphia Eagles this week, and they have one of the weaker defenses in the NFL. The Eagles allow 419.3 total yards per game, the most in the league, along with 25.7 points per contest.
When Starks has played, he's put up big numbers. Based on the current situation in Green Bay, Starks is definitely worth starting in the flex position.
Verdict: Start 'Em