While there is no question that plenty of players who were selected in the early rounds of fantasy drafts have lived up to their advanced billing this season, fantasy owners have had to deal with their fair share of colossal disappointments as well. Those potential busts still have a chance to salvage the year, however.
With Week 10 upon us, there are likely some owners out there who are faced with must-win scenarios or something close to it. Any owner of a struggling team almost certainly has some underachievers on the roster, and the big question relates to whether early-round busts should continue to be given a shot in the starting lineup.
There is no hard-and-fast rule as it differs on a case-by-case basis, but here are some lineup suggestions that will help you either get back on track or continue to roll in Week 10.
Quarterbacks
Start: Ben Roethlisberger (PIT)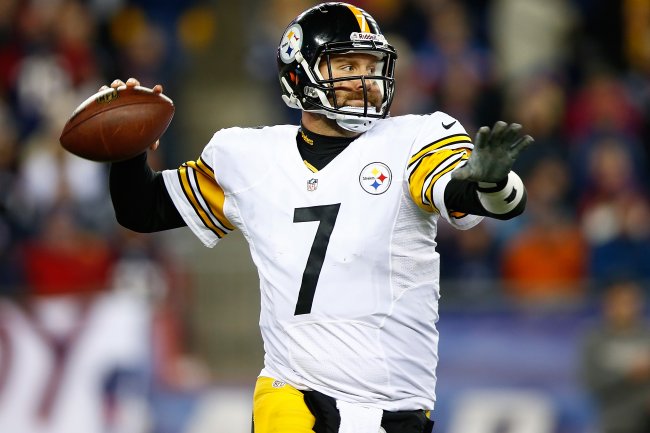 Jared Wickerham/Getty Images
The Steelers have been awful this season, but quarterback Ben Roethlisberger has been a pleasant surprise. He isn't an automatic fantasy starter every week, and he doesn't constantly put up monster numbers, but he has had his fair share of solid performances this season. After throwing for 400 yards and four touchdowns against the New England Patriots in Week 9, Big Ben enters his Week 10 encounter with the Buffalo Bills on a bit of a hot streak.
While Buffalo has all the makings of a great defense, it has struggled mightily against the pass at times this season. The Bills are in the middle of the pack in terms of yardage allowed, but they have surrendered a league-high 20 passing touchdowns. Although Roethlisberger only has two multi-touchdown games to his credit this season, there is reason to believe that he'll add a third such performance to his resume on Sunday.
Week 10 Fantasy Projection: 305 passing yards, three touchdowns and one interception
Sit: Matt Ryan (ATL)
While Ryan is probably the least of the Falcons' worries in reality, his recent play has been a huge issue for fantasy owners. Although owners didn't have to break the bank in order to get him due to the depth at quarterback this season, his play has predictably slipped as his weapons have gone down. Ryan started the season well enough, but he has struggled mightily over the past two weeks especially, according to NFL on FOX.
Matt Ryan has thrown SEVEN picks in the last 2 games.

Carolina gets the easy 34-10 win over the Falcons to move to 5-3.

— FOX Sports: NFL (@NFLONFOX) November 3, 2013
Things don't get any easier for Ryan and Co. this week either as the Falcons will take on the Seattle Seahawks. Seattle is No. 2 in the league against the pass as it is surrendering less than 180 passing yards per game, and it also has more interceptions (13) than passing touchdowns allowed (nine). While the Falcons will probably try to force the passing game into working, it will be like fitting a square peg into a round hole against a team like the Seahawks.
Week 10 Fantasy Projection: 230 passing yards, one touchdown and two interceptions
Running Backs
Start: Trent Richardson (IND)
As someone who was down on Richardson heading into the season, his struggles don't exactly come as a shock. With that said, Richardson has been even worse than most could have imagined. Most chalked up Richardson's low yards-per-carry average with the Cleveland Browns to poor offensive line play, but he hasn't gotten any better since getting traded to the Colts. In fact, his backups have significantly outplayed him despite being featured far less, according to ESPN Stats & Info.
Since Trent Richardson joined the Colts Ahmad Bradshaw and Donald Brown have combined for 61 more rush yds despite 29 fewer carries.

— ESPN Stats & Info (@ESPNStatsInfo) November 5, 2013
If Richardson is ever going to bust out, though, it should happen this week. Indy is facing the St. Louis Rams, who are among the worst in the league against the run as they are giving up 125 yards per game and have allowed 11 rushing touchdowns. Since quarterback Andrew Luck is without No. 1 receiver Reggie Wayne, conventional wisdom suggests that the Colts will lean on the run a bit more heavily. Owners have to be feeling snake-bitten when it comes to Richardson, but expect the turnaround to start now.
Week 10 Fantasy Projection: 88 rushing yards, two touchdowns and two receptions for 15 yards
Sit: Ryan Mathews (SD)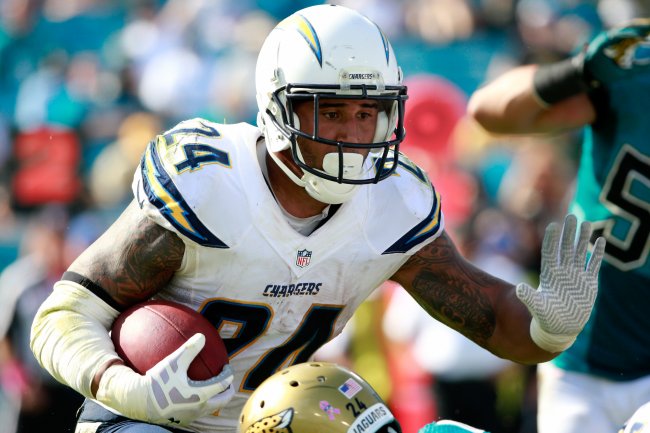 Sam Greenwood/Getty Images
Mathews has been one of the most maddening fantasy players around since entering the league a few years ago, and that has continued this season. He seemed destined for great things after catching a touchdown on the Chargers' first drive of the season, but his journey has been nothing short of a roller-coaster ride ever since. Mathews teased fantasy owners with consecutive 100-yard games in Weeks 6 and 7, but he racked up just 34 yards in Week 9 off the bye.
The most annoying thing is that Mathews' inconsistency is as much the fault of head coach Mike McCoy as anyone. Not only does Mathews lose third-down work to Danny Woodhead despite being a capable pass-catcher, but he has even lost goal-line work to Ronnie Brown. Also, the Chargers abandoned the run entirely too early last week. Since San Diego will be intent on keeping up with the Denver Broncos' high-octane offense in Week 10, Mathews probably won't be leaned on too heavily.
Week 10 Fantasy Projection: 44 rushing yards and one reception for seven yards
Wide Receivers
Start: Kenny Stills (NO)
Coming off a 129-yard, two-touchdown performance against the Buffalo Bills in Week 8, there were high hopes for Stills in Week 9 against the New York Jets. The Saints disappointed as a whole, though, as did Stills to the tune of just 35 yards. New Orleans has the juiciest possible matchup this week, however, which means Stills is back on the fantasy radar. In addition to that, No. 1 receiver Marques Colston practiced on a limited basis on Wednesday, according to Mike Triplett of ESPN.com, which means his status for Week 10 is up in the air.
#Saints injuries: Darren Sproles fully participates. Marques Colston limited. Jimmy Graham, Jahri Evans held out of team drills. …

— Mike Triplett (@MikeTriplett) November 6, 2013
If Colston misses his second consecutive game, Stills should be a big part of the offense against the Dallas Cowboys. Tight end Jimmy Graham is clearly quarterback Drew Brees' main option, but Stills may very well occupy that No. 2 role on Sunday. Dallas allows more than 305 passing yards per game, and it is susceptible to the big play, which is Stills' specialty. After a disappointing Week 9 showing, Stills will come to play in Week 10.
Week 10 Fantasy Projection: Five receptions for 121 yards and one touchdown
Sit: Steve Smith (CAR)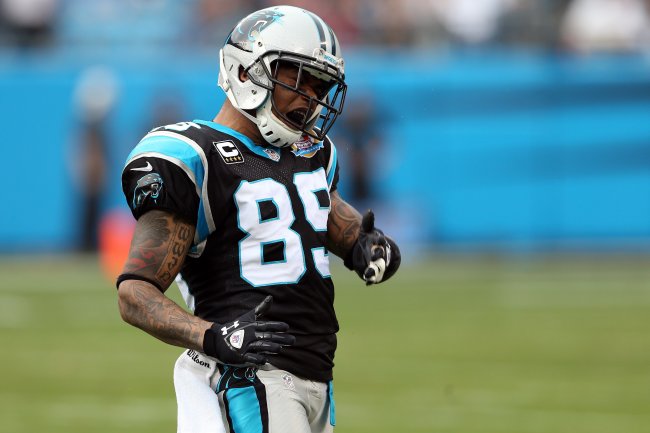 Streeter Lecka/Getty Images
Quarterback Cam Newton and the Panthers are on an impressive hot streak right now, but Smith has been unable to reap the benefits. Newton seemed to lock in on Smith often during his rookie season a couple years ago, but he has since learned to spread the ball around. That has made him a more complete quarterback, but it hasn't done Smith's fantasy owners any favors. Smith has been a WR3 at best this season, and his value is even lower than that in Week 10.
The Panthers have a tough challenge on their hands as they will face the vaunted San Francisco 49ers defense. While the Niners don't necessarily boast a shutdown corner who is going to shadow Smith all over the field, they are great in terms of team coverage. San Francisco is allowing 220 passing yards per game, and there simply isn't enough production to go around for Smith to have a viable fantasy day.
Week 10 Fantasy Projection: Four receptions for 47 yards
Tight Ends
Start: Jordan Reed (WAS)
Which player will have the best Week 9 fantasy performance?
Which player will have the best Week 9 fantasy performance?
Ben Roethlisberger

Trent Richardson

Kenny Stills

Jordan Reed
A handful of rookies have made a big fantasy impact this season, but Reed has perhaps been the most surprising. He entered the year as Washington's No. 2 tight end at best, but he quickly surpassed Fred Davis on the depth chart and has become Robert Griffin III's No. 2 option behind only Pierre Garcon.
Reed is a big-play tight end with a great deal of athleticism, and that makes him a perfect fit for the Redskins offense. Since truly establishing himself in Week 6 against the Cowboys, he has been one of the best fantasy tight ends out there.
Reed and the Redskins will face the Minnesota Vikings on Thursday night, and while starting a guy in the Thursday game is always risky business, there is plenty to like about Reed's matchup. The Vikes have one of the worst pass defenses in the league as they are giving up 291 yards per game and have surrendered 18 passing touchdowns as well. In addition to that, Cowboys tight end Jason Witten torched them one week ago. All of that means Reed should be in line for a huge performance.
Week 10 Fantasy Projection: Six receptions for 92 yards and one touchdown
Sit: Timothy Wright (TB)
Wright has become a popular fantasy pickup in recent weeks due to his rapport with rookie quarterback Mike Glennon as well as the fact that wide receiver Mike Williams is out for the season. Those factors make Wright a solid option moving forward, but he needs to be evaluated on a week-by-week basis. Based on his Week 10 matchup, he would be best off on your bench provided you have other feasible starting options.
The Bucs will face the Miami Dolphins on Monday night, and while Miami's pass defense isn't exactly vaunted, it has been solid this season. In fact, the Dolphins are one of just five teams with more interceptions than touchdown passes allowed this season, so it could be tough sledding for Wright. The one saving grace for Wright could be if Tampa is forced to come from behind, but since I like the Buccaneers to be competitive throughout, it's tough to imagine Wright having a great fantasy day.
Week 10 Fantasy Projection: Four receptions for 35 yards
Follow @MikeChiari on Twitter