Now that the calendar has turned to November, there is no question that struggling fantasy owners are starting to panic. Most only have five weeks at the most to turn things around, which means that lineup decisions that are of great importance in any given week are even more integral now.
One false move can be absolutely devastating, so there is very little margin for error moving forward. A win during the upcoming week would surely be huge for fantasy owners everywhere, but some gutsy calls will have to be made in order for that to become a reality.
Here is a closer look at the toughest calls for each skill position as Week 10 of the NFL and fantasy football season quickly approaches.
Quarterbacks
Start: Eli Manning (NYG)
The 2013 season hasn't gone according to plan for the Giants or quarterback Eli Manning, but things have turned around in recent weeks. The G-Men are currently riding a two-game winning streak, and they have a golden opportunity to get back in the NFC East conversation. In order to do that, though, New York will have to beat the Oakland Raiders in Week 10.
Oakland had been making some progress, but that came to a screeching halt in Week 9. The Raiders were crushed by the Philadelphia Eagles and quarterback Nick Foles as he threw seven touchdown passes en route to an easy win.
It's unlikely that Manning will put up a seven spot this week, but Oakland's secondary is extremely vulnerable, and a savvy pro like Manning should be able to turn in one of his best performances of the season.
Week 10 Fantasy Projection: 310 passing yards, three touchdowns and one interception
Sit: Colin Kaepernick (SF)
After making the Green Bay Packers look foolish in Week 1, fantasy owners had massive expectations for Kaepernick this season. He set the bar at an unreachable level, but he hasn't even come close to touching it since. Since throwing for 400 yards against the Packers, Kap has broken the 200-yard mark just once, and it seems highly unlikely that he'll do it in Week 10.
The 49ers will have to contend with a red-hot Carolina Panthers team that is playing fantastic defensively. The Panthers have surrendered a league-low seven touchdown passes, and they are giving up just over 220 passing yards per game as well. Kaepernick may look to do most of his damage with his legs, but Carolina is among the league's best teams against the run as well, so there is very little upside here.
Week 10 Fantasy Projection: 183 passing yards, one touchdown, one interception and 30 rushing yards
Running Backs
Start: Fred Jackson (BUF)
Jackson has been among the most pleasant surprises in fantasy this season as his production has increased despite the presence of C.J. Spiller. Some might believe that Jackson is due for a significant downturn as Spiller looked good in Week 9 against the Kansas City Chiefs and came away from that game without any additional injuries. Nevertheless, both backs should have plenty of chances to produce in Week 10, especially if rookie quarterback EJ Manuel returns to the fold, which appears to be the case, according to the Bills' official Twitter account.
.@RussBrandon on EJ Manuel: "Unless he has a setback, he should be ready to go on Sunday"

— Buffalo Bills (@buffalobills) November 6, 2013
Not only will Manuel give the Bills a greater passing threat against the Pittsburgh Steelers, but he's also more capable of running the offense than those who have filled in for him during his absence. The Steelers are allowing over 131 rushing yards per game and have given up 12 rushing scores, so Jackson will be plenty productive.
Week 10 Fantasy Projection: 85 rushing yards, one touchdown and three receptions for 27 yards
Sit: BenJarvus Green-Ellis (CIN)
The Bengals have done a nice job utilizing both of their running backs this season, which has allowed Giovani Bernard and BenJarvus Green-Ellis to each maintain some level of fantasy relevance. Bernard is clearly the more talented and explosive back, but head coach Marvin Lewis seems to have more trust in Law Firm when it comes to carrying the load. Despite that, Green-Ellis isn't even worthy of a flex play this week.
Although the Baltimore Ravens defense isn't quite as dominant as it has been in recent years, it's still a tough unit to crack. The Ravens have been especially good against the run as they have allowed just one rushing score on the year. Green-Ellis can rack up rushing yards if given the ball enough, but his scoring is extremely dependent on touchdowns, especially since he isn't a factor in the passing game. With that in mind, leave him on your bench this week.
Week 10 Fantasy Projection: 32 rushing yards
Wide Receivers
Start: Keenan Allen (SD)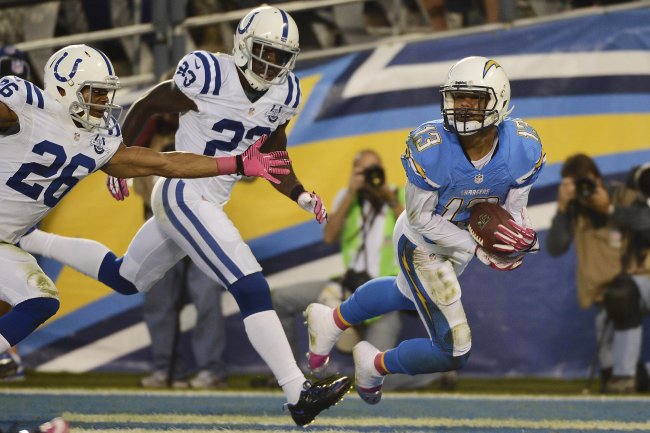 Donald Miralle/Getty Images
The renaissance of Chargers quarterback Philip Rivers has been great to see this season, and it has also played a role in the emergence of several offensive weapons. One in particular is rookie receiver Keenan Allen, who has been dominant over the past several weeks. Allen has quickly jumped to the top of San Diego's depth chart as he has racked up at least 100 yards and a touchdown in three of his past four games. That success should continue in Week 10.
San Diego has a tough matchup with the Denver Broncos, but the Bolts should be able to move the ball through the air against a Broncos defense that is allowing nearly 300 passing yards per game. Also, since the Chargers figure to be coming from behind at some point in the game, Allen will see plenty of targets. All of that figures to equal yet another 100-yard receiving game.
Week 10 Fantasy Projection: Six receptions for 111 yards and one touchdown
Sit: Harry Douglas (ATL)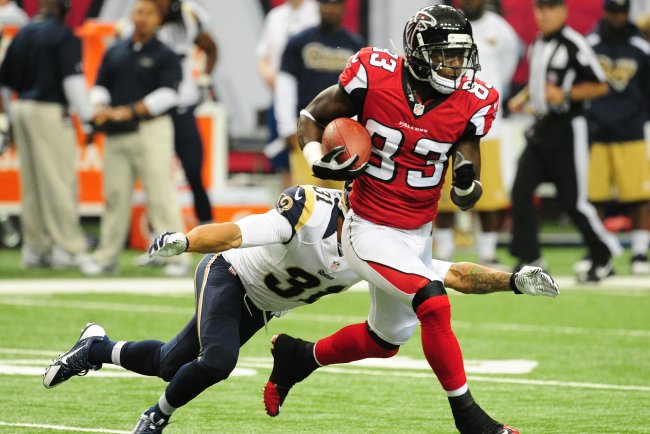 Scott Cunningham/Getty Images
With Julio Jones out for the season and Roddy White still trying to work his way back into action, Douglas has stepped up and become quarterback Matt Ryan's No. 1 receiver in recent weeks. The Falcons are having a miserable season, but Douglas has certainly been a revelation. Due to a combination of factors, however, Douglas will struggle to maintain a pace that has seen him rack up 22 receptions and more than 350 yards over the past three weeks.
White drew closer to playing in Week 9, according to ESPN's Vaughn McClure, and there is a distinct possibility that he could play this week. That would naturally decrease Douglas' targets. Also, expect Seattle Seahawks stud cornerback Richard Sherman to cover Douglas for much of the game.
Even if White plays, he won't be 100 percent, so it would make sense for Seattle to lock down a healthy player like Douglas. Seattle is No. 2 in the league against the pass as a whole as well, which severely limits Douglas' ceiling.
Week 10 Fantasy Projection: Four receptions for 44 yards
Tight Ends
Start: Heath Miller (PIT)
Which player will have the best fantasy performance in Week 10?
Which player will have the best fantasy performance in Week 10?
Eli Manning

Fred Jackson

Keenan Allen

Heath Miller
Although Miller is far from an explosive player, he has long been one of the most consistent tight ends in the league. His 2013 season got off to a slow start as he had to work his way back from injury, and he has struggled a bit over the past two weeks, but he had a three-game stretch in which he had either 70 yards receiving or a touchdown in each of those contests. Miller is one of quarterback Ben Roethlisberger's most reliable targets, and Big Ben will almost certainly look in his direction against the Bills on Sunday.
No team has given up more passing touchdowns than Buffalo this season with 20, and that certainly bodes well for Miller. Even though Miller has just one touchdown on the year, he'll have his fair share of opportunities to add to that total in Week 10. Miller may not be an automatic, every-week fantasy starter, but he's a great matchup play this weekend.
Week 10 Fantasy Projection: Five receptions for 70 yards and one touchdown
Sit: Coby Fleener (IND)
Few players are tougher to figure out than Fleener. He seemingly has all the talent in the world, and he has a rapport with quarterback Andrew Luck that dates back to their time together at Stanford, but it's impossible to predict what he'll do from one week to the next.
Fleener did little in the two weeks following a breakout performance against the Jacksonville Jaguars in Week 4, but he has shown signs of life in the Colts' past two games. Even so, there is reason for pessimism when it comes to Fleener this week.
The Colts are facing the St. Louis Rams, who are surprisingly tough against tight ends. Also, they're allowing just over 220 passing yards per game, so Fleener's chances to make an impact will probably be few and far between. The fact that stud wide receiver Reggie Wayne is out for the season should increase Fleener's value moving forward; however, that won't be a major factor in Week 10.
Week 10 Fantasy Projection: Three receptions for 28 yards
Follow @MikeChiari on Twitter