This team could be next year's Chiefs, but that might mean a new coach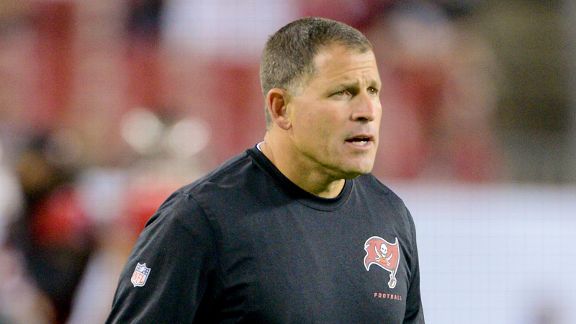 AP Photo/Scott A. MillerGreg Schiano could be on his way out the door in Tampa Bay.
Three weeks ago, when the Tampa Bay Buccaneers were 0-4 instead of their current 0-7, a general manager from another team singled them out as the one struggling NFL team most likely to rebound in a big way next season. The GM felt Tampa Bay had the talent to compete and simply needed a spark of some sort, perhaps through a change at quarterback or in the head coach.
While the Buccaneers continue to stand by second-year coach Greg Schiano, at least for now, ESPN.com's Matt Williamson and Mike Sando consider what the team's plan should be moving forward — on the sideline and through the offseason.
Should the Buccaneers fire Schiano now?
Williamson: He needs to go. This is the most obviously warranted coaching change in the league right now. I'm still not a big believer that it does a lot of good in the middle of the season. It doesn't accomplish much to just get him out of the building now. But the effort this team is putting forth is terrible. They looked disinterested in their last game. They are not schematically diverse. All Schiano wants to do is run the ball and stop the run. You don't win Super Bowls that way.
To read more about the issues for the Tampa Bay Buccaneers and if they should fire Greg Schiano, you must be an ESPN Insider.
ESPN Insider NFL columnist and blogger
Covered the NFL since 1998
Member of Pro Football Hall of Fame selection committee
Joined ESPN in 2005
Was an NFL and college scout for the Cleveland Browns