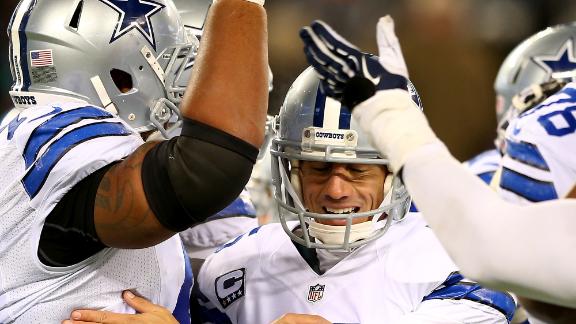 Cowboys Snap Giants' Streak
VIDEO PLAYLIST
EAST RUTHERFORD, N.J. — This one wasn't a Giants-sized gift. Tony Romo and the embattled Dallas Cowboys took this pivotal game and all but buried New York's slim hopes of making the playoffs.
Romo threw two touchdown passes and led a 14-play drive that set up Dan Bailey's 35-yard field goal on the final play as the Cowboys won 24-21 Sunday, ending the Giants' four-game winning streak and denying them a place in NFL history.
More Cowboys-Giants coverage
---

Despite all his critics, Tony Romo once again came through when the Cowboys needed him most and directed a game-winning drive in the final minute, writes Todd Archer. Blog
---

The Cowboys made the trash-talking Giants quiet and basically buried their hopes of making the playoffs in the process. It's a two-team race in the NFC East, writes Jean-Jacques Taylor. Story
---

Certainly this is over now, this New York Giants dream of rising from the ashes of an 0-6 start to win their mediocre division, writes Dan Graziano. Blog
---

Quarterback Eli Manning's fall from grace badly hurt the Giants' chances of making a miracle run, Ian O'Connor writes. Story
• Edwards: Cowboys' blueprint

"I thought it was a great drive," coach Jason Garrett said after the Cowboys (6-5) moved into a first-place tie with idle Philadelphia in the NFC East with five games left. "That's really when you separate yourself as a quarterback, as an offensive team, as a team in general."
Romo was 6 of 9 passing for 67 yards, including two crucial third-down throws, on the winning drive that covered the final 4:45. It came right after New York (4-7) tied the game on a 4-yard touchdown pass from Eli Manning to Louis Murphy Jr., and a 2-point conversion run by Andre Brown, who rushed for 127 yards.
Wide receiver Dez Bryant, who kept the drive alive with a 19-yard catch on third-and-7 from the Dallas 23, said Romo had one message entering the final huddle.
"We're about to do down there and score this touchdown and win," Bryant recalled Romo saying.
It was about the only mistake Romo made in the closing minutes. However, a field goal was just as good.
"Everyone understood how important the game was for both teams," said Romo, who finished 23 of 38 for 250 yards. "They won four in a row to put themselves back into position. They had a home game. I could tell by their words leading up to it that they were confident. That's what makes the game great. It was a big buildup, but we understood that the game was going to be played on Sunday."
Romo said his only thoughts on the final drive were scoring.
"You've got to go get a field goal or touchdown and win the game," he said. "You either feel comfortable in those situations or you don't. I've been in that situation the past three or four weeks. You just have to go out and do it."
Romo did it, and it left the Giants wondering about what they gave away in two losses to Dallas.
Misplaced Hate?

Tony Romo led his 11th game-winning drive in the fourth quarter or overtime since 2011, which leads all NFL quarterbacks. Romo also surpassed 200 career TD passes, becoming the first Cowboys player to reach that milestone.
Most Game-Winning Drives, 4th Qtr/OT
Since 2011
Quarterback
Drives
Tony Romo
11*
Matthew Stafford
10
Andrew Luck
10
*- Including Sunday
–ESPN Stats & Information
"This is tough," said defensive end Mathias Kiwanuka, whose roughing the passer penalty set up one of Romo's TD passes to Jason Witten. "This is the NFL and all the teams are pretty evenly matched. Obviously we have our work cut out, but until we are mathematically eliminated, we're not going to pull off the gas at all."
Eleven of the 16 teams in the NFC have better records than the Giants, so their chances of making the postseason are dim.
"Something had to happen for us to get the ball back again," coach Tom Coughlin said.
Romo hit Witten on TDs of 20 and 2 yards, and Dallas got a defensive touchdown on a 50-yard fumble return by Jeff Heath.
The Giants, seeking to become the second NFL team to win five straight after losing the first six, rallied over the past month to get into position to challenge for a playoff spot. They knew this was a must-win game because they had lost to Dallas in the season opener after turning over the ball six times.
True to form, New York tried another comeback after falling behind 21-6 in the third quarter.
But Romo took it from the Giants on the final drive that started at the Dallas 20 on a cold and blustery day. He hit Bryant on the third play of the drive to keep it alive and added throws of 17 yards to Miles Austin and 13 to Cole Beasley, the latter on third-and-10 from the New York 28.
With the wind howling, a long field goal would have been tough. Instead, that play gave Dallas a first down at the 15 and Bailey converted after Romo took a couple of kneel-downs.
NFL Playoff Machine
Check current playoff seedings and figure scenarios through the end
of the season. Playoff Machine
<!– | Scenarios
–>
The Giants' tying drive was kept alive by a 22-yard pass from Manning to Victor Cruz on third-and-8 from the Dallas 27. Before that, the Cowboys seemingly took control with a 65-yard drive Romo capped with his second touchdown pass to Witten. The drive continued because of Kiwanuka's penalty.
Manning's 27-yard pass to tight end Brandon Myers brought New York within 21-13.
The Giants handed the Cowboys the season opener, committing six turnovers in a 36-31 loss. New York continued its charity in the rematch.
Cruz caught a pass near midfield and had the ball stripped by Orlando Scandrick. Heath picked it up and had a clear-path to the end zone. The fumble return started a run of four straight scores.
Game notes

Manning finished 16 of 30 for 174 yards. … Murphy's catch was his second of the season. … Dallas S Barry Church had a game-high 13 tackles. … Giants DT Cullen Jenkins had two of New York's four sacks. He had a half-sack in the first 10 games. … Giants WR Hakeem Nicks did not play because of an abdominal injury. … Giants C Jim Cordle left early in the second quarter with a knee injury. … Dallas CB Morris Claiborne and PR-KR Dwayne Harris both left with hamstring injuries.
Copyright by STATS LLC and The Associated Press