Robert Griffin III has not gotten off to the best start this season, although that makes him an appealing trade target in fantasy football leagues across the country.
The 2012 NFL Offensive Rookie of the Year was incredible for the Washington Redskins last season, racking up yards with both his arm and his legs while remaining efficient in everything he does. Not only did he lead his team to the playoffs, but he was also an elite fantasy player.
Griffin ended the year tied with Peyton Manning for the fifth-most fantasy points among quarterbacks in standard leagues.
Unfortunately, a number of factors have contributed to a slow start for the quarterback in 2013. He is down from 20.3 points per game to only 16.8 points per game, while failing to top 14 points since Week 2.
In a year where every quarterback seems to be putting up huge numbers every game, this type of effort has not helped out fantasy owners too much.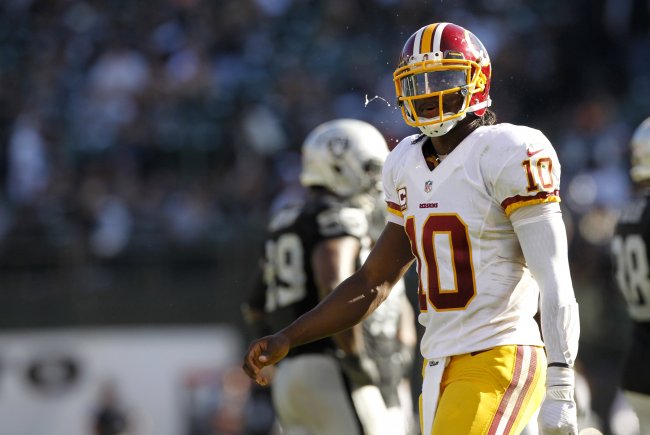 Cary Edmondson-USA TODAY Sports
However, there is plenty of reason to believe he will turn things around in the coming weeks.
The quarterback entered the season coming off a major knee surgery that kept him out of action in the entire preseason. While he was medically cleared to play in Week 1, he was still rusty when he stepped onto the field for the first time.
Where will Robert Griffin III rank among fantasy quarterbacks in 2013?
Where will Robert Griffin III rank among fantasy quarterbacks in 2013?
Top 5

6-10

11-15

16 or worse
Griffin saw his numbers drop across the board, including in completion percentage, yards per attempt and especially quarterback rating.
After four games, though, he will have played the equivalent of the preseason. This time, plus the bye week, will give him a better chance to get on the same page with his receivers. Against the Oakland Raiders, he completed passes to seven different players and did not throw an interception for the first time all year.
If he can keep spreading the ball around while avoiding turnovers, he will sustain enough drives to get himself in the end zone.
Another issue to this point has been Griffin's inability to run. After averaging 54.3 rushing yards per game with seven touchdowns, he is only averaging 18 and has failed to get into the end zone.
Still, this is another thing that will come with confidence. His 37-yard performance against the Detroit Lions in Week 3 showed he still had the ability, but the Raiders did a good job of slowing that down in Week 4.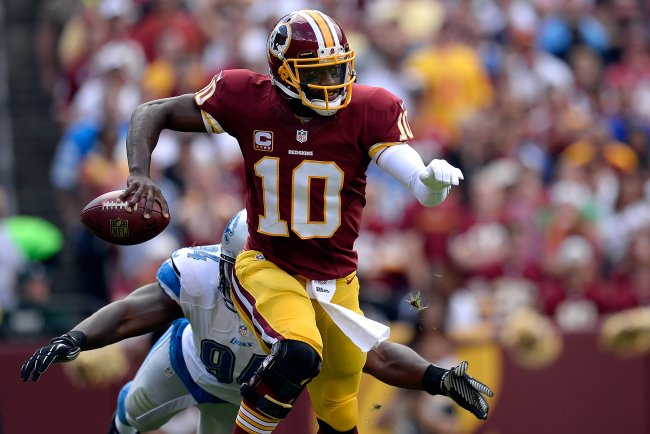 Patrick McDermott/Getty Images
As he gets healthier, he will continue to leave the pocket and showcase the skill that helped him excel last season.
However, the biggest change in production will come based on the upcoming schedule. Each of Washington's next six opponents are ranked among the bottom 10 in passing yards allowed per game. The bottom four squads in this category are all on the upcoming schedule.
Considering the Redskins defense is not getting any better, Griffin will likely have to throw the ball often in order to keep up on the scoreboard. This will allow him to take advantage of the poor defenses and put up some big numbers as a passer.
As a result, the superstar will once again be an elite fantasy football option.
If you are in need of a quarterback and have the opportunity to trade for Griffin in your league, you should absolutely be willing to part with some talent to get him. On the other hand, do not let him go before he starts to break out in the coming weeks.
Follow Rob Goldberg on Twitter for the latest breaking news and analysis.