Now is the time to trade for Washington Redskins quarterback Robert Griffin III.
Through four games, RGIII has experienced what can only be described as a down start to this season while he works his way back into the swing of things following offseason knee surgery.
Last year, Griffin shocked the world as the 2012 NFL Offensive Rookie of the Year and rewarded crafty fantasy owners with 20.3 points per game in standard leagues. A threat both on the ground and through the air, RGIII matched the fantasy production of the league's elite passers through a savvy combination of passing and running.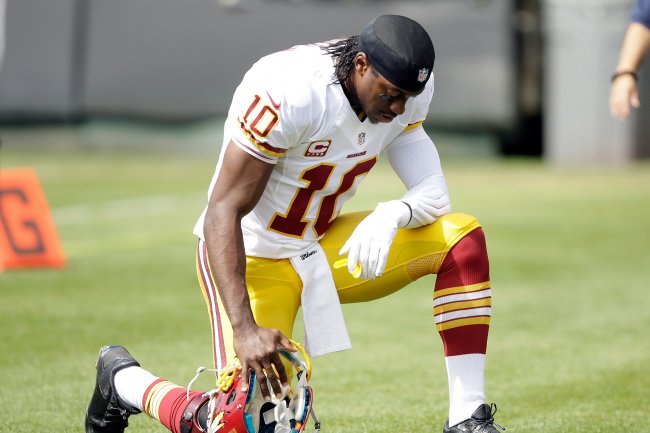 Ezra Shaw/Getty Images
It didn't matter that Griffin was not taking the traditional route to elite fantasy quarterback production—he was simply doing it.
Now it matters.
Griffin's game has obviously been impacted by his serious knee injury from last postseason, as the majority of his yards this season are coming through the air. Griffin averaged 54.3 yards on the ground per game last season. He is averaging just 18 yards rushing so far this season.
[embedded content]
Not only that, opposing defenses are not as shocked to see the read option anymore for the Redskins after a full offseason of preparation to figure it out and adequately defend the attack.
Three times this season RGIII has thrown for 320 yards or more—in three losses. The correlation is simple, The Redskins statistically have the worst defense in the NFL, resulting in better production for Griffin while playing from behind.
In Washington's victory over Oakland, RGIII only mustered 227 passing yards and one touchdown.
Interestingly enough, RGIII's three performances of 320 yards or more passing came against pass defenses ranked No. 29, 26 and 20.
There are two constants here smart fantasy owners will observe. For one, Washington's defense is going to continue being horrendous, meaning that Griffin will have more than enough opportunities to throw for big chunks of yardage.
The other constant is that Washington's weak schedule is not going anywhere. Seven of Griffin's next eight games will be against opposing pass defenses currently ranked No. 31, 24, 32, 27, 29, 30 and 22. In fact, only two of Griffin's remaining 12 opponents boast pass defenses ranked in the top 20.
Is RGIII worth trading for in fantasy leagues?
Is RGIII worth trading for in fantasy leagues?
Add in the fact that RGIII missed the preseason and has now played the equivalent of one in four games as he slowly regains his confidence and it's clear that any and all efforts should be made to acquire RGII in all leagues.
While it is understandable for Griffin owners to not be pleased with his production through four games, better things are on the horizon. Crafty owners will use this knowledge to their advantage on the trade market.
RGIII is set to explode over the course of the next 12 weeks. The Redskins may not ride Griffin's momentum to the postseason, but fantasy owners smart enough to stick with or grab Griffin now certainly will be riding into the playoffs.
Follow B/R's Chris Roling on Twitter for more news and analysis @Chris_Roling