Gronk back! Gronk play football again!
That's right, folks: Rob Gronkowski will be back in action for the first time this season against the New York Jets after being cleared by doctors to play. And yes, that strange sound you hear is all of his fantasy owners giggling in unison.
Albert Breer of NFL.com broke the news on Friday morning:
Drew Rosenhaus text: "Rob (Gronkowski) has now been cleared by all his doctors to play Sunday in the Jets game."

— Albert Breer (@AlbertBreer) October 18, 2013
I've talked to a few Patriots who have said Gronkowski has been "dominant" on the practice field. Also noticeable: His weight is back.

— Albert Breer (@AlbertBreer) October 18, 2013
That latter tweet is exciting for fantasy owners who may have been concerned that Gronkowski would need to be eased back into action or that his fantasy production might suffer for a week or two upon his return.
Remember, the New England Patriots used him in practice last week to simulate Jimmy Graham before playing the New Orleans Saints. Gronk apparently gave such a realistic performance that playing Graham was actually easier than seeing Gronk in practice, as the Pats prevented Graham from catching a single pass.
Gronk dominate right away!
I think it's safe to say that he now vaults to the top of the tight end rankings this week, and if you have him, you must start him. We're talking about a player who has 42 career touchdowns in 47 games (including the postseason), which is an insane ratio.
With all apologies to Joseph "Evolution of Dance" Fauria, there isn't a better red-zone weapon at the tight end position—and arguably in all of football—than Gronkowski.
But Gronk is no one-trick pony. In the past two seasons (including the postseason), he has averaged 79 yards per contest, along with 32 touchdowns in 30 games during that span. That's an average of 14.3 fantasy points per game, folks.
Gronk make Jets sad!
Yes, he probably will. While the Jets have played well against the pass this year—they are 12th in pass defense and are only allowing 7.3 fantasy points to opposing tight ends per week (15th in the NFL)—Gronk has always been an excellent fantasy play no matter the matchup.
In his one game against the Jets last year, he had six receptions for 78 yards and two touchdowns. Granted, that Patriots offense had Wes Welker and Aaron Hernandez for the Jets to worry about, but you get the feeling that Gronkowski will return to action in style against a divisional rival.
And you get the feeling that Tom Brady will target him early and often, with his alternatives being Julian Edelman and two rookies, Kenbrell Thompkins and Aaron Dobson. Danny Amendola, who missed practice on Thursday, will likely be out with a concussion, per Christopher Price of WEEI.com.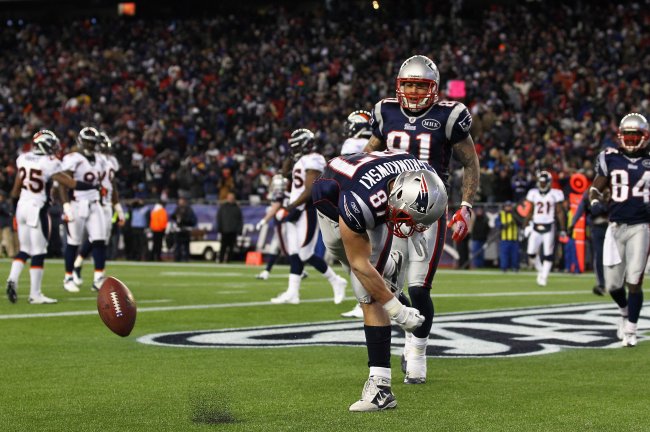 Al Bello/Getty Images
Fantasy owners should be rejoicing—one of the most valuable fantasy players in the game has returned. At this point, you should only consider Graham more valuable at tight end.
Gronk happy to see you too!
Hit me up on Twitter—I'll answer your fantasy lineup questions and commiserate with you over underachieving players. It's all the fun of the NFL, but without those pesky referees.