When the Philadelphia Eagles host the Washington Redskins on Sunday it will be a huge game for a couple reasons. Not only will it have a major impact on the race for the NFC East crown, but it will also have a ton of meaning for fantasy owners who are trying to make a late-season run.
Both the Eagles and Redskins have their shortcomings, and they largely reside on the defensive side of the ball. Because of that, there is a ton of potential for an offensive explosion in this contest. Philly's and Washington's offenses can go off in any given week, and they're quite likely to do so in stereo on Sunday.
With that said, here is a closer look at the fantasy studs that will benefit from a shootout when the Eagles and Redskins lock horns in Week 11.
LeSean McCoy
Most of the hype was been surrounding the Eagles' passing game in recent weeks, but it can be argued that running back LeSean McCoy is the biggest key to Philly's success. McCoy's production has been fairly inconsistent since a red-hot start to the season; however, he is the engine that makes Philadelphia's offense go. When McCoy is effective and used as much as he should be, the Eagles are simply a much better team as evidenced by this stat courtesy of the NFL.
The Eagles are 3-0 this year when LeSean McCoy has 26 or more touches, and 1-5 when he has less than 26 touches: pic.twitter.com/K4fTUQWLii

— NFL (@nfl) November 9, 2013
When the Eagles beat the Redskins in Week 1, McCoy exceeded that magic number of 26 with 31 carries and one reception. McCoy racked up 189 total yards in that game along with a touchdown, and it still stands as his best performance of the year. McCoy's rushing numbers have been sporadic since then, but he did come through with 155 yards on the ground against the Green Bay Packers in Week 10.
Now that McCoy appears to be back in top form, all the stars are aligned for another monster game. Washington is allowing nearly 114 rushing yards per game, and it has surrendered 12 rushing scores as well. McCoy has struggled to find the end zone to the tune of just four total touchdowns on the year, but as long as head coach Chip Kelly commits to giving him the ball, McCoy should have no problem adding to that total.
Week 11 Fantasy Projection: 136 rushing yards, two touchdowns and three receptions for 23 yards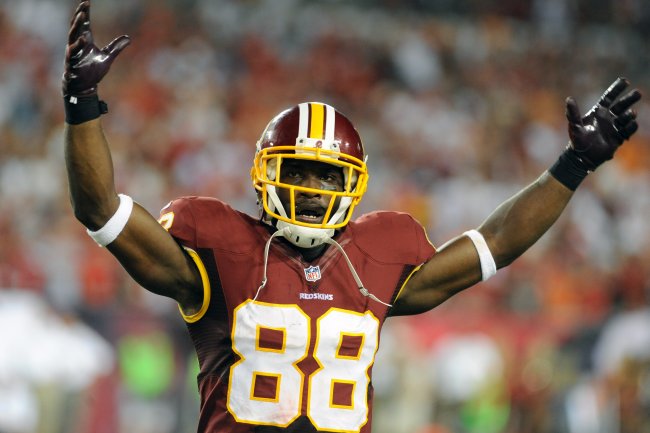 Al Messerschmidt/Getty Images
Quarterback Robert Griffin III and the Redskins have had their issues this season, but wide receiver Pierre Garcon has been a consistent force through it all. The 'Skins don't have a ton of top-tier talent at the receiver position; however, Garcon has truly established himself as a No. 1 guy. It's clear that Garcon is Griffin's most trusted pass-catcher, and that has been proven in recent weeks by the fact that Garcon has seven catches in three consecutive games.
Which player will have the best fantasy performance in Week 11?
Which player will have the best fantasy performance in Week 11?
LeSean McCoy

Pierre Garcon

Nick Foles
In fact, Garcon hasn't caught fewer than five passes in any game this season, so he is an extremely safe start every week. Garcon has nearly 300 combined receiving yards over the past two weeks, and he isn't showing any signs of slowing down. Although Garcon had just seven catches for 64 yards and no touchdowns against the Eagles in Week 1, this still figures to be a great matchup since Philly has a lot of question marks in the secondary.
The Eagles allow nearly 307 passing yards per game, and they have given up 15 passing touchdowns this season as well. The Redskins have established the run lately with Alfred Morris, but there is no doubt that they'll be compelled to pass against Philly's defense. The Eagles don't have anyone who can match up with Garcon, and he will almost certainly make them pay.
Week 11 Fantasy Projection: Eight receptions for 144 yards and a touchdown
The Eagles are on a two-game winning streak and find themselves in a tie for first place in the NFC East. It is no coincidence that their recent run of success has gone hand in hand with the emergence of quarterback Nick Foles. While Foles showed flashes as a rookie last season and in a couple of starts earlier this season, NFL observers truly took notice when he threw for seven touchdowns against the Oakland Raiders. That immediately made him a fantasy darling, and now he is viewed by many as a QB1 moving forward.
It remains to be seen if Foles can keep this pace up for the remainder of the season, but he shouldn't have any problem doing some big things in Week 11. The Redskins have surrendered 19 passing touchdowns on the season, and they have given up 37 passing plays of 20 yards or more as well. All of that bodes well for Foles, who currently has 16 touchdowns and no interceptions. That is among the best starts to a season for a quarterback in NFL history, according to NFL on ESPN.
Eagles QB Nick Foles has16 TD, 0 Int this season — tied for 2nd most touchdown passes w/o an interception to start season in NFL HISTORY.

— NFL on ESPN (@ESPNNFL) November 16, 2013
Foles didn't play against the Redskins in Week 1, but Michael Vick had a field day of his own. He put up 257 total yards and three touchdowns as he ran Kelly's frenetic offense to perfection. The Eagles' offense is understandably more deliberate with Foles under center, but it has been even more effective. Foles has some big expectations to live up to, but there is no reason why he can't excel on Sunday.
Week 11 Fantasy Projection: 310 passing yards, three touchdowns, one interception, 21 rushing yards
Follow @MikeChiari on Twitter