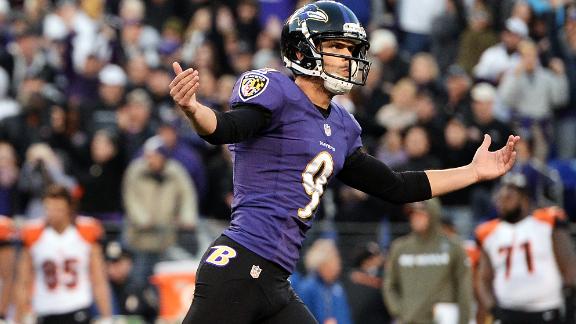 Ravens Topple Bengals In OT
VIDEO PLAYLIST
BALTIMORE — The Baltimore Ravens did everything wrong in their bid to end a three-game losing streak and remain relevant in the playoff chase.
They committed three turnovers, blew a 17-point lead and gave up a long touchdown pass on the final play of regulation.
And still, the defending Super Bowl champions prevailed, as Justin Tucker kicked a 46-yard field goal with 5:27 left in overtime to give Baltimore a 20-17 win over Cincinnati on Sunday.
The tense victory thrust the Ravens (4-5) into a second-place tie in the division, just one game behind Cincinnati (6-4) in the loss column. It was Baltimore's first victory since Oct. 6.
The Bengals have lost two straight in overtime.
Cincinnati pulled even when A.J. Green caught a desperation long pass from Andy Dalton in the end zone for a 51-yard touchdown. Green positioned himself behind the pack and caught the deflection after it flicked off the hand of Ravens safety James Ihedigbo, who earlier had the first two interceptions of his career.
The Bengals won the toss before overtime and moved to the Baltimore 33 before Giovani Bernard caught a short pass, reversed field and was tackled for an 11-yard loss on fourth down.
Baltimore then got a pair of first downs before Tucker kicked the winner.
With 151 yards receiving, Green set a franchise record with his fifth straight 100-yard game. And, making his second start of the season, Cincinnati linebacker Vincent Rey had three sacks and his first career interception.
But it all went for naught.
A gusty afternoon proved troublesome for the Bengals. Mike Nugent missed a 42-yard field goal into the wind and Dalton repeatedly overthrew his receivers. In the second quarter, Ihedigbo picked off a high pass and returned it 37 yards to set up a touchdown for a 17-0 lead.
Dalton went 24 for 51 for 274 yards and three interceptions as the Bengals lost to Baltimore for the fifth time in six games. He was sacked five times.
Ravens quarterback Joe Flacco struggled, going 20 for 36 for 140 yards with two interceptions and a lost fumble. He also was sacked five times.
Baltimore mustered only 94 yards in offense before halftime, but took advantage of Bengals miscues to put together scoring drives of 53, 58 and 11 yards.
Cincinnati had more penalty yards than total offense (114-102) in the first half, and Dalton was 8 for 21 for 47 yards and an interception.
The Bengals' opening possession ended with a failed fourth-and-1 gamble at the Baltimore 47. Flacco immediately went long. Although he underthrew Jacoby Jones, a pass interference call against Reggie Nelson covered 48 yards. On third down, Dallas Clark caught a 1-yard pass in the end zone — the Ravens' initial first-quarter touchdown since the season opener.
Baltimore quickly got the ball back, and a facemask penalty against Cincinnati's Chris Crocker contributed to a 58-yard drive to a field goal to make it 10-0.
Things didn't get better for the Bengals. Nugent shanked a field-goal try to the left, and Ihedigbo's first interception set up a 7-yard touchdown pass to Torrey Smith.
Cincinnati opened the third quarter with an 11-play, 61-yard drive featuring a 40-yard catch-and-run by tight end Tyler Eifert, and ending with a 32-yard field goal. The Bengals then forced a punt, but Dalton threw an interception on first down.
Cincinnati's next two drives ended with punts.
Copyright by STATS LLC and The Associated Press