Randall Cobb and the Green Bay Packers received some devastating injury news on Monday which greatly impacts the fantasy football landscape.
Tyler Dunne of the Journal Sentinel reported Cobb will miss six to eight weeks with a fractured fibula:
Just got word from a source that #Packers WR Randall Cobb will miss 6-8 weeks with a fractured fibula. http://t.co/ccgarKxY99

— Tyler Dunne (@TyDunne) October 14, 2013
Source also said that Cobb "nearly broke the fibula all the way through." Was adamant that this will take 6-8 weeks to recover from.

— Tyler Dunne (@TyDunne) October 14, 2013
Before getting injured, Cobb was having a productive season for the Packers and for fantasy owners. Through four-plus games, he caught 29 passes for 378 yards with two touchdowns, adding another 78 yards on the ground.
He was one of Aaron Rodgers' favorite targets, and he'll be greatly missed.
If you are one of thousands who were counting on Cobb to give you consistent production, then you're currently scrambling to find his replacement on the waiver wire.
Here are a few players you should consider adding, if they're not already taken.
Justin Blackmon, WR, Jacksonville Jaguars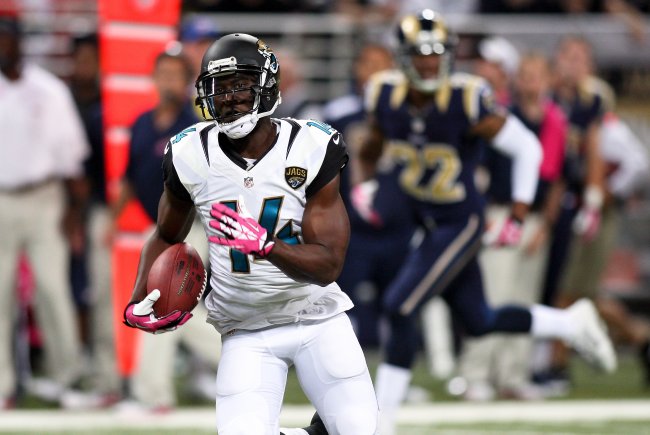 Scott Kane-USA TODAY Sports
Unbelievably, Blackmon is still available in 47 percent of ESPN Fantasy leagues heading into Week 7.
All he's done since returning to Jacksonville's starting lineup after a four-game suspension is catch 19 passes for 326 yards and a touchdown in the last two games.
This isn't a new development, either. He was unstoppable in the second half of last year, too, and no matter how bad things get for the Jaguars he's a safe bet as a fantasy stud.
You should make Blackmon your first target and pray nobody else with a higher priority than you have on the waiver wire puts in a claim for his services.
Terrance Williams, WR, Dallas Cowboys
Williams was a hot pickup heading into Week 6 after he broke out against the Denver Broncos, catching four passes for 151 yards and a touchdown.
However, it wasn't known how much he'd contribute with Miles Austin returning to the lineup.
After catching another touchdown on Sunday, though, it's clear Williams will be a go-to guy for Tony Romo the rest of the season. Austin failed to catch a single pass on four targets, while Williams caught the team's only touchdown pass on a gorgeous over-the-shoulder throw in the corner of the end zone.
As ESPN's Adam Caplan noted on Sunday night, he's beginning to make Austin obsolete:
#Cowboys rookie WR Terrance Williams continues to improve each week. Beginning to make veteran WR Miles Austin obsolete.

— Adam Caplan (@caplannfl) October 14, 2013
That's good news for receiver-needy fantasy owners. Williams is still available in over 53 percent of ESPN fantasy leagues, and he's definitely worth a pickup.
Jarrett Boykin, WR, Green Bay Packers
If you can't land either of the first two players, consider Jarrett Boykin.
With Cobb out, Boykin will take over as the team's primary slot receiver.
Bleacher Report's Sigmund Bloom believes Boykin has a "big chance" to fill in for Cobb, but he rightly warns Eddie Lacy and Jermichael Finley could take some targets away from the receiver:
Big chance for Jarrett Boykin, but I would suspect that touches freed up by Cobb inj more likely go to Lacy/Finley

— Sigmund Bloom (@SigmundBloom) October 14, 2013
But judging by what we saw on Sunday, Boykin will get plenty of chances. He was targeted six times in Week 6 by Rodgers, though he only came up with one catch for 43 yards.
The lack of chemistry with Rodgers was evident, but as Boykin works more with the first team, he'll surely catch passes with more regularity.
Follow me on Twitter @JesseReed78