Before we get started, I'm going to give you a second to go check your league's free-agent wire. If Percy Harvin is available, pick him up now.
Good. Now that that's out of the way, we can discuss why I just ordered you around so rudely.
According to NFL.com's Ian Rapaport, the Seattle Seahawks' dynamic wide receiver has a chance to return to action next Monday for Week 8 against the St. Louis Rams:
Percy Harvin will begin practicing next week after recovering from his torn labrum. Target date for his return? A chance it's MNF vs. Rams

— Ian Rapoport (@RapSheet) October 17, 2013
Now, it's important to take this with a grain of salt. It was originally reported way back when Harvin went under the knife that he wasn't expected to return until the Seahawks' other Monday Night Football matchup, a contest with the New Orleans Saints in Week 13.
Moreover, Pete Carroll and his 5-1 'Hawks will likely play it safe with their prized offseason acquisition.
Nevertheless, Harvin is clearly ahead of schedule, and his return is imminent. Considering his enticing skill set, he should be owned in 100 percent of leagues.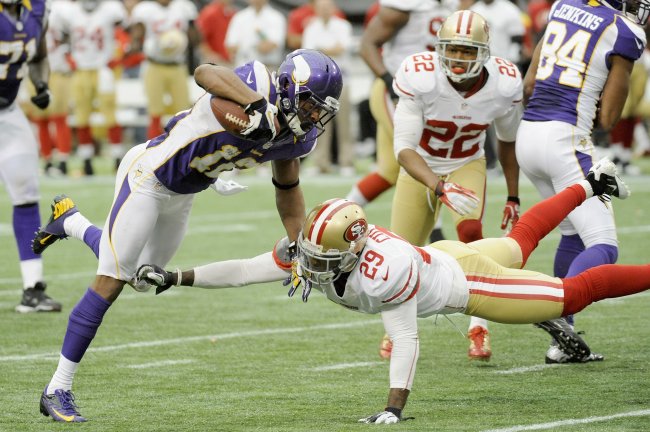 Hannah Foslien/Getty Images
I would hold off on involving him in any trades just because he has yet to take a snap in a Seahawks uniform and his role is still uncertain, but he's owned in just 21.3 percent of ESPN leagues right now, so there's a good chance you can acquire a game-changing player for free.
In nine games last season, Harvin caught 62 balls for 677 yards and three touchdowns. He also ran for 96 and another score.
[embedded content]
His season was eventually cut short by injury, but people tend to forget he was garnering legitimate MVP talk. The versatile star was on pace for 110 receptions, 1,375 total yards and seven touchdowns while serving as a dangerous threat in the return game, as well.
Again, it remains to be seen how the Seahawks, a run-oriented team, will use him, but they didn't give up a first-round pick and sign him to a $67 million extension not to utilize his rare, galvanizing talent.
Where will Harvin rank among WRs in fantasy football once he's healthy and acclimated?
Where will Harvin rank among WRs in fantasy football once he's healthy and acclimated?
Top 5

6-10

11-15

16-20

Outside the Top 20
No one in Seattle's pass-catching corps has really stepped up as a true No. 1. Doug Baldwin leads the team in yards, Golden Tate leads the team in receptions and targets, and Jermaine Kearse has made some huge plays.
But the passing game—especially on third downs as of late—has struggled, and Harvin is the type of player who can fix that in a multitude of ways.
While the Seahawks' style may not lend to 40 pass attempts per game, Harvin will be the go-to option through the air for a talented Russell Wilson, will add some yards on the ground and could even give you some bonus points in the return game if the 'Hawks are confident enough in his health to stick him back there.
Before getting injured last year, Harvin was a clear-cut WR1. He may not be that quite yet in Seattle, but with that potential, there's no reason he should be toiling in free agency.