When the New England Patriots and Baltimore Ravens meet in a rematch of last season's AFC Championship Game on Dec. 22, there will be a ton on the line from essentially every angle. Not only are both teams jockeying for playoff positioning, but there are several star players who will make a major impact on fantasy football leagues everywhere.
Fantasy production won't be on the players' minds as they try to qualify for the postseason, but it's important to note that Week 16 marks the title game in most fantasy leagues. Both teams feature some pretty volatile players, so this particular game figures to decide plenty of fantasy football championships.
Here is a look at what to expect from the top fantasy stars on each team, as well as a breakdown of the playoff possibilities for the Pats and Ravens ahead of their Week 16 clash.
New England Patriots Fantasy Watch
Tom Brady
Nobody will ever argue against the fact that Brady is an elite NFL quarterback, but he hasn't been elite from a fantasy perspective. Brady is on pace for over 4,600 yards passing, but he is also on pace for just 26 touchdowns. In addition to that, Brady has had his issues against the Ravens, according to ESPN Stats & Info:
Tom Brady has 6 TD passes and 9 INT in 6 head-to-head matchups with Joe Flacco (including playoffs). Flacco has 12 TD passes and 4 INT

— ESPN Stats & Info (@ESPNStatsInfo) December 17, 2013
Brady has 296 passing yards or more in each of his past six games, and he has thrown for multiple scores in five of those contests as well. Despite his recent success, Brady will have a tough time against a Baltimore defense that allows just 232 passing yards per game. Start him, but don't expect monster numbers.
Fantasy Projection: 252 passing yards, two touchdowns and one interception
Shane Vereen
Vereen has missed much of the season due to injury, but he was dominant from a pass-catching perspective in every game he did play prior to Week 15. He had at least five catches in each of his appearances, but he caught just three balls for eight yards in Week 15. Vereen did play plenty of snaps, though, which means his showing may have been a fluke, according to Adam Levitan of Rotoworld:
Shane Vereen only got five touches Sunday, but his snap count remained high. Would expect a Week 16 bounce-back: http://t.co/q982NgBcbQ

— Adam Levitan (@adamlevitan) December 16, 2013
Vereen isn't going to put up big rushing numbers with Stevan Ridley and LeGarrette Blount handling much of that load, but he is a fantastic option in point-per-reception leagues. With tight end Rob Gronkowski out of the picture, expect Vereen to be a bigger part of the offense in Week 16.
Fantasy Projection: 28 rushing yards, seven receptions for 75 yards and one touchdown
Julian Edelman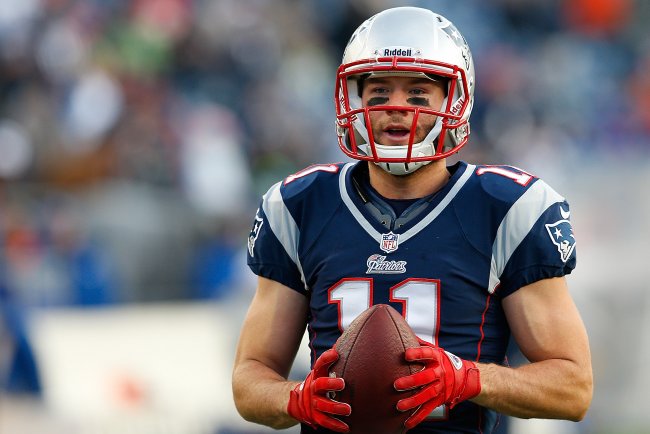 Jim Rogash/Getty Images
Brady has dealt with injuries to his receivers all season long, but Edelman has been the one constant. He stepped up early in the season when Gronk and Danny Amendola were out, and he has picked up his play over the past month as well. In fact, Edelman has at least nine catches for 100 yards in three of his past four games, and he has caught four touchdowns over his past four as well, which are his first four touchdowns since Week 1.
It's tough to imagine Edelman going off at the level that he has recently against Baltimore, but he will still be a focal point in the offense. Brady knows that he can trust Edelman, so he will act as a security blanket. Even if he isn't dominant, Edelman will be solid.
Fantasy Projection: Six receptions for 87 yards and one touchdown
Baltimore Ravens Fantasy Watch
Joe Flacco
Many tabbed Flacco as a potential fantasy sleeper this season after he won Super Bowl MVP honors, but his play has been erratic to say the least. Flacco certainly has his moments; however, the offense struggles to reach the end zone too often. In addition to that, Flacco will be forced to wear a knee brace against the Patriots, according to ESPN's Adam Schefter:
MRI on QB Joe Flacco's knee revealed mild MCL sprain that will have him wearing knee brace Sunday but will not prevent from playing vs. NE.

— Adam Schefter (@AdamSchefter) December 19, 2013
At least Flacco is tabbed to play, but bulky knee braces have been known to give players issues. Flacco isn't used to wearing one, and his mobility will almost certainly be compromised. Flacco isn't a big runner by any means, but he knows how to move his feet in the pocket during high-pressure situations. Without that ability in Week 16, Flacco isn't worth a fantasy start.
Fantasy Projection: 241 passing yards, one touchdown and one interception
Ray Rice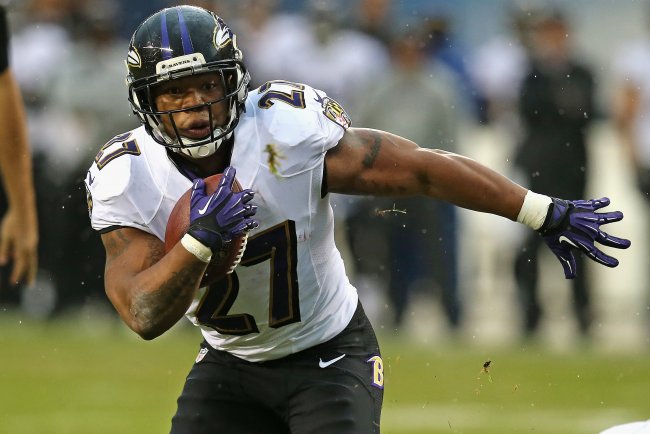 Jonathan Daniel/Getty Images
There are quite a few players who failed to live up to expectations this season, but Rice very well may be the season's biggest bust. He was considered a first-round pick in every fantasy format, and he hasn't performed anywhere near that level. Rice has just 605 rushing yards on the year, and he blames a hip injury he suffered early in the year, per Aaron Wilson of The Baltimore Sun:
I've been dealing with injuries this year. This has been a different year for me. Everybody plays through different things, and my numbers are what they are, but I'm doing what I can do to help my team. The injury I had this year wasn't something that you just bounce back from and say, "Oh you know I had a hip." It is definitely very hard to play through week in and week out. So when I look at things like that, statistics, I don't worry about things [like that].

Rice has struggled mightily, but he will face a New England defense that ranks No. 31 against the run. That means he will likely improve a bit this week in terms of rushing yardage, but he is still better off on your bench.
Fantasy Projection: 71 rushing yards and four receptions for 24 yards
Torrey Smith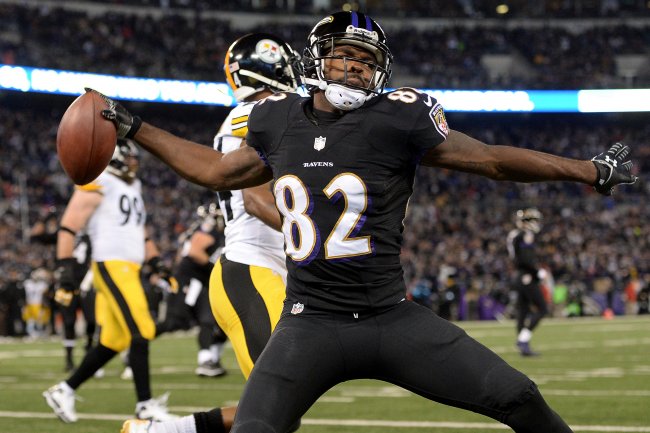 Patrick Smith/Getty Images
Smith has all the talent in the world, but the inconsistency of Flacco and the Ravens offense as a whole has stopped him from reaching an elite level. He has surpassed 1,000 receiving yards on the season; however, he has just four touchdown receptions. His failure to find the end zone more regularly makes him a somewhat risky start as a WR1 or WR2.
With that said, Smith is clearly the Ravens' No. 1 target in the passing game. Jacoby Jones and Dennis Pitta have stolen some targets now that they are healthy, but Flacco will always look to Smith first. Flacco loves taking deep shots to him, and all it takes is one connection for a big game. He won't have a monster game in Week 16, but he'll definitely be serviceable and startable.
Fantasy Projection: Six receptions for 93 yards and one touchdown
New England Patriots Playoff Implications
Despite the Patriots' disappointing loss to the Miami Dolphins in Week 15, they still control their own destiny in terms of earning a first-round bye. If the Pats win out, then they will assure themselves of the No. 2 seed. They may even nab the No. 1 seed, depending on what the Denver Broncos do, as seen in this rundown courtesy of NFL on ESPN:
If the season ended today, the AFC playoffs would look like this:
1 Broncos
2 Patriots
3 Bengals
4 Colts
5 Chiefs
6 Ravens

— NFL on ESPN (@ESPNNFL) December 14, 2013
How will the Patriots ultimately finish this season?
How will the Patriots ultimately finish this season?
No. 1 seed

No. 2 seed

No. 3 seed

No. 4 seed

No. 5 seed

No. 6 seed

Miss playoffs
New England ruined a golden opportunity in Week 15 since a win would have tied it with Denver and given it the No. 1 seed by virtue of a head-to-head victory against the Broncos. It didn't come back to bite the Patriots too badly, though, because the Cincinnati Bengals lost to the Pittsburgh Steelers and blew their own chance to usurp the Pats for No. 2.
The Patriots could even conceivably still miss the playoffs despite having 10 wins. The Ravens and Dolphins will both be 10-6 if they win out, while the Patriots will be 10-6 if they lose out, so tiebreakers could potentially eliminate them. Head coach Bill Belichick would obviously love to clinch a playoff spot as soon as possible, so this is a big game for New England.
Baltimore Ravens Playoff Implications
Even though the Pats haven't technically clinched yet, this is clearly a bigger game for Baltimore. The Ravens are clinging to a tiebreaker lead over the Dolphins for the final playoff spot in the AFC, and the San Diego Chargers are lurking one game behind as well.
With that said, the Ravens have a chance to clinch a playoff spot this week if they win and both the Dolphins and Chargers lose, according to the team's official Twitter account:
A Ravens win + Miami loss + San Diego loss/tie would give the Ravens a playoff berth: http://t.co/c8wnokwSOR

— Baltimore Ravens (@Ravens) December 17, 2013
To make matters even more interesting, Baltimore controls its own destiny in the AFC North, according to ESPN Monday Night:
The @Ravens have won 4 straight after a 4-6 start and control their own destiny in the AFC North.

— ESPN Monday Night (@ESPNMondayNight) December 17, 2013
A win over the Patriots would set up a de facto AFC North title game between Baltimore and the Cincinnati Bengals in Week 17, regardless of how the Bengals fare in Week 16. Cincinnati holds a one-game lead over Baltimore, but it lost to the Ravens already, which means the Ravens currently hold the tiebreaker.
There are plenty of scenarios that could put the Ravens in the playoffs or outside them over the next two weeks, so this game against the Pats couldn't possibly be bigger.
Follow @MikeChiari on Twitter