Projecting the safest selections for Eliminator pools in Week 7 and beyond
Updated: October 15, 2013, 12:36 PM ET

By Nik Bonaddio and Keith Goldner | numberFire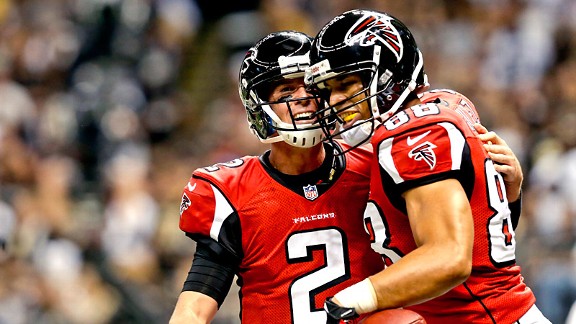 Derick E. Hingle/USA TODAY SportsCan Matt Ryan, Tony Gonzalez and the Falcons get back on track without Julio Jones?
In August, if someone told you that one of the two remaining undefeated teams come Week 7 would be the Kansas City Chiefs, and that the New York Giants would be 0-6, would you have believed them? It's highly unlikely you would have, but with six weeks in the books, the Chiefs and the Denver Broncos are last of the undefeateds and the Giants are winless.
This past week, the New England Patriots put a blemish on the New Orleans Saints' previously flawless record with a miraculous last-second connection between Tom Brady and Kenbrell Thompkins.
From the miraculous to the mediocre, the Houston Texans continue to stumble. In the midst of Matt Schaub's pick-six streak, the Virginia product was injured while the Texans were down big to the St. Louis Rams. Backup T.J. Yates entered the game to applause, and proceeded to throw two interceptions of his own, one of which was returned to the house. There must be something in the quarterbacks' water down in Houston.
Each week, we at numberFire will be here with our predictive modeling to help you survive and advance in your Eliminator pool. Our job is to provide you with the best information possible to empower smarter decision-making. For a more detailed look at our process, you can refer to our previous articles this season.
To help you visualize, here's our Eliminator Pool threat matrix that shows you how each team projects each week based on our model. It will be updated as results come in over the course of the season.
Green — Our equity-maximizing pick of the week.
Red — Popular pick: This is the consensus pick by you, the player.
Brown — Max method: This finds the best matchup of the year and works backward to maximize total win percentage throughout the season.
To see the best Eliminator pool Week 7 bets, and all of Insider's fantasy football and NFL content, sign up for Insider today.