Projecting the safest selections for Eliminator pools in Week 12 and beyond
Updated: November 26, 2013, 1:26 PM ET

By Nik Bonaddio and Keith Goldner | ESPN Insider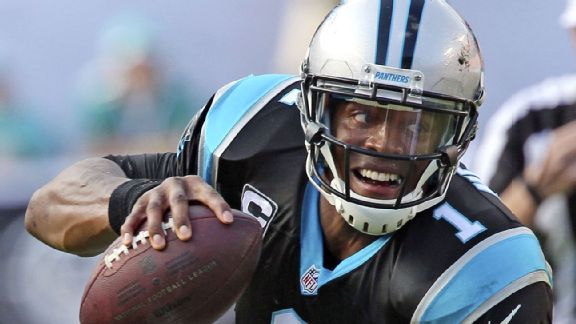 Charles Trainor Jr./Miami Herald/MCT via Getty ImagesCam Newton and the Carolina Panthers are the NFL's hottest team.
Week 12 was another strange week for Eliminator pools, as both the most picked (Detroit Lions) and second-most picked (Houston Texans) teams lost. Two of the NFL's bottom-feeders, the Jacksonville Jaguars and Tampa Bay Buccaneers, are now 5-1 combined in their last three games each.
This late in the NFL season, unless you are in a serious re-buy or several-strike league, there are very few managers remaining in your Eliminator pool. So it is less important to beat the public than to simply win week in and week out.
The Dallas Cowboys took down the New York Giants in Week 12 and currently lead the NFC East thanks to a head-to-head win over the Eagles. On Thanksgiving, the Cowboys take on a lowly Oakland Raiders team that is currently starting rookie Matt McGloin. McGloin has been significantly better than Terrelle Pryor passing the ball in his limited starts, having added 30 more points to the Raiders offense than Pryor. Pryor, however, adds a huge rushing element and has added over 17 points to Oakland's ground game so far in 2013 — the fifth-most of any player in the NFL.
The Cowboys have been above average against the pass so far this season, but rank No. 29 in the NFL in opponent-adjusted rush defense on a per play basis. In fact, Dallas has allowed almost 30 points above what a league-average defense would prevent in similar situations. Despite Dennis Allen naming McGloin the starter already, the matchup may dictate Pryor as the superior quarterback, assuming he is fully healthy.
Each week, we at numberFire.com will be here with our projective modeling to help you survive and advance in your Eliminator pool. Our job is to provide you with the best information possible to empower smarter decision-making.
Keep in mind: We are dealing in probability. The NFL is extremely volatile, oozing with random variation — "Any Given Sunday" certainly holds true. Upsets will happen. We will be the first to tell you, we can't be right all the time. But we are here to help you try to navigate the madness.
To help you visualize, here's our Eliminator Pool threat matrix that shows you how each team projects each week based on our model. It will be updated each week as results come in over the course of the season.
Green: Our equity-maximizing pick of the week.
Red: Popular pick: This is the consensus pick by you, the player.
Brown: Max method. This finds the best matchup of the year and works backward to maximize total win percentage throughout the season.
To read the rest of the piece on the best Eliminator picks for Week 13, you must be an ESPN Insider.