The NFL's top superstars often put up staggering fantasy football scores, and owners who are lucky enough to have them on their rosters when they do break out usually win.
You'd be hard-pressed to find owners who lost last weekend after starting Calvin Johnson, who went off for 329 yards and a touchdown against the Dallas Cowboys. The same goes for owners lucky enough to have Marvin Jones in the starting lineup, as he matched Johnson's 36 points to lead the NFL in Week 8.
There are a few matchups on the schedule in Week 9 that appear just as promising for star players—though expectations of another four-touchdown performance by Jones (or any other receiver) should be tempered.
Cam Newton vs. Atlanta Falcons
Quarterbacks have scored no less than two touchdowns in every single game this year against the Atlanta Falcons, which features the seventh-worst fantasy defense against quarterbacks.
The Falcons rank No. 22 in the NFL against the run, the pass and in scoring defense.
[embedded content]
Meanwhile, Cam Newton recently started connecting the mental aspect of the game with his physical abilities, and he's played the best football of his NFL career in the past three games. During this time, Newton hasn't turned the ball over once, throwing six touchdowns and running for two more.
Newton scored 27 points last weekend against the Tampa Bay Buccaneers and 30 points three weeks ago against the Minnesota Vikings.
Combined with the extra chances his defense will give him, by way of forced turnovers, he's in line for another huge game this weekend against the hapless Falcons.
Projected Stats: 300 total yards with three touchdowns.
Dez Bryant vs. Minnesota Vikings
The secondary of the Minnesota Vikings really misses Antoine Winfield this year, as only seven teams in the league have given up more fantasy points (24.4) to opposing receivers.
Dez Bryant caught two touchdowns in a losing cause last weekend, but he only caught three passes and was targeted only six times against Detroit, which played exceptionally well on defense.
This lack of targets isn't a regular occurrence, however. Just one week before, Bryant was targeted 17 times by Tony Romo, who looks for his Pro Bowl receiver early and often in nearly every game.
The Vikings don't have the players to match up with Bryant or rookie Terrance Williams. Bryant, who already has eight touchdown receptions in eight games, is going to have a huge game at home against this sorry defense.
Projected Stats: Nine catches for 160 yards and two touchdowns.
Seattle Seahawks Defense vs. Tampa Bay Buccaneers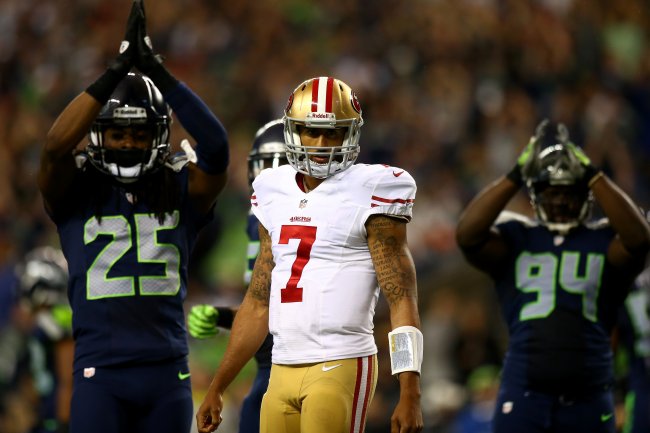 /Getty Images
Tampa Bay's offense is second only to the Jacksonville Jaguars in terms of utter futility this year, averaging just 297.7 yards and 14.3 points per game.
Rookie Mike Glennon has shown sparks of being a capable NFL quarterback, but he's in for a rude awakening in Week 9 when the Bucs play in front of the "12th Man" in Seattle.
Glennon wasn't an accurate passer in college, barely hitting on 60 percent of his attempts while throwing 31 interceptions in his career at North Carolina State. He's never before played in front of a hostile crowd like the one he's going to see in Seattle, and he's never before faced a secondary like the "Legion of Boom."
Furthermore, stud running back Doug Martin is still out, and the team is hopeful he'll be back by Nov. 11 at the earliest, as noted by Ian Rapoport of NFL.com:
Doug Martin will spend the next 18 days strengthening his shoulder & will wear a harness, with the target date for return Nov. 11 on MNF

— Ian Rapoport (@RapSheet) October 24, 2013
This is a recipe for disaster for the Bucs, but it's a matchup that bodes well for Seattle's defense in Week 9. Sacks, turnovers and potentially a touchdown or two is what you can expect, and the Seahawks will surely score in the double digits—if not eclipse the 20-point mark.
Projected Stats: Five sacks, three interceptions, one forced fumble and one touchdown.
Follow me on Twitter @JesseReed78