After putting up straight bagels on Sunday night against the Washington Redskins, Dallas Cowboys receiver Miles Austin hasn't earned the right to be a starter on fantasy football teams.
The box score wasn't a friendly sight for Austin and owners who started him after a two-week hiatus due to a hamstring injury. The Cowboys receiver was targeted four times by quarterback Tony Romo but failed to record a catch against a lackluster Redskins' pass defense that ranks No. 24 in the NFL.
That lack of production was especially alarming considering the Redskins defense had to also focus on stopping fellow receiver Dez Bryant and star tight end Jason Witten. The extra attention needed to stop those receivers should have opened things up for Austin, but that turned out to not be the case.
To make matters worse, Austin has yet to get into the end zone this season and his lone decent game came back in Week 1 against the lowly New York Giants when he compiled 10 receptions for 72 yards, both season highs.
It isn't clear just how much Austin's hamstring is playing a role in his poor play in 2013-14, but it's an injury that should concern owners. If he isn't at 100 percent, Austin likely will remain an afterthought in the Cowboys offense if he doesn't regain the explosiveness he needs to get open for Romo.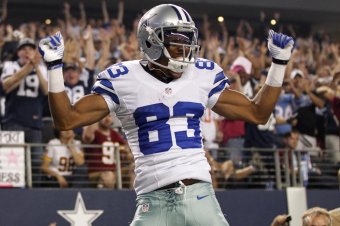 Tim Heitman-USA TODAY Sports
Other emerging receivers in the Cowboys offense will only serve to bury Austin further down in the pecking order as the season progresses.
Rookie receiver Terrance Williams has two touchdowns in his last two games and has compiled 13 catches for 248 yards in Dallas' last three games. Cole Beasley is another name rising in the Cowboys' passing attack with eight catches (nine targets) for 91 yards and a touchdown in his last two contests.
Granted, both of those receivers may not have huge numbers of late, but it just goes to show how much Romo is spreading the ball around and finding new options to throw to. On Sunday night alone, Romo threw to eight different receivers and connected with six of them.
Austin's track record is the only thing saving him on fantasy rosters at the moment as he does have two 1,000-yard seasons under his belt, but his last came back in 2010. Since then, Austin's numbers haven't been the same and he looks on pace to have another disappointing season.
Dallas does play in a weak division filled with horrid defenses, so there is a glimmer of hope for Austin. However, it would be foolish for owners to give him a start anytime soon until he establishes himself as a top target once again for Romo and the Cowboys.