In the scrutinized world of fantasy football, players like Tampa Bay Buccaneers running back Mike James can become household names overnight. Of course, those players can be just as quickly as forgotten.
That will be the fate of James this season.
James grabbed every fantasy owner's attention by going for 158 yards at an average of 5.6 yards per carry this past Sunday against the highly regarded defense of the Seattle Seahawks. For good measure, he even added a touchdown pass.
That was the sixth-round rookie's second career start, which was facilitated by the shoulder injury to previous starter Doug Martin.
In his first start, James had much more modest success by picking up 39 yards on 10 carries against the Carolina Panthers.
James isn't all about rushing either. He adds solid value with his hands. In the last three weeks, he has nine catches for 41 yards.
All of this information points towards a young player on the rise who should be owned in all fantasy leagues. However, there is much more to the story.
Obviously, that starts with the status of Martin.
While James was impressive on Sunday, it is going to take a lot more than that performance for him to usurp Martin on the depth chart. It is unclear when Martin will return, but getting him back on the field as soon as next week is not out of the question.
Joe Smith of the Tampa Bay Times passed along that head coach Greg Schiano said Martin might be able to play next Monday night against the Miami Dolphins.
Martin's return would destroy the fantasy value of James.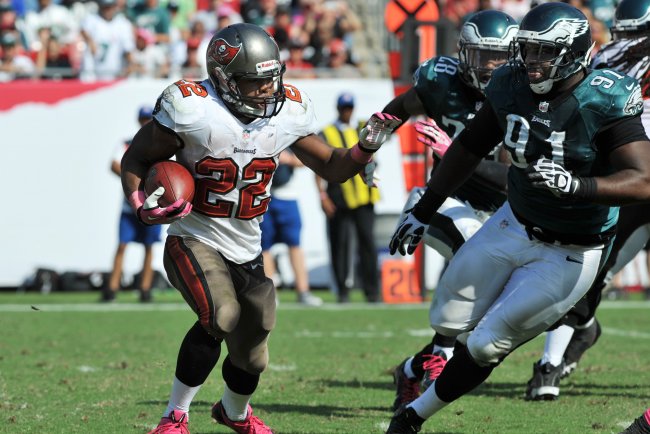 Al Messerschmidt/Getty Images
While his performance on Sunday could very well lead to a few more touches in a backup role, that won't be nearly enough to give him fantasy value. After all, the Bucs are still looking for their first win of the season. So it's not like the pathetic team is going to be in a position to ground out a lot of victories the rest of this season.
Still, Martin's return to the field next week, or any other for that matter, is far from guaranteed. In fact, if I was guessing, I'd say James is in the starting lineup next week and possibly the following as Tampa faces the Falcons.
How many yards will James rush for the remainder of the season?
How many yards will James rush for the remainder of the season?
0-150

151-300

301-450

451-plus
Unfortunately for James' fantasy value, Tampa Bay's running game has been struggling all season. Doug Martin has gained just 456 yards at an average of 3.6 per carry this season and Tampa as a team has just four runs greater than 20 yards all year.
Sure, James ripped up the Seahawks defense last week, but Seattle is not a great rush defense. The Seahawks are 19th in rushing yards allowed and 20th in yards allowed per rush. That defense also played what is arguably its worst 30 minutes of football this season in the first half on Sunday.
In Week 10, the Buccaneers face a similarly ranked (21) Dolphins rush defense.
James, as long as Martin is unable to play, should be considered a decent play this week, but that must be viewed as a one-week band-aid.
With Martin working to come back, the Buccaneers continuing to struggle and James still adapting to life in the NFL, he should not command fantasy attention at this time.