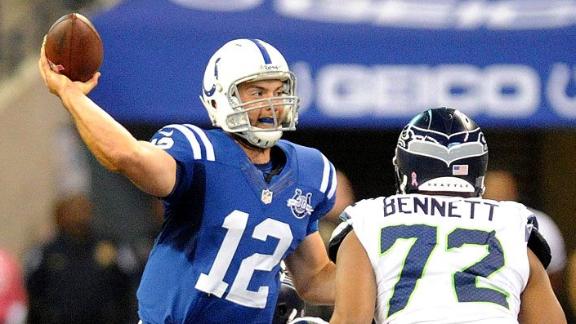 Colts Hand Seahawks First Loss
VIDEO PLAYLIST
INDIANAPOLIS — Andrew Luck handed Russell Wilson and the Seattle Seahawks their first loss of the season.
On a day, the Colts' offense struggled at times, Luck threw for 229 yards and two touchdowns and Donald Brown put the Colts ahead with a 3-yard TD run early in the fourth quarter to knock off previously unbeaten Seattle 34-28.
Luck led yet another fourth-quarter comeback, his ninth in 21 career games.
Good To Have Luck On Side

Andrew Luck did it again Sunday, leading the Colts to a comeback win against the Seahawks. It was his ninth game-winning drive in the fourth quarter or overtime, tied for the most for a QB in his first two seasons since 1966. Here's a look:
Seasons
Quarterbacks
GW Drives
2012-13
Andrew Luck
9
1997-98
Jake Plummer
9
1998-99
P. Manning
8
— Elias Sports Bureau
He led the Colts on a long, methodical scoring drive to open the fourth quarter, capping it with Brown's TD run and then throwing to Reggie Wayne for a 2-point conversion.
Indy then used the clock on another long drive that ended with Adam Vinatieri's 49-yard field goal.
Wilson finished 15 of 31 for 210 yards with two TDs, one interception and ran 13 times for 102 yards. Marshawn Lynch ran 17 times for 102 yards.
T.Y. Hilton had five catches for a career-high 140 yards.
For the Seahawks (4-1), it was a loss that seemed every bit as inexplicable as last week's victory in Houston.
Despite playing without three starting offensive linemen for the second straight week, Seattle dominated the first half, rushed for 218 yards and seemed to be in control for most of the game.
Seattle lost its first regular-season game since Nov. 25 at Miami, ending a nine-game winning streak.
The game featured two blocked kicks that wound up going for scores, a 73-yard TD pass from Luck to Hilton and two 2-point conversion tries by the Colts.
But Seattle was just 2 of 12 on third down conversions, played the final nine minutes without a timeout and settled for too many field goals.
It was a costly combination.
But it didn't look as if it would end this way when Seattle opened the game by driving for a field goal, a touchdown and then got a safety after a blocked punt to make it 12-0 with 4:53 left in the first.
The Colts rallied with the long TD pass to Hilton and took the lead when Delano Howell returned a blocked field goal 61 yards for a TD.
Seattle led 19-17 at the half and appeared to take control in the third quarter after settling for two quick field goals to make it 25-17.
But Luck hooked up with Hilton again, this time on a nifty 29-yard throw down the sideline to cut the deficit to 25-23 with 4:16 left in the third.
Brown gave Indy the lead for good early in the fourth, after coach Chuck Pagano won a challenge on a third-down spot that turned a fourth down into a first down.
The Colts were in control the rest of the way.
Copyright by STATS LLC and The Associated Press