In the NFL, an injury to one player just becomes an opportunity for another. The same works in fantasy football, so it is important to stay on top of the latest news around the league.
One situation to follow deals with the Atlanta Falcons, as injuries continue to pile up in the passing game. Vaughn McClure of ESPN notes that Tony Gonzalez missed practice on Wednesday and was held out again on Thursday:
Gonzalez (toe), Malliciah Goodman (calf), Corey Peters (knee), and Jason Snelling (knee) all held out of practice.

— vaughn mcclure (@vxmcclure23) November 13, 2013
No Tony Gonzalez or Harry Douglas during viewing portion

— vaughn mcclure (@vxmcclure23) November 14, 2013
The future Hall of Fame tight end has been dealing with a toe injury and is questionable for Sunday's game against the Tampa Bay Buccaneers.
If Gonzalez is unable to play, it will be up to Levine Toilolo to take over at the tight end position for the Falcons. While the 22-year-old rookie is not exactly a household name, he does have two touchdowns this season and is a legitimate red-zone target at 6'8″.
After seeing him finish with 10 touchdowns in his final two years at Stanford, Atlanta will continue to try to use him in jump-ball scenarios near the end zone.
Michael Felder and Matt Miller provide analysis of Levine Toilolo on draft day.
Of course, the bigger factor is that Matt Ryan is running out of options. As noted, both Gonzalez and Harry Douglas are limited, while Roddy White just returned from a hamstring injury and was ineffective last game.
Atlanta will need someone to throw the ball to, so it only stands to reason that Toilolo will get more looks than usual.
Unfortunately, there is a long way to go to be relevant from a fantasy perspective. He only has eight catches on nine targets this season and his best game was a 15-yard performance against the New York Jets.
While it stands to reason that Toilolo will take away some of Gonzalez's targets if he cannot play, the fact is that the starter had been struggling as well. Only once in the past four games did he top 30 receiving yards.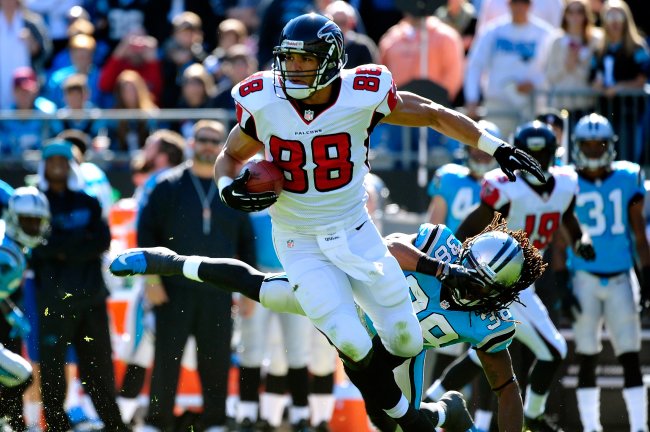 Grant Halverson/Getty Images
Tony Gonzalez has struggled to be productive in recent weeks.
To make matters worse, the Buccaneers have actually done a good job of defending tight ends this season. In the last seven games, no tight end has produced more than 50 receiving yards against the team and only Greg Olsen was able to score in that time.
Is Levine Toilolo worth an add in standard fantasy leagues?
Is Levine Toilolo worth an add in standard fantasy leagues?
Gonzalez himself only managed two catches for 30 yards when these teams faced each other in Week 7.
In order to put Toilolo in your fantasy lineup, you will be expecting the backup to fare much better than the starter. You also have to assume he will get a touchdown because he simply does not have the consistency to rack up many yards.
While the big rookie becomes someone to keep an eye on going forward, he is not worth adding to your lineup unless you are in an incredibly deep league.
If you need a tight end replacement, you will be better off going for Rob Housler of the Arizona Cardinals or John Carlson of the Minnesota Vikings. Both players are coming off big weeks and have a solid chance to keep it going in Week 11.
Follow Rob Goldberg on Twitter for the latest breaking news and analysis.