Fantasy football owners who have been waiting for Lamar Miller to break out will need to wait a bit longer, despite his immense talent.
Before halftime on Thursday Night Football against the Cincinnati Bengals, the second-year Miami Dolphins running back already has 87 total yards.
Unfortunately, Miller also earned a trip into the doghouse when he fumbled the ball in the red zone on the tail end of a 41-yard run that should have resulted in a touchdown, if he'd been able to see the field better, as noted by the NFL on ESPN and Cian Fahey of Football Outsiders:
Carlos Dunlap will HAUNT Lamar Miller's dreams tonight after that big-time fumble in the red zone!

— NFL on ESPN (@ESPNNFL) November 1, 2013
Lamar Miller, field vision matters: pic.twitter.com/9g0SoOYFXw

— Cian Fahey (@Cianaf) November 1, 2013
Predictably, despite his excellent production, Miller was yanked from the lineup and replaced by Daniel Thomas. Not only did he blow his chance to score by picking the wrong side of the field to run to, but his turnover cost his team any chance of scoring.
This isn't a new development for Miller, who has the physical abilities to become an explosive player on a weekly basis, but who has never been able to put the mental aspect of the game together with his raw talents.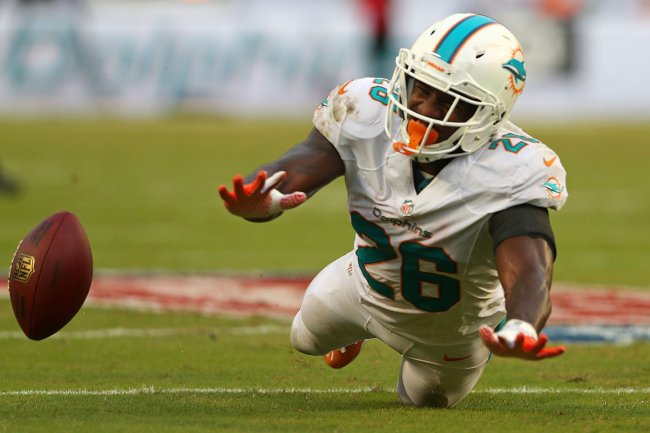 Mike Ehrmann/Getty Images
It's truly frustrating, both from a fantasy and a real-world perspective, that Miller's mistakes continue to crop up in pressure situations.
Will Lamar Miller ever become a must-start fantasy star?
Will Lamar Miller ever become a must-start fantasy star?
Yes, he'll overcome his mental mistakes.

No, his mental errors will continue to haunt him.

No, he was never good enough in the first place.
Heading into this game against the Bengals, Miller finally broke out with his first 100-yard game in Week 8 against the Baltimore Ravens. He rushed for 89 yards in that game, adding another 23 yards on three catches.
After following it up with his huge first half on Thursday night, his talent is clearly evident.
However, Miami isn't going to continue letting Miller shoot the team in the foot with mental mistakes. He's a risky start from now until he proves he can play with consistency week in and week out.
Follow me on Twitter @JesseReed78