Josh Gordon is a major factor for the Cleveland Browns. The team is 3-0 since he returned to the lineup, and he's established himself as a reliable contributor for fantasy football owners. That shouldn't change when Brandon Weeden assumes the starting role under center once again.
Gordon was quickly developing a nice rapport with Brian Hoyer, who was finally providing the Browns with some stability at the quarterback position. But he suffered a season-ending ACL injury, so Weeden is back at the controls of the offense.
Through three games, the Baylor product has reeled in 18 passes for over 300 yards and a pair of touchdowns. Those numbers equate to 43 fantasy points, or more than 14 per week. The top fantasy wide receiver, Dez Bryant, is averaging 15 points per week.
While the presence of Weeden leading the offense is likely going to prevent Gordon from putting up those elite stats moving forward, he should still receive more than enough targets to maintain a spot in most lineups on a weekly basis.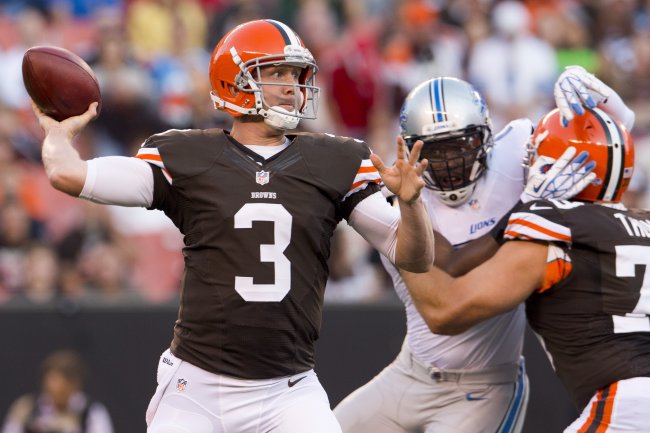 Jason Miller/Getty Images
Weeden struggled during the first two games of the season, throwing just one touchdown pass and getting intercepted three times.
Those numbers weren't good enough to stay atop the depth chart after struggling as a rookie, but it's important to note that Gordon wasn't available for those contests. Most quarterbacks would struggle without their top target in the lineup.
So even though Weeden still isn't a smart bet to suddenly start tearing it up, he should be better than he was to open the season.
The other factor working to Gordon's advantage, at least from a fantasy perspective, is the team's upcoming schedule. The Browns face a very difficult four-week stretch leading up to their bye week, starting with the Detroit Lions in Week 6.
Unless the Cleveland defense plays extraordinarily well, the team is going to spend a lot of time over the next month playing from behind. That means more passes from Weeden and more targets for Gordon, and fantasy owners sure don't care if they come in garbage time.
Would you trust Gordon as a fantasy WR?
Would you trust Gordon as a fantasy WR?
Yes, he'll continue to score well.

No, Weeden will hold him back.
Moving forward, Gordon will still have his fair share of games where he puts up top-receiver numbers. But there will be more ups and downs than would have been the case if Hoyer was his quarterback. So, in terms of value, he should be viewed as a No. 2 WR or flex option.
His upside and big-play ability will make it difficult to leave him on the bench unless it's a truly terrible matchup. That's not the case this week. Gordon and the Browns face a Lions defense that ranks 21st against the pass.
All told, Weeden will hurt Gordon's overall value, but not as much as it may seem heading into Week 6.
Week 6 Projection: six catches for 95 yards.