After practicing for the past two days, Cleveland Browns quarterback Jason Campbell has been cleared to play. Head coach Rob Chudzinski said on Friday that Campbell would start in Sunday's Week 14 showdown at Gillette Stadium against the New England Patriots.
Nate Ulrich of the Akron Beacon Journal broke the news, as Campbell missed last week's loss to Jacksonville with a concussion:
#Browns HC Chud said QB Jason Campbell will start Sunday. He's been cleared and had good 2 days of practice, Chud said.

— Nate Ulrich (@NateUlrichABJ) December 6, 2013
Campbell's presence under center shouldn't change the fantasy outlook for emerging superstar wide receiver Josh Gordon nor third-year tight end Jordan Cameron. Gordon has been a no-brainer, No. 1 wideout as of late, while Cameron's production has dropped off after a strong start to 2013.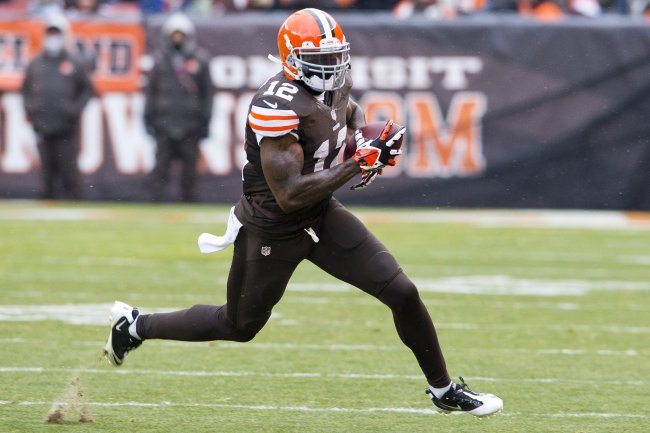 Jason Miller/Getty Images
No matter who has been the quarterback—Campbell, Brandon Weeden or Brian Hoyer—Gordon has found a way to be productive this season.
The 22-year-old became the first player in NFL history to post consecutive 200-yard games over the past two weeks and has the highest receiving total in a three-game span of all time:
.@Browns WR Josh Gordon's 623 receiving yards in the last 3 games is an NFL record

— Dan Murphy (@DMurph_BrownsPR) December 1, 2013
Campbell is more of a veteran presence under center than Weeden, but expecting another 200 yards from Gordon is a bit unrealistic.
Even a matchup against physical Patriots cornerback Aqib Talib won't be enough to slow down Gordon entirely. The playmaker himself probably put it best earlier in the week, per Ulrich:
#Brown WR Josh Gordon on #Patriots CB Aqib Talib: "I'm pretty sure he'll make some plays, but I'm definitely going to make more plays."

— Nate Ulrich (@NateUlrichABJ) December 5, 2013
Gordon should still manage to be targeted in the double digits, total over 100 yards and find pay dirt at least once. He has done so in four of the past five games, and when he does reach the end zone, it's of the big-play variety.
Who will be a bigger fantasy star at their position in Week 14?
Who will be a bigger fantasy star at their position in Week 14?
Josh Gordon

Jordan Cameron
Chemistry for Campbell and Cameron has been hard to come by. The two connected on all four targets for 81 yards against Kansas City but haven't been on the same page since.
A big part of that has been defenses adjusting to Cameron and accounting for him far more, though. It's up to Cameron to shake off bumps at the line of scrimmage and continue to work on the nuances of his game.
Otherwise, his production is going to continue to sink. Marc Sessler of NFL.com highlights the decline Cameron has experienced amid the second half of the season:
Jordan Cameron had 596 receiving yards in his first 8 games this season; 107 over last 4. #Browns

— Marc Sessler (@MarcSesslerNFL) December 2, 2013
There probably aren't many tight ends with better upside than Cameron, though, given that he did produce earlier this year.
Plus, Brendan Leister of DraftBrowns.com does offer a silver lining, noting that Cameron was open often against the Jaguars last week but that Weeden was locked onto Gordon:
Jordan Cameron was open regularly vs JAX. Hard to fault Weeden for his love for throwing to Gordon but plenty of missed opps left on field.

— Brendan Leister (@BrendanLeister) December 4, 2013
Perhaps a signal-caller more competent in going through his progressions in Campbell can click with Cameron and get him back on track.
Cameron is still a decent starting option compared to most alternatives, yet it is worth noting that he hasn't scored a touchdown since Week 7.
All the extra attention Gordon is drawing could finally spark Cameron if Campbell targets him enough.
However, with the tear Gordon is on, look for him to continue producing No. 1-caliber numbers, while Cameron remains a dicey start at tight end and a decent flex option.