Minnesota Vikings wide receiver Jerome Simpson has been an intriguing option for fantasy owners all season and has compiled massive yardage in two separate outings with two different quarterbacks throwing his way.
Now that former Tampa Bay Buccaneers quarterback Josh Freeman is reportedly planning to sign with the team and possibly taking over under center in the near future, via CBS Sports' John Breech, Simpson becomes an even better fantasy wideout.
The 27-year-old out of Coastal Carolina has already racked up 19 catches for 342 yards on the year. His best games have come in Week 1 (seven catches, 140 yards) and Week 4 (seven catches, 124 yards) with Christian Ponder and Matt Cassel as his respective quarterbacks in the matchups.
Considering Simpson relies on his elite athleticism to create separation and make big plays, it will be a boon to have someone like Freeman—who possesses a strong arm—throwing the rock.
[embedded content]
The speedster will be able to go deep and know that his quarterback can hit him in stride for a massive gain. That ability not only bodes well for Simpson's personal stats but also should open up the defense and punish teams that stack the box against Minnesota's superstar running back, Adrian Peterson.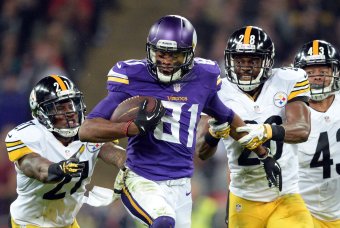 Bob Martin-USA TODAY Sports
Simpson—a veteran now in his sixth year—took a bit to find his stride, but it seems he has finally arrived. The 6'2", 190-pound receiver simply makes plays and is always a threat to gash an opposing defense for a long gain.
This guy is going to make good things happen on a consistent basis, regardless of who is under center for the Vikings. However, Freeman's presence as a starter would up Simpson's usage as a deep threat and could help him find the end zone on quite a few occasions.
How will Simpson fare over the rest of the season?
How will Simpson fare over the rest of the season?
He will improve to a WR1.

He's going to be a decent WR2.

Consider him a WR3.

WR4 or worse.
A score has eluded the wideout during the first four games, but there's no doubt that it will come if he keeps earning large quantities of targets.
Consider using Simpson as a WR3 with upside until the quarterback situation in Minnesota stabilizes.
He's worth rostering in all leagues and is currently a great bye-week replacement or flex option but could soon be worth much more than that thanks to the addition of Freeman.