Chicago can franchise their QB, but should hold off on big commitment
Updated: November 15, 2013, 1:11 PM ET

By
Ron Jaworski | ESPN Insider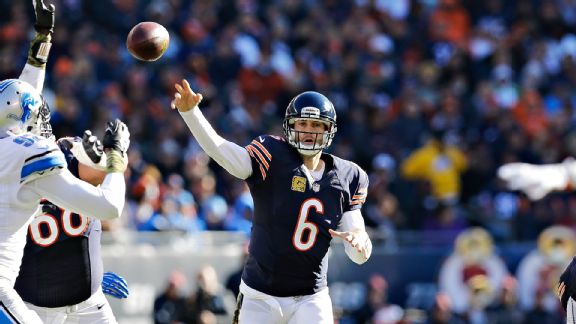 AP Photo/Nam Y. HuhThe Chicago Bears have a $100 million decision to make this upcoming offseason.
In the National Football League, we've seen plenty of turmoil at the quarterback position this season. Already, 46 different QBs have started games; that's just one shy of last year's total, and we've got seven weeks to go. But one of the most significant situations, in my mind, is the injury to Jay Cutler in Chicago. Not so much because of the ramifications for the Bears' playoff chances, but because of the potential impact on Cutler's future with the team.
Cutler's contract expires at the end of the season, meaning this year has been something of a "show me" season for the quarterback in order to earn a contract on par with the NFL's other franchise passers. Often, those deals come in around the $100 million range. Yes, the Bears have the option of giving Cutler the franchise tag, which means a one-year deal. Based on what I've seen from Cutler this season, I simply don't think he's earned a longer deal, and I would not sign him to a big contract this offseason.
To read Ron Jaworski's full analysis on why Jay Cutler isn't worth a long-term deal, sign up for Insider today.
Ron Jaworski is one of the most popular and knowledgeable analysts covering the NFL today. Since joining ESPN in 1990, the former standout NFL quarterback has covered the league from virtually every angle — sideline reporter, game-site reporter, host and both studio and game analyst. From 2007-11, Jaworski occupied one of the most coveted positions in sports as a Monday Night Football analyst.