Green Bay Packers receiver Jarrett Boykin is taking over for Randall Cobb as the team's primary slot receiver, but fantasy football owners would be smart to take a wait-and-see approach before plugging him into a starting lineup.
Cobb fractured his fibula in last weekend's contest against the Baltimore Ravens. He's out for at least six weeks after being placed on the team's injured reserve with a designation to return, as noted by Tom Silverstein of the Milwaukee Journal Sentinel:
#Packers WR Randall Cobb has been put on injured reserve / designated to return, according to NFL source. Can return to practice in 6 weeks

— Tom Silverstein (@TomSilverstein) October 15, 2013
This puts Boykin in a position to become a fantasy gold mine as Cobb's replacement.
ESPN's Matthew Berry called Boykin a sneaky play this weekend against Cleveland, noting Joe Haden would be covering Jordy Nelson and the potential absence of James Jones:
Sneaky deep lg WR play, esp in PPR: Jarrett Boykin. Joe Haden on Jordy, expecting James Jones out…

— Matthew Berry (@MatthewBerryTMR) October 20, 2013
But Haden isn't the only talented defensive back on Cleveland's roster. Buster Skrine and Leon McFadden are both capable cover men, and T.J. Ward is an excellent safety. The Browns rank No. 8 in the league against the pass, allowing just 214.3 yards per game.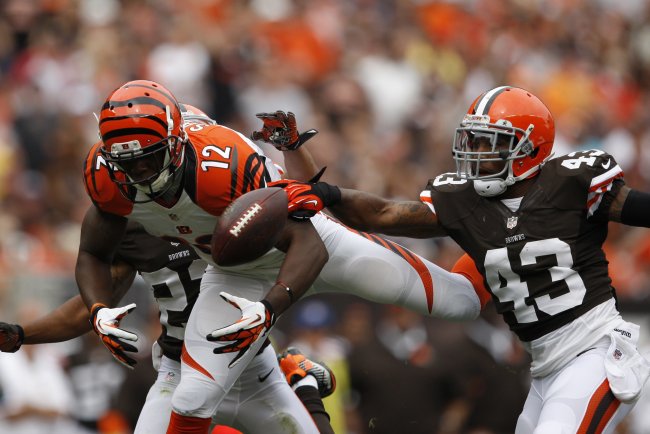 Raj Mehta-USA TODAY Sports
Cleveland's defense isn't the only concerning aspect of Boykin's fantasy value, either.
After he came in to replace Cobb in last weekend's contest, he was far from sharp, as noted by David Dorey of TheHuddle.com:
Jarrett Boykin gets the hype as the #2 in GB but 3 misses, 2 drops and one screen pass caught is why he was undrafted and in JAC last year

— DAVID DOREY (@DMDorey) October 16, 2013
Boykin managed to redeem himself by taking said screen pass 43 yards, but he was clearly not on the same page as quarterback Aaron Rodgers.
It's easy to assume that he will develop chemistry with Rodgers, who always seems to make his receivers look like all-pros. But given Boykin's lack of in-game experience, fantasy owners should be wary about expecting him to put up Cobb-type numbers.
The Packers could also decide to lean even more heavily on rookie Eddie Lacy and the running game, as they rank 10th in the league in total rushing yards.
Take a wait-and-see approach with Boykin. He's certainly worth a look, but keep expectations low at this time until he proves otherwise.
Follow me on Twitter @JesseReed78