For those who still aren't convinced that fantasy football is in no way an accurate assessment of real-life excellence, allow me to introduce Atlanta Falcons running back Jacquizz Rodgers' Week 5 performance.
In the fantasy world? Rodgers was as close to a superstar back as you can get in today's pass-happy NFL. He compiled 58 total yards and scored two touchdowns in the Falcons' 30-28 loss to the New York Jets on Monday night. That was good for 17 fantasy points in non-fractional scoring, tying him with Jamaal Charles for the fifth-best total at running back.
Adrian Peterson, Alfred Morris and Doug Martin were off this week, so that ranking is likely skewed by at least one spot. But you would have rather had Rodgers on Monday than LeSean McCoy, Arian Foster and Marshawn Lynch on Sunday.
He's owned in 78 percent of ESPN.com leagues, and I suspect that number will go creeping toward triple-digits when everyone wakes up Tuesday morning. There will be plenty of folks this week who categorize Rodgers' 17-point performance against an admittedly tough Jets defense as a "breakout" and hope that their destitute rosters can be saved by grabbing him on the wire or via a trade.
To know why that stance steps right up to the Asinine Line, let us go back to real-life football. Rodgers accrued those 58 yards on 18 touches. He ran the ball 14 times for 43 yards (3.1 yards per carry) and caught four passes for 15 yards.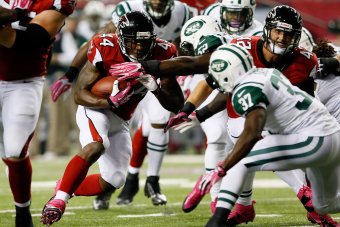 Kevin C. Cox/Getty Images
New York did an excellent job at the line of defeating the Falcons at the point of attack, shooting gaps and breaking up runs before they even got to the second level. Rodgers' teammate, Jason Snelling, managed only 23 yards on his 12 touches, suffering even a worse fate. The Jets are a good defense and it's a shock that either of these backs produced anything resembling "value" against them from a fantasy perspective. (Snelling scored a receiving touchdown.)
Here's the thing: Isn't that the point?
If the first five weeks of the season have proved anything, it's either that Rodgers is incapable of being a top-flight NFL back or that the Falcons have simply forgotten how to run block. The former Oregon State standout has rushed for just 177 yards this season, more than half of which came in a very good Week 3 outing against the Miami Dolphins.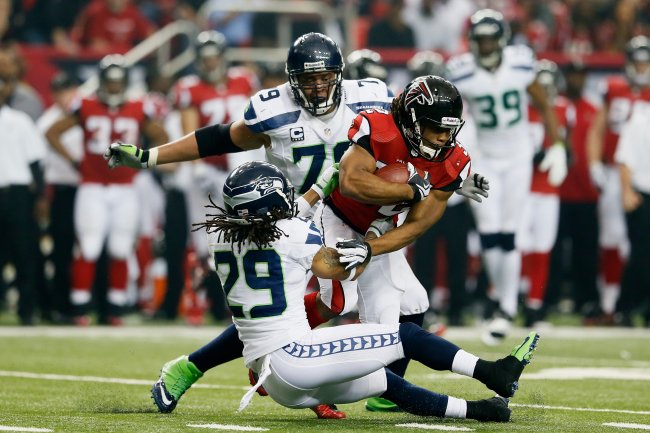 Kevin C. Cox/Getty Images
But here are Rodgers' other rushing totals: minus-one, 17, 32 and 43. Assuming we're being fair human beings and eliminating Week 1, where he was the No. 2 back behind Steven Jackson, those totals aren't, like, very good. Rodgers had produced just two more points through the entire first quarter of the season than he did Monday night.
Considering Michael Turner dropped nearly a full yard per carry from 2011 to 2012, this has to be a problem with the offensive line, right? (Under this logic, some running back-needy team should give Michael Turner a call. Oh, your grandmother just beat him in a foot race? On her walker? OK, proceed as planned then, NFL teams. Sorry for bringing it up.)
Actually, not really.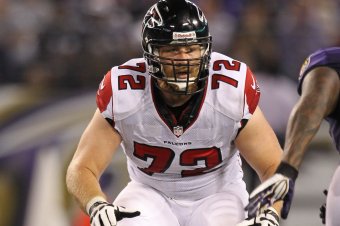 Mitch Stringer-USA TODAY Sports
Prior to Week 5, Football Outsiders has actually found Atlanta's offensive line to be among the best in football. The unit had an adjusted line average of 4.31 yards, ranking behind pretty much the teams one would expect. (Important note: Not saying the Falcons offensive line has been good. Just not as terrible as advertised, red-zone results notwithstanding.)
The Falcons hung around the middle of the league in every category, before you get to the spot where running backs would have to do the work. They are 23rd in the league in second-level yards, which are measured when a running back gets between 5-10 yards past the line of scrimmage.
That onus invariably falls on the running backs. Rodgers has not had a carry of 20 or more yards this season. He has exactly two carries that have gone for 10 yards or longer, though an additional one was called back due to a hold against Miami.
This should come as no surprise, then: Rodgers ranked tied for 22nd in Football Outsiders' DYAR metric prior to Week 5. For those unfamiliar, what that stat does is measures how a running back would do compared to a replacement-level back thrust into the same situation, adjusted for opponent and situation.
Steve Mitchell-USA TODAY Sports
In essence, what this means for fantasy is that Rodgers has little to no value if he's not getting into the end zone. He's not going to get enough opportunities nor do enough with the ones he gets to make him a viable option outside of the deepest of formats.
Monday night was the anomaly, not the rule. You're better off starting the Danny Woodheads of the world on a weekly basis than getting stuck with Rodgers offering up two points on non-touchdown weeks.
What kind of fantasy RB do you consider Jacquizz Rodgers?
What kind of fantasy RB do you consider Jacquizz Rodgers?
Every-Week Start

Flex Play

Worth a Bench Spot

Cut, Cut, Cut
If you can find some owner desperate enough to hope this is a sign of things to come, do whatever you can to dump him off. Atlanta has a bye in Week 6, and there is a decent possibility Jackson comes back from his hamstring injury for the Falcons' clash against the Tampa Bay Buccaneers the following week.
If each owner in your league has two eyes, ears, a cognizant understanding of the game of football and doesn't want to make a trade? Then Rodgers' value depends on the depth of your league. In deeper 12-team and 14-team formats, keeping the Falcons back around as a just-in-case insurance policy isn't going to hurt anyone.
But Rodgers shouldn't be owned in 10-team leagues, and he's droppable in those aforementioned bigger leagues if roster space is tight. Watching and understanding real football might not always correlate perfectly to fantasy football. But the case of Jacquizz Rodgers, it shows you're not going to have much luck mining value from him going the rest of the season.
Follow Tyler Conway on Twitter: