Kansas City's defense is good enough to win the Super Bowl
Updated: October 22, 2013, 10:21 AM ET

By
Herm Edwards | ESPN Insider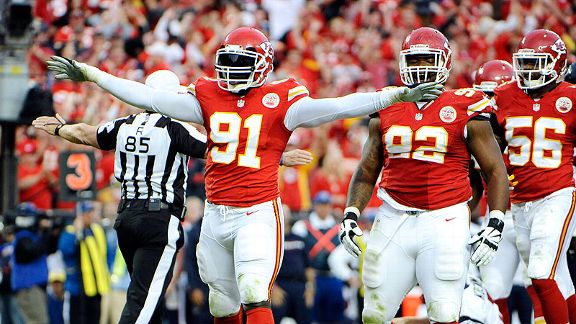 John Rieger/USA TODAY SportsThe Chiefs defense is off to a great start, but is it good enough to carry the team to the Super Bowl?
A lot of people wondered why Andy Reid would return to the NFL so soon after parting ways with the Philadelphia Eagles, but he knew he was going to a good football team in Kansas City. This was a team that had six Pro Bowlers last season, so there was certainly talent on the roster. Reid also got to bring in John Dorsey to be his general manager, and several coaches with whom he was familiar to be on his staff.
People think of Reid as a coach with a West Coast offensive philosophy who likes to throw the ball around a lot and rack up points. That might have been true in Philadelphia. But as all great coaches do, he has adapted his philosophy to fit his players. And most important, his offensive philosophy mirrors his defensive one in Kansas City.
This is a team that is now relying on the blueprint established by the Super Bowl champion Baltimore Ravens in 2000: Play shutdown defense and have a ball-control offense that doesn't turn it over and doesn't take many risks.
And that comparison leads to two interesting questions as we look at the potential for big-picture success in Kansas City. Is this defense as good as that 2000 Ravens team, and can Kansas City win a Super Bowl with that same formula?
To find out whether Herm believes the Chiefs' defense is good enough to win the the Super Bowl, sign up for Insider today.
Joined ESPN in 2009
Spent eight years as NFL coach, 10 as a player
Appears regularly on SportsCenter, NFL Live and NFL32