The New York Giants may have yet to record a victory in 2013 and quarterback Eli Manning is as turnover happy as ever, but Hakeem Nicks remains a quality fantasy option each week.
That is especially the case in Week 7 on Monday Night Football against the Minnesota Vikings. While ESPN's Adam Schefter recently reported on NFL Insiders (h/t Rotoworld) that the Giants would listen to trade offers for Nicks, that report was later refuted by the team and Nicks himself per Marc Sessler of NFL.com.
In other words, barring a last-second deal, it's all systems go for Nicks on Monday under the national spotlight.
What a matchup it is.
Owners who took the risk on Nicks and kept him in the lineup over the weekend will be happy with the result when all is said and done Monday night.
[embedded content]
Minnesota is the perfect example of how to not defend the pass. The Vikings come in at No. 30 overall in pass defense as they allow a jaw-dropping 308 yards per game through the air.
Even better, Nicks averages about 74 yards receiving per game. While he has yet to find the end zone, Nicks has found his way to 70 or more yards receiving in four of six games this year and will easily do so against the Vikings.
The Vikings aren't just bad on a statistical level against the pass—they're simply not talented enough to line up against true receiving threats. Per Pro Football Focus (subscription required), starting corner Chris Cook is No. 68 overall at his position in the NFL. The starter opposite Cook is one Josh Robinson, who ranks No. 100 overall—on a list that ranks 102 players.
Add in the fact Vikings promising second-year safety Harrison Smith is officially out for the game with an injury per ESPN's Ben Goessling, which forces Andrew Sendejo (mostly a special teams player) into action, and Nicks and Co. will have plenty of opportunities to score major fantasy points.
It also helps that Nicks has motivation to prove his worth with the trade rumors of the past week, not to mention he is in the final year of his rookie contract and is headed to free agency after the season with a major financial outcome riding on his performance each week.
Manning has been a turnover machine this year with 15 interceptions, but Minnesota has forced just seven in five games, and the veteran quarterback will have no issues spreading the vulnerable defense out with talented names like Nicks, Victor Cruz and Reuben Randle.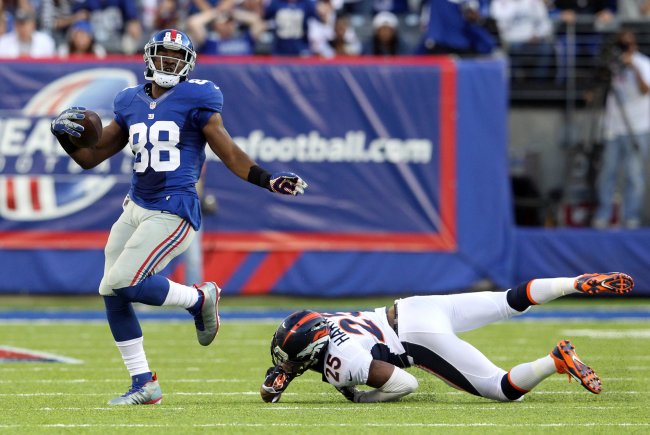 Brad Penner-USA TODAY Sports
Is Nicks a fantasy starter against Minnesota?
Is Nicks a fantasy starter against Minnesota?
Speaking of the other receivers, there are plenty of balls to go around in order for everyone to emerge as quality fantasy producers. Cruz demands two defenders at all times deep down the field, which makes things even easier for Nicks underneath.
There's also the lack of a running game in New York to further Nicks' fantasy production, with a resurgent Brandon Jacobs leading a rushing attack that averages a pitiful 67.8 yards per game, good for second-to-last in the NFL.
Minnesota knows the Giants can do little outside of lining up and throwing it for most of the game (Manning has attempted 37 or more passes in four of six contests), but the Vikings simply do not have the talent to match up.
Nicks is in for a major day as a No. 1 receiver, so there is no question he should be in every starting lineup imaginable on Monday night.
Follow B/R's Chris Roling on Twitter for more news and analysis @Chris_Roling