Giovani Bernard's fantasy football potential has been bubbling toward the surface this season, and it finally burst forth with gusto on Thursday Night Football when the Cincinnati Bengals took on the Miami Dolphins.
The rookie out of North Carolina electrified his team when it needed him the most.
After Brent Grimes took an Andy Dalton pass 94 yards for a touchdown midway through the third quarter, the Dolphins carried a 17-3 lead into the game's final 20-plus minutes.
The interception was Dalton's second of the night and marked his third turnover of the game, as he lost a fumble early in the contest.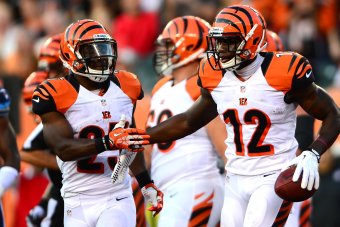 Andrew Weber-USA TODAY Sports
With the passing game out of whack, offensive coordinator Jay Gruden dialed up a bevy of running plays for his rookie and Bernard didn't fail to produce.
Before you knew it, Cincinnati had tied the game on Bernard's second touchdown run of the night—a 35-yard gem that should have been stuffed in the backfield. Bernard was seemingly going to be stopped for a loss, but kept his balance, flipped the field and worked his way toward the left sideline with a conveyor of blockers in front of him.
Here's a great look at the play, as shown by the NFL Network:
Want to see one of the BEST runs of the year?

WATCH THIS: http://t.co/z8NCJfEAVo #CINvsMIA #Grimes

— NFL (@nfl) November 1, 2013
If you watched HBO's Hard Knocks this summer or have been keeping a close eye on this rookie since his days at North Carolina, then you know this play wasn't an aberration. Bernard is capable of pulling off huge plays like this on a weekly basis.
Unfortunately, Bernard was dinged up with a rib injury. According to Joe Reedy of The Cincinnati Enquirer, the rookie has been deemed questionable to return:
Giovani bernard questionable return due to a rib injury

— Joe Reedy (@joereedy) November 1, 2013
Bernard finished Thursday's game with 124 total yards (89 rushing, 25 receiving) and two touchdowns.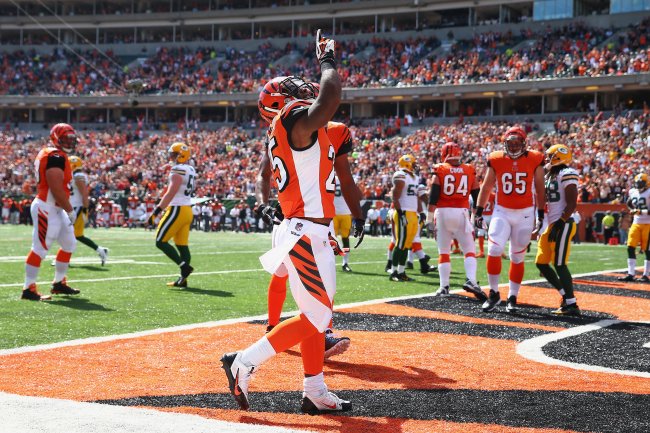 Andy Lyons/Getty Images
Heading into the second half of the season, the Bengals are going to need to feature a strong rushing attack as winter approaches and they find themselves playing in the brutal AFC North. Outdoor stadiums and cold weather aren't conducive to big passing games, and Cincinnati will need to find other ways to move the chains.
Which running back should start for the Bengals?
Which running back should start for the Bengals?
Giovani Bernard

BenJarvus Green-Ellis
BenJarvus Green-Ellis will continue to receive a high volume of carries in between the tackles, but it's clear the Bengals intend on featuring Bernard more as the season progresses. His explosiveness on both running and passing plays makes him one of the most dangerous specialty weapons in the league.
Cincinnati's schedule is loaded with tough opponents against the run, but fantasy owners should consider making Bernard a must-start back on a weekly basis—provided his health warrants the start.
Granted, there will be some games in which he doesn't show up big, but they'll be few and far between.
Follow me on Twitter @JesseReed78