Start your Cowboys, but consider other options for your Lions
Updated: October 16, 2013, 1:53 PM ET

By
Scott Kacsmar | Football Outsiders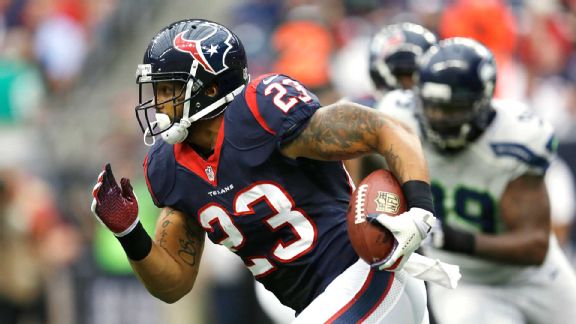 AP Photo/David J. PhillipThough Arian Foster has just one TD this season, he's poised for a bounce-back game in Week 7.
From answering weekly fantasy questions at Football Outsiders, there's one big problem I see people having: deciding what to dig out of the cemetery that is the 2013 running back landscape.
People who drafted Doug Martin, C.J. Spiller, Chris Johnson and David Wilson with a high pick are disappointed. Even some who spent the No. 1 pick on Adrian Peterson may be wondering why he's not piling up 100-yard games like he did late last season. And then there's Ray Rice, who has rushed for more than 36 yards in a game just once, and Arian Foster, who has only one touchdown.
So what's going on this year?
For a "real football" reason, I would say not many offensive lines are capable of good run blocking right now. Most backs are only as good as their blocking, as it takes elite talent to create yards when there's nothing there. Even the best struggle to do that when they get hit as soon as they take the handoff.
In terms of the fantasy ramifications, I wanted to see just how far the mighty have fallen. So I gathered data on the top 10 fantasy running backs through Week 6 for every season since 2007 to see if things were really that bad this year:
Both rushing yards and touchdowns are down this season, but not dramatically so. Plus, average points (90.7) are in line with the previous six seasons. So the cream of the crop is about the same. The big difference is that no one expected to see Knowshon Moreno at No. 4 or Fred Jackson instead of Spiller.
Here are the best and worst fantasy matchups for Week 7:
To see all of of the best and worst fantasy matchups for Week 7, sign up for Insider today.
Scott Kacsmar is an Assistant Editor at Football Outsiders.