Packers squandered opportunity to control NFC North
Updated: November 27, 2013, 8:38 AM ET

By Danny Tuccitto | Football Outsiders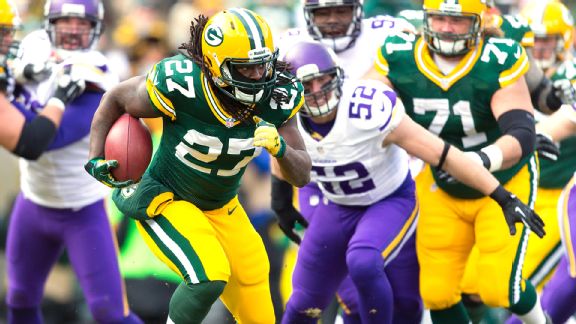 Jeff Hanisch/USA TODAY SportsEddie Lacy and the Packers have a tough hill to climb to make the playoffs.
In the standings, a tie counts as a half-win and a half-loss. In Football Outsiders' playoff odds simulation, Green Bay's tie on Sunday was a half-win and a half-loss for its postseason prospects. On the plus side, losses by Detroit and Chicago meant that Green Bay's chances of winning its division increased from 12.5 percent to 18.1 percent. On the minus side, a full win against Minnesota would have made the Packers the favorite in the NFC North. Someone should have told that to Mike McCarthy when he took the field goal route in overtime.
That missed opportunity looks even worse for Green Bay when you consider that, among the three teams vying for the NFC North, the Packers have by far the toughest remaining schedule. The average opponent for Green Bay has an above-average weighted DVOA (1.2 percent), whereas Detroit's (minus-3.0 percent) and Chicago's (minus-3.4 percent) are below average. And when you add in these teams' own weighted DVOAs, as well as home-field advantage over the final five weeks, our simulations project the Packers to win — wait for it — 0.5 games fewer than the Bears.
Of course, with Aaron Rodgers sidelined and Green Bay having to travel to both Detroit and Chicago over the final five weeks, the Packers' tie probably will be a nonfactor in the end. Last week, they failed to make the playoffs in 86 percent of our simulations, and this week they fail 81 percent of the time.
You can find the full playoff odds report, including the odds of each team winning each of the six seeds, on FootballOutsiders.com.
---
AFC playoff projections
No. 1 – Denver Broncos
Current record: 9-2 | Weighted DVOA: 29.9 percent
Projected wins: 12.7
Total playoff odds: 100.0 percent | Weekly change: 0.0 percent
To read Football Outsiders' full breakdown of the NFL's best playoff odds, sign up for Insider today.