Clutch context shows new Colts QB a worthy heir to Peyton Manning
Updated: October 20, 2013, 2:34 PM ET

By
Scott Kacsmar | Football Outsiders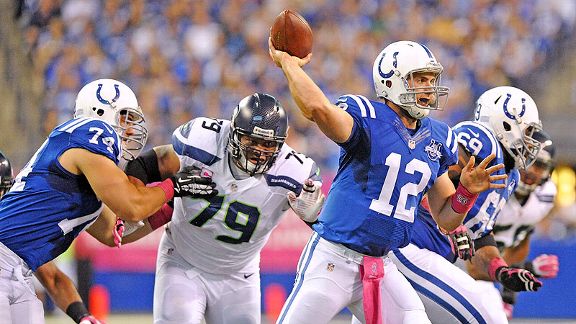 Thomas J. Russo/USA TODAY SportsAndrew Luck has dealt with pressure successfully in his early NFL career.
Amid all the commentary from Colts owner Jim Irsay, here's hoping he's reserving some words to count the blessings of his franchise. Namely, he should be grateful the Colts have gone from one great quarterback in Peyton Manning to another in Andrew Luck.
Some teams spend decades searching for a franchise quarterback. For the Colts, it was a matter of having the top pick in the draft when a generational quarterback talent was available. And, to be sure, Luck has all the earmarks of a generational talent.
Ignore Monday's loss to San Diego. And discount, too, some of the seeming statistical eyesores from his rookie year, like his 54.1 completion percentage, 23 turnovers and a 76.5 passer rating that somehow dipped below the Blaine Gabbert zone (77.4).
What makes Luck so special is the context around those numbers. To understand how great Luck has been early on, you have to consider the uniqueness of the situations he's faced.
To read the rest about Andrew Luck's ascension, sign up for Insider today.
Scott Kacsmar is an Assistant Editor at Football Outsiders.