Kansas City isn't spiraling downward but appears unlikely to soar to Super Bowl
Updated: November 26, 2013, 11:13 AM ET

By
Rivers McCown | Football Outisders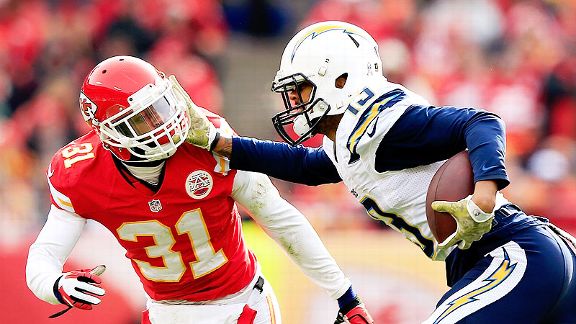 Jamie Squire/Getty ImagesDid Keenan Allen and the Chargers solve the Chiefs?
Normally when an unbeaten team loses two games in a row, it's a sign that the wheels may be coming off the wagon. We start to pick up new and distressing flaws that may be worth examining. We spot some blips, and what we think might be blips can become trends after that second defeat.
But for the Kansas City Chiefs, their 41-38 loss to the San Diego Chargers didn't reveal a whole lot we didn't already know. Maybe it's the fact that analytics have taken root in most people's minds, or maybe it's the fact that anyone can plainly see that the Chiefs haven't had much of a passing offense and have been gifted a weak schedule, but there was already plenty of skepticism nationally about Kansas City's ability to sustain its success.
Our DVOA formula had the Chiefs as the eighth-best team prior to their game against Denver, when they were still undefeated. (DVOA is Football Outsiders' defense-adjusted value over average metric, explained here.) Their DVOA barely faltered when they lost to the Broncos; they are who we thought they were, as a certain former NFL coach might put it. And they have been that team all season. Going into Week 11, our variance rating ranked them as the second-most consistent team in the league. What you can expect from a Kansas City game is throttling defense, good special teams and a wishy-washy offense that doesn't have enough playmakers to truly sustain many drives.
So what happened against San Diego, and will the Chiefs alter their formula to get back on track?
To read the rest of this article, and for access to all of Insider's NFL content, sign up for Insider today.
Rivers McCown is an associate editor for Football Outsiders.