Examining the biggest potential weakness for NFL's top teams
Updated: November 5, 2013, 12:57 PM ET

By
Rivers McCown | Football Outsiders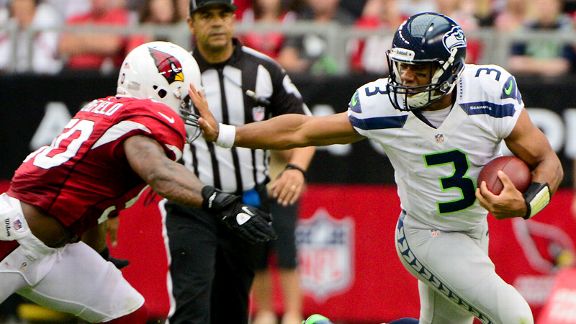 Matt Kartozian/USA TODAY SportsRussell Wilson has been under constant pressure this season in Seattle.
At this point in the season, no one is surprised that the Seattle Seahawks' defense is dominant (except against Mike Glennon, of course) and no one is expecting the Jacksonville Jaguars to make a miraculous playoff run.
But even contenders like the Seahawks aren't without problems. We've previously examined a potential problem area for the Bengals, but let's take a look at the biggest weakness for the other top contenders in the AFC and the NFC and how each team can solve the issue before the playoffs.
NFC
Seattle Seahawks: Offensive line
Russell Wilson has seen both of his top receiving options heading into the year, Percy Harvin and Sidney Rice, sidelined or ineffective for the vast majority of the season. But that hasn't been the biggest ordeal he's faced.
To see the rest of the weaknesses for top NFL contenders, you must be an ESPN Insider.
Rivers McCown is an associate editor for Football Outsiders.