Fantasy football leagues are won not only because of the franchise quarterbacks and the Pro Bowl running backs title teams have on their rosters. Fantasy championships are won because of the late-round draft choices and waiver wire pickups that turned into 1,000-yard rushers and receivers.
Fantasy football owners knew what they were going to get from Denver's Peyton Manning, Kansas City's Jamaal Charles and New Orleans' Jimmy Graham. But the players in this column were not expected to be the valuable fantasy superstars that they became this season, and they are the ones that probably won millions of leagues for lucky fantasy owners.
So here are the fantasy football's eight biggest surprises of 2013:
8. Nick Folk, New York Jets (K)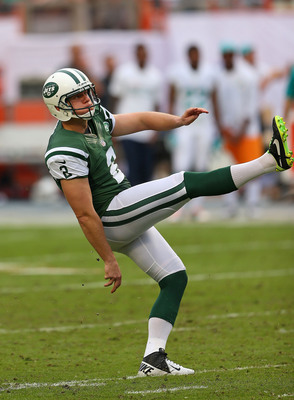 Who knew Folk would become Mr. Accuracy?
Mike Ehrmann/Getty Images
If you asked football fans who the most valuable member of the Jets' team in 2013, a good portion probably gave Folk the title, which is pretty extraordinary considering he is a kicker. And Folk does not get the award just because New York's offense was so inept that no other member of the squad was deserving of it.
Folk was never labeled as Mr. Automatic in the past. While he has always been a decent kicker, he was never confused with Adam Vinatieri. Folk had not made more than 78 percent of his field goals in any season since he was with the Dallas Cowboys in 2008. He likely went undrafted in most fantasy leagues because of his so-so track record.
But Folk converted 33 of 36 field goal attempts for a career-best 91.7 percent clip this year, along with being perfect on all 27 of his extra point attempts. He was awesome from long range as 17 of his field goals were from 40 yards away or farther, which meant more bonus points for his fantasy owners.
Folk was definitely the most surprising kicker in fantasy football this season. If you thought Folk would end up being more worthwhile to fantasy owners than Jets quarterback Geno Smith and 90 percent of the other NFL kickers, you deserve a medal.
7. Buffalo Bills defense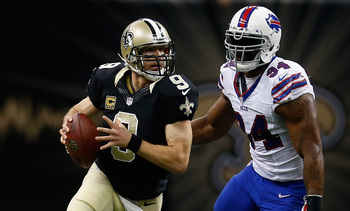 Williams' bounce-back season made Buffalo's defense a great get.
Chris Graythen/Getty Images
There was not a lot of talk during the preseason about Buffalo's defense being one of the better units in the NFL. Any chatter surrounding the Bills had to do with how many more touches C.J. Spiller was going to get than backfield mate Fred Jackson.
But Buffalo went from being ignored by fantasy owners to being respected over the course of the season. The Bills finished second in the NFL with 57 sacks, second with 23 interceptions and tied for seventh overall in takeaways with 30.
And for those fortunate fantasy owners who used Buffalo's defense during their Super Bowl week, they were rewarded more handsomely than Jay Cutler was recently by the Chicago Bears. Buffalo pulled a Clayton Kershaw and posted a shutout against the Miami Dolphins in Week 16, which probably wrapped up thousands of fantasy championships across the nation.
With multi-millionaire pass rusher Mario Williams chasing down quarterbacks and safety Darius Byrd anchoring an opportunistic secondary, Buffalo was the best buy out of any defense in the fantasy football.
6. Rashad Jennings, Oakland Raiders (RB)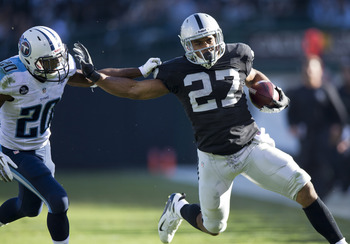 Jennings saved many fantasy teams with his shocking midseason rushing totals.
Jason O. Watson/Getty Images
Maybe my eyes deceived me last year, but I recall watching Jennings plod for a paltry 2.8 yards per carry when his stint as a substitute for Maurice Jones-Drew in Jacksonville went about as well as Gary Cherone's stint with Van Halen.
2013 brought out a brand-new Jennings, one with speed, power and a nose for the end zone. All he did was break career highs across the board with 733 rushing yards, 292 receiving yards and six touchdowns. Little did fantasy owners know when they picked Jennings up in the middle of the season that he would be such a savior.
With Darren McFadden perpetually injured and Oakland's passing attack perpetually inept, Jennings was given more opportunities to score touchdowns than Meryl Streep is to score Oscar nominations. During a six-game stretch in the second half of the season he piled up 699 total yards and his six scores.
Who knows where Jennings will end up and how well he will do in 2014? Fantasy owners will never forget how helpful he was for them in 2013, though.
5. Keenan Allen, San Diego Chargers (WR)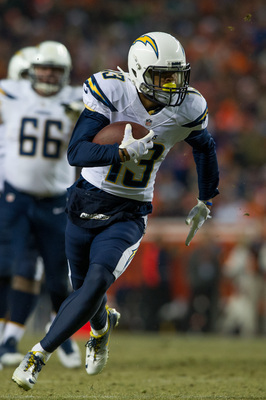 Allen outperformed all the rookie receivers drafted ahead of him.
Dustin Bradford/Getty Images
Rookie receivers struggle more than they prosper. For every A.J. Green and Julio Jones, who both made catching passes look simple in their first years back in 2011, there are several others who fall flat on their facemasks.
Allen was not the first receiver taken in the 2013 NFL draft. He was not even the second, third or fourth. He was drafted in the third round and was the eighth receiver selected. But he outplayed and outperformed all rookie receivers with an outstanding inaugural pro season.
Allen was elevated when wideouts Malcolm Floyd and Danario Alexander went down with season-ending injuries, becoming Philip Rivers' top target. The underrated Allen was targeted over 100 times and concluded his rookie year with 71 receptions for 1,046 yards and eight touchdowns.
Fantasy owners know how well the aforementioned Green and Jones continued to play after their sparkling rookie seasons. The same should be expected from Mr. Allen as well.
4. Julius Thomas, Denver Broncos (TE)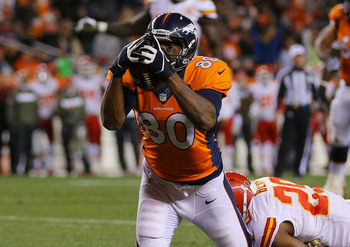 No fantasy owner expected Thomas to turn out to be a top tight end.
Justin Edmonds/Getty Images
Fantasy owners only had one pass-catching Thomas from Denver on their radars heading into the 2013 campaign. It did not take long for them to find out there was another Thomas namesake that would be equally as valuable.
Julius Thomas not only became the top tight end in Denver, he became the third or fourth-best tight end in all of fantasy football, depending on what scoring system your league used. He wasted no time stamping his name on the fantasy map, piling up 110 receiving yards and two touchdowns in Denver's blowout win over Baltimore on the opening night of the season.
Thomas went on to finish the year with 65 receptions for 788 yards and a dozen touchdowns, and he could have done more damage if he did not miss two games towards the tail end of the season.
What makes Thomas' production even more remarkable was that he is the fourth option in Denver's deadly passing attack. While Thomas was amazing, wideouts Eric Decker, Wes Welker and Demaryius Thomas were all targeted much more often.
With Atlanta's Tony Gonzalez retiring (we think) and the status of New England's Rob Gronkowski in doubt after his torn ACL, Thomas' stock going into 2014 fantasy drafts will be sky high.
3. Zac Stacy, St. Louis Rams (RB)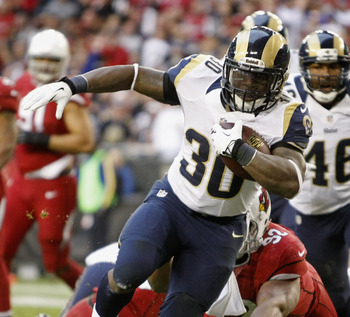 Stacy bashed and slashed his way through defenders all season long.
Ralph Freso/Getty Images
Stacy was probably not taken in 99.9 percent of fantasy football drafts due to the fact that he was listed a distant third at tailback on St. Louis' depth chart coming into the season. Only fantasy owners in 20-team, six-RB leagues or people who possess magical crystal balls that see into the future would have picked Stacy in the late rounds.
This was supposed to be the year that Daryl Richardson (remember him?) made Rams fans and fantasy owners forget about Steven Jackson. And if Richardson was injured or just plain stunk, backup Isaiah Pead was next in line to get the tailback touches.
Turned out that Richardson ran like he had two flat tires (3.1 ypc) and Pead was not ready for prime time (21 rushing yards all season). That is when Stacy stepped in and stepped up.
Stacy rushed for 973 yards and scored eight total touchdowns, barreling over defenders like a heavyweight blasting through a stack of flyweights. His straight-ahead, between-the-tackles style worked well and helped fantasy owners immensely when they were desperate for running back help after the first month and scooped Stacy up on waiver wires.
2. Nick Foles, Philadelphia Eagles (QB)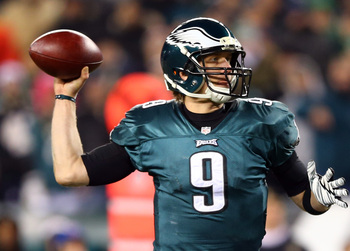 If TD-to-INT ratio was a category in your league, Foles was a fantasy god.
Elsa/Getty Images
It was not like Foles went undrafted in fantasy leagues. Everyone knew he would start at some point for Philadelphia because Michael Vick was as brittle as a jigsaw puzzle. What we all did not know, though, was that Foles would transform into fantasy football's most fantastic find at quarterback.
Foles had a touchdown-to-interception ratio of 27 to two. Call him the anti-Eli Manning. And over his last eight starts, during a stretch when fantasy owners needed him the most, Foles' "worst" game was when he threw for 179 yards and a touchdown and ran for 23 yards and another touchdown against the Detroit Lions.
Foles has now gone from Vick insurance policy to a protected cornerstone in keeper and dynasty leagues. He is accurate (64.0 percent completion percentage), can make plays downfield (9.12 yards per pass attempt), can scramble (221 rushing yards and three TD) and obviously knows a thing or two about ball security. Look for more outstanding numbers from him in 2014.
1. Josh Gordon, Cleveland Browns (WR)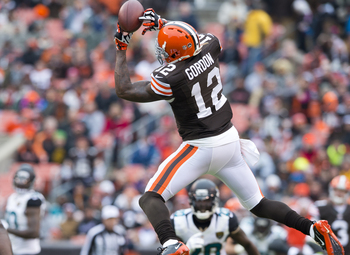 The best WR in fantasy football? Who could have predicted it?
Matt Sullivan/Getty Images
2013 was the Year of the Second-Year Wide Receiver. Yes, I just coined the phrase! And while several others such as Chicago's Alshon Jeffrey, Arizona's Michael Floyd and Tennessee's Kendall Wright had breakout seasons, Gordon was the poster boy for super-sophomore receivers.
After there were more rumors about him being traded than there were about the Kardashian clan, Gordon stayed with Cleveland and began breaking the ankles of cornerbacks and safeties with his improved route running and his open-field ability.
Gordon racked up 87 receptions for a league-high 1,646 yards and nine touchdowns, and he did it in only 14 games! The gamebreaker had a magical four-game period in the middle of the season when he had 36 catches, 774 yards and five scores. What Gordon did in a month was as much or close to as much as what Jacksonville's Cecil Shorts, Kansas City's Dwayne Bowe and Buffalo's Stevie Johnson did over the entire season.
Gordon will enter the 2014 campaign as one of the top four receivers in fantasy football right alongside Detroit's Calvin Johnson, Cincinnati's A.J. Green and Dallas' Dez Bryant. Many fantasy owners knew Gordon was ultra-talented, but it is doubtful anyone had him pegged to be this amazing this fast.
Begin Slideshow
This article is
What is the duplicate article?
Why is this article offensive?
Where is this article plagiarized from?
Why is this article poorly edited?
Flag This Article